S2000 RobMod Race Exhaust
By Rob Robinette
I needed a very lightweight free flowing exhaust for track only use. I had a spare stock exhaust so I cut it just before the "donkey dick" that sticks out sideways. I then welded on a Morroso racing muffler with 2 1/2 inch inlet and outlet. The muffler flows about 70% of the exhaust straight through and 30% goes into a spiral around the primary flow. The muffler will just slip over the stock exhaust with a perfect fit which makes it easier to join and weld.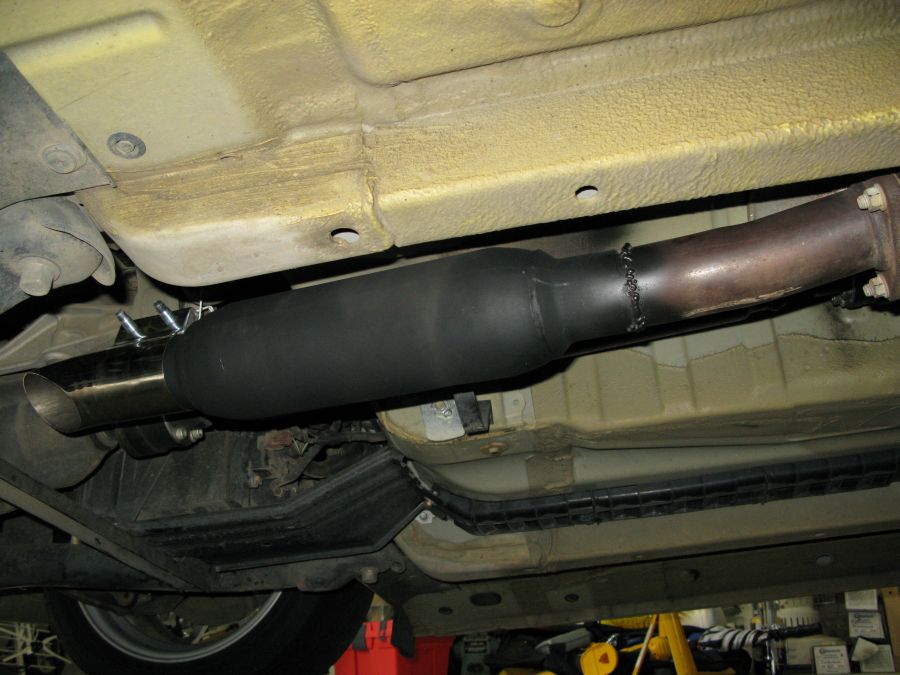 The stock exhaust was cut off just before the "donkey dick." I used the stock center exhaust hanger perch to hang the pipe.
I clamped on a 2 1/2 inch turn down on the exit flange of the muffler and attached wire from one of the clamp bolts running up to the mid exhaust hanger.
Running this exhaust with a stock header, resonated test pipe in place of the cat and the turn-down pointed away from the sound meter I registered 98dbi with a 103dbi limit at an SCCA event. I also put the car on the dyno at RP Performance and Bret, the owner of RP, was surprised how quiet the car was but keep in mind he's used to Spec Miatas. The resonated test pipe makes a pretty big difference with this exhaust, with a test pipe it is quite a bit louder.
After two years of use this exhaust system is still going strong.
The exhaust is loud but it's much better than a truly open exhaust.
Rob Robinette