---
---
Motobecane HAL eBoost Pro 2020 Electric Mountain Bike Review
By Rob Robinette
---
Spoiler: I love this bike.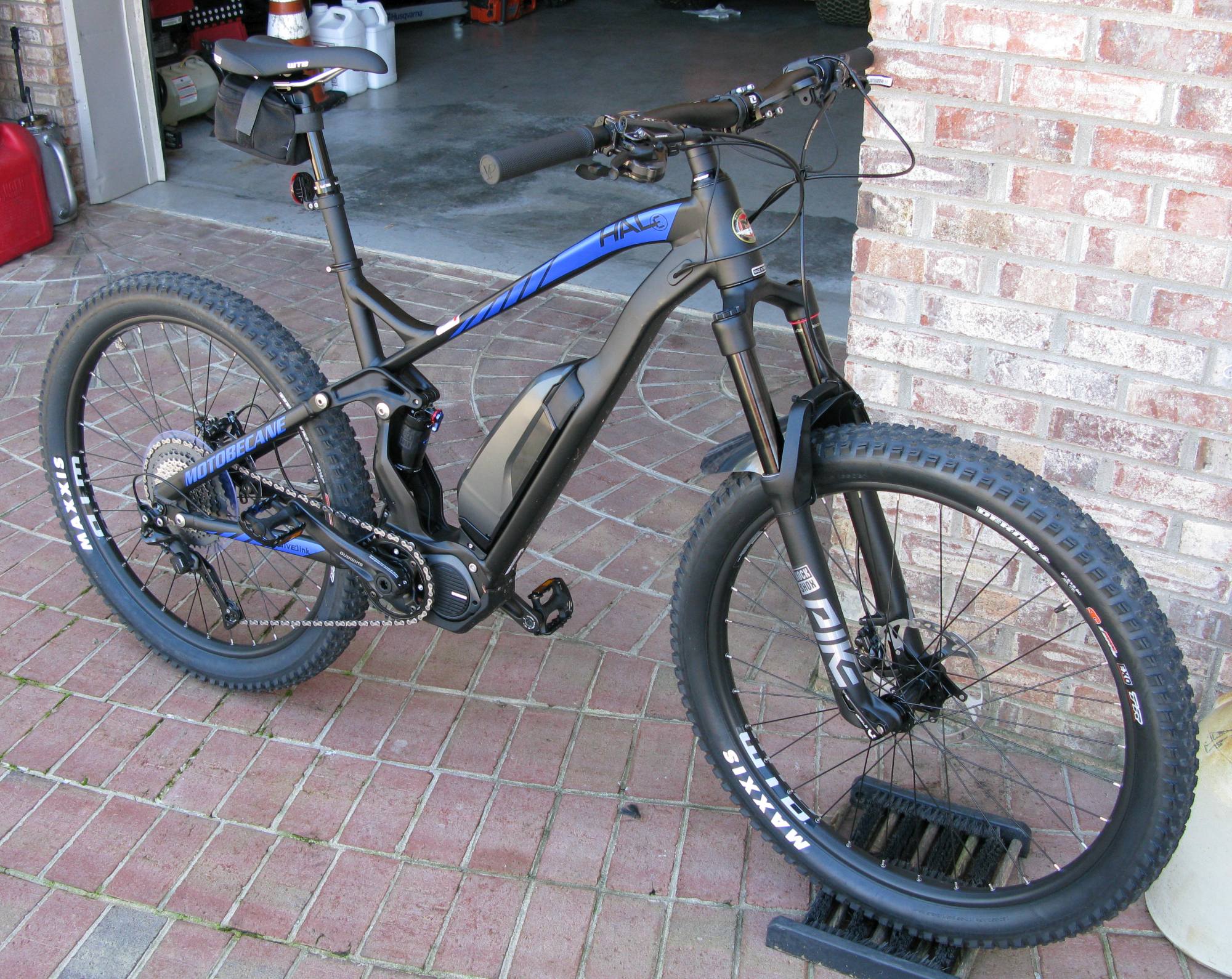 Full suspension electric mountain bike with Shimano E8000 motor and running gear, big 504 amp hour battery, 27.5" wheels, RockShox 3-way adjustable Pike fork, RockShox 2-way adjustable rear shock, 1x11 gearing, Boost (wide hub) through axles, hydraulic disc brakes and dropper seatpost with internal routed cable for left thumb actuation. Without the electric motor this bike would be a top level mountain bike, with the motor it becomes something amazing. The bike is also compatible with 29 inch wheels.
I put a couple of hundred miles on a KTM electric mountain bike in Hungary in 2019 and really liked it. It was a $6000+ bike but I didn't care--I wanted one for my own. When I got home to the USA I started searching and was disappointed to find KTM doesn't sell their electric bikes here so the search continued for a top-level eMountain Bike. I ended up buying an Aventon Pace 500 street cruiser style electric bike and love it. I put 1000 miles on it in the first four months and I lost 25lbs due to the exercise and fresh air. I got so into shape I decided to get a non-electric road bike and ended up with a BikesDirect.com Motobecane Immortal Disc Pro SL carbon fiber gravel bike. It was an amazing value and I put 1000 miles on it in about four months too.
When it was time to replace my 1996 Cannondale Super V 900 full suspension mountain bike I went to BikesDirect.com again but I also reviewed all other popular electric mountain bikes. I believe in "buy once, cry once" so I wanted a premium bike with high level components and the Motobecane HAL (highly active link) eBoost Pro fit the bill perfectly. The price difference between the HAL eBoost Pro and other comparable top-of-the-line ebikes is pretty shocking. The competition started at around $5,500 and went up.
The HAL eBoost Pro Shimano E8000 motor and running gear are among the best available along with the RockShox Pike front fork and RockShox Monarch rear shock. The frame is a high quality unit made in the same Taiwan factory that almost all world-class bikes--normal and ebike--are made. It's a very capable mountain bike and at 48lbs it's as light as any other electric mountain bike.
Motobecane HAL eBoost Pro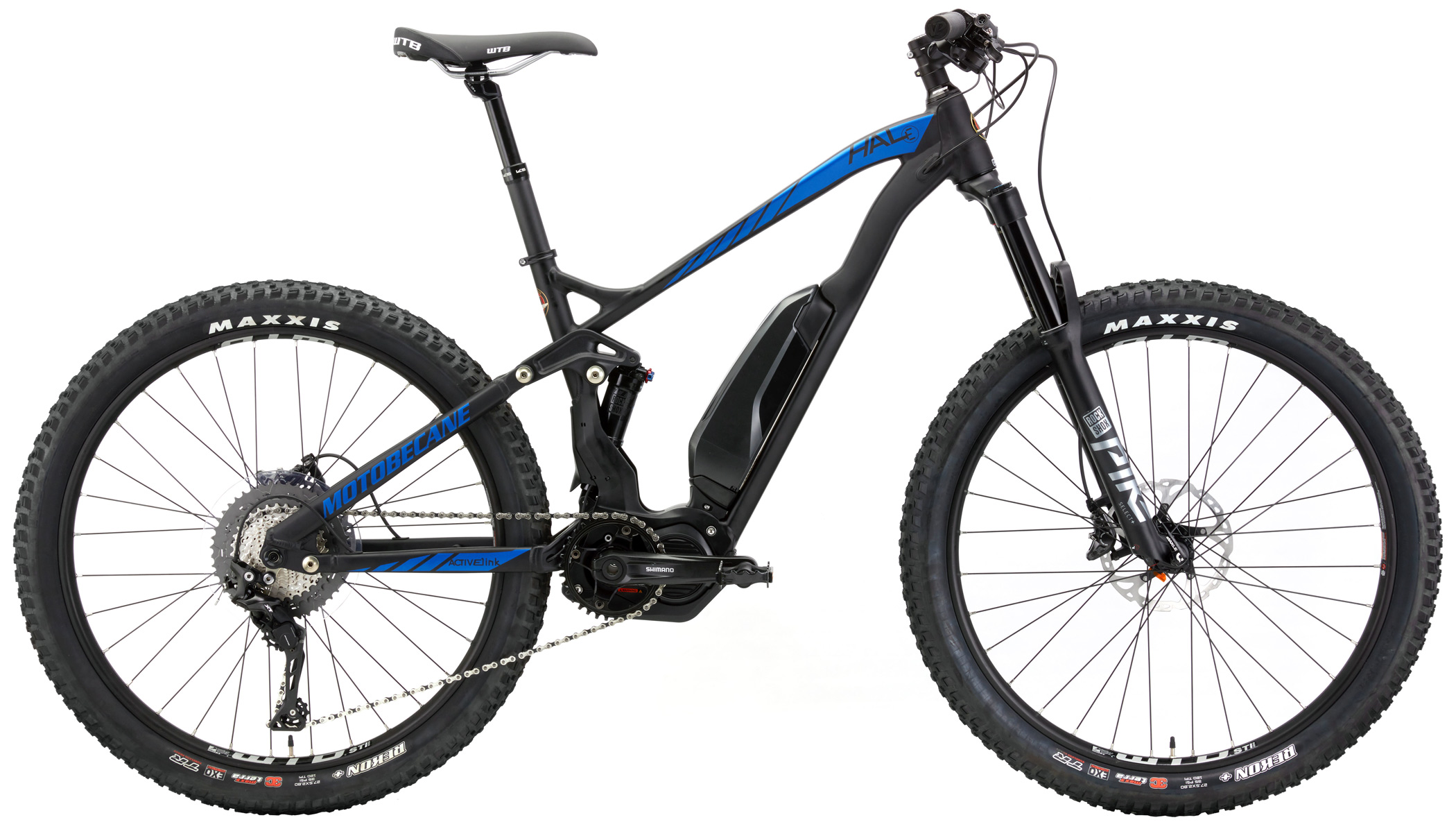 The RockShox Pike front fork is adjustable for air pressure, rebound and low speed compression. The front fork and the rear wheel have 140mm (5.5") of travel. The rear RockShox shock is adjustable for air pressure and rebound. It also has a lockout lever when you'd prefer a hard tail. The 2.8" wide tires run at 35psi.
I ordered the bike from BikesDirect.com on Wednesday and it was delivered six days later by FedEx. The bike arrived without a single scratch. I took my time assembling it in about two hours. Assembly requires installing the seatpost (seat already attached), front brake disc, front wheel, handlebar and pedals. The steering stem had one spacer above it so I removed the stem and placed the spacer below the stem to get the handle bar as high as possible. The bike looks like a freakin' sex machine.
---
Well Packed With No Damage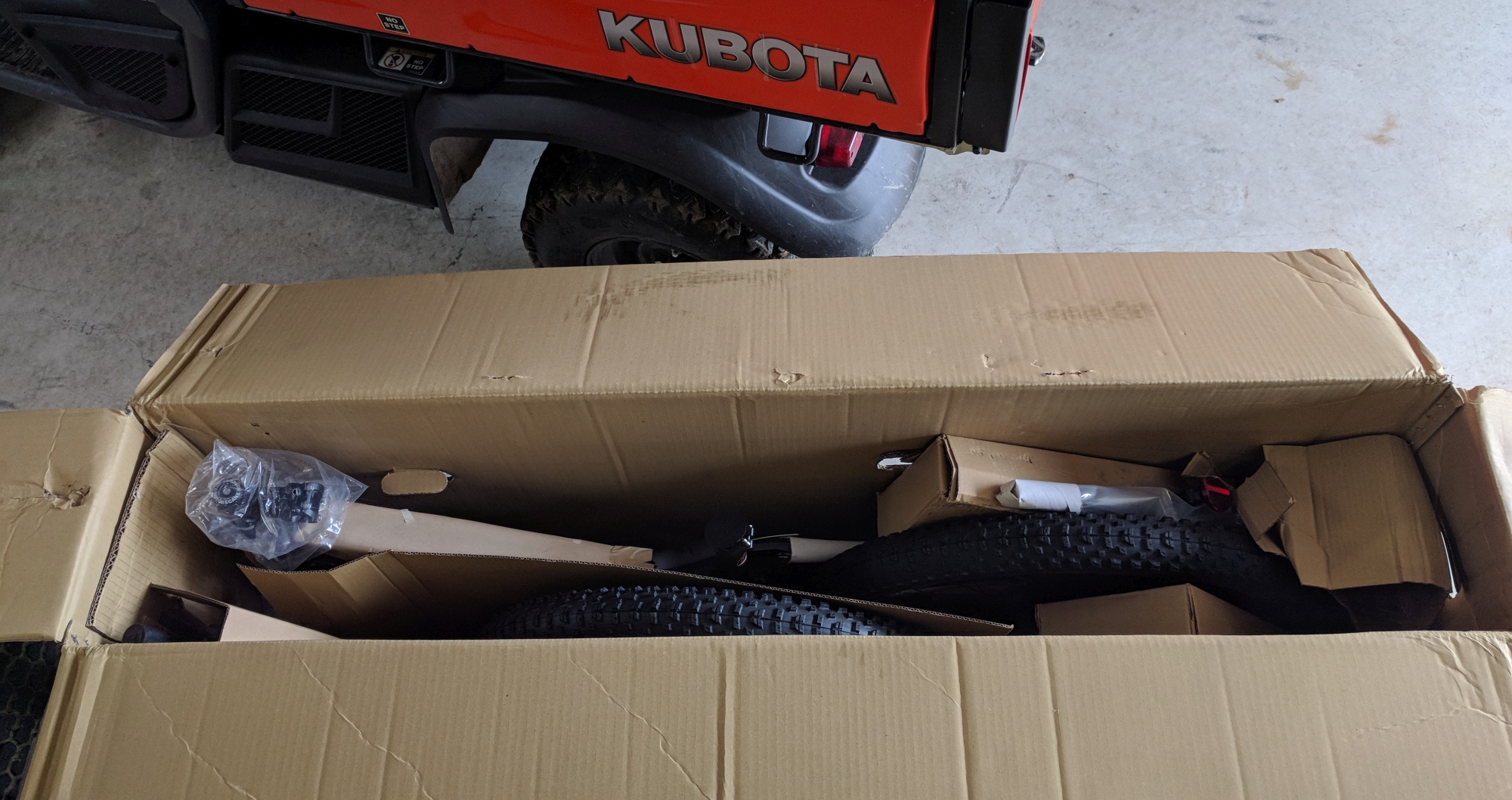 The bike didn't have a single scratch. Nice job BikesDirect.com.
Putting It Together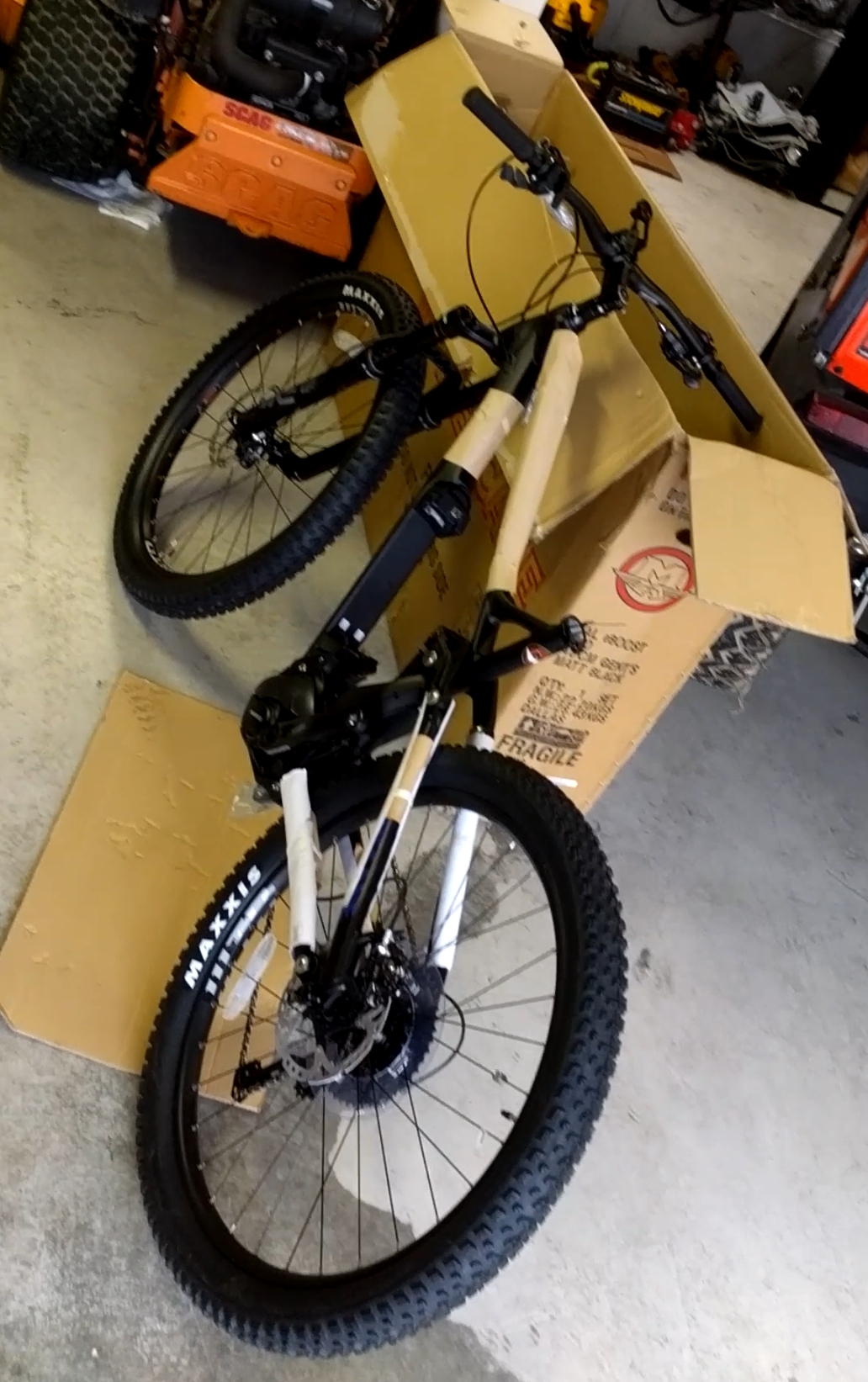 Don't remove the front disc caliper plastic spacer until after the caliper is installed loosely on the fork, the front brake disc has been installed and the wheel is ready to go on. With the wheel and brake disc installed and while applying the front brake, tighten the caliper bolts. This will center the caliper on the disc. I was really surprised by how light the big fat wheels and tires were. They will be even lighter when I pull the tubes and go tubeless.
---
Dropper Seatpost Install
This is the most difficult part of the bike assembly. To install the seatpost you may have to pivot the motor down to allow the seatpost dropper cable to slide past the motor. Before dropping the motor see if you can move the seatpost cable by pulling the cable out of the frame (exit near the handlebar) while pushing the cable up at the base of the shock. Just try to move it a little. An owner of a HAL eBoost Elite (Shimano E7000 motor) was able to pull the seatpost cable slack this way without loosening the motor. If the cable moves then go ahead and connect the seatpost cable to the seatpost. If you can't get the cable to move then see the pics below to pivot the motor down.
Pivot The Motor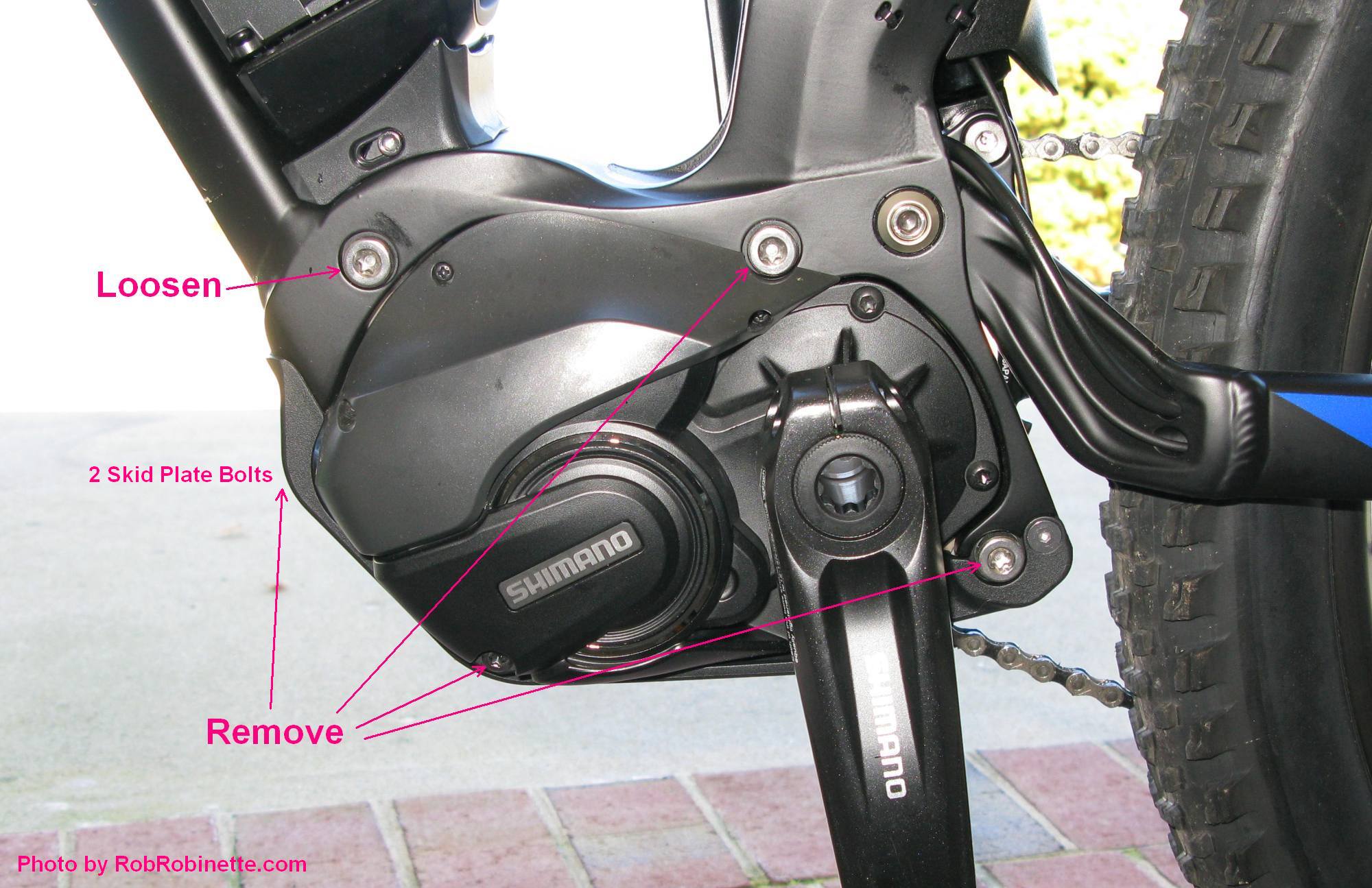 Remove the two small bolts holding the motor front skid plate. Loosen the two upper-forward motor bolts and remove the others. The motor bolts take a Torx T-30 security bit.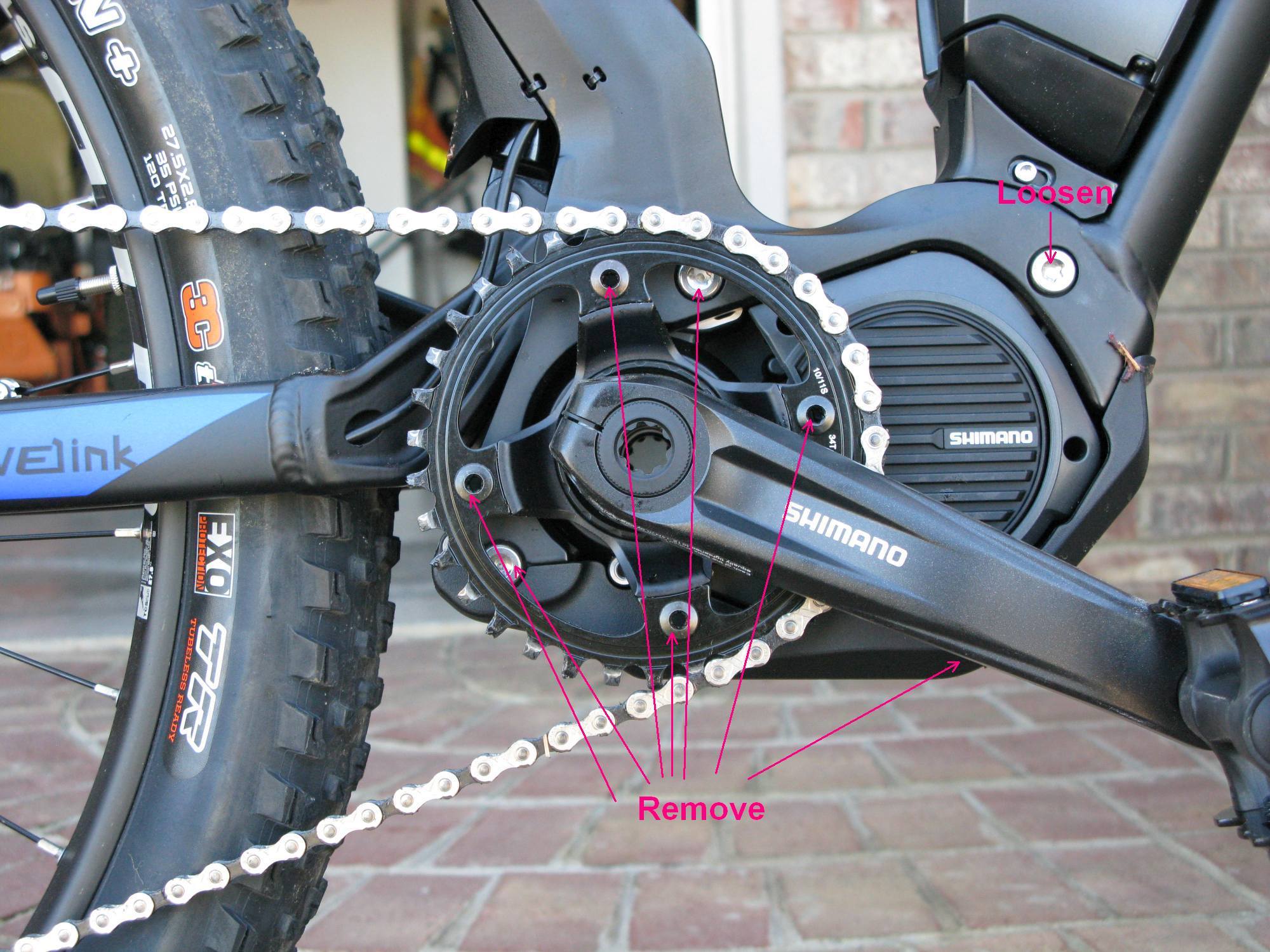 You have to remove the 4 chainring bolts to access 2 of the motor bolts. The chainring bolts take a Torx T-25 security bit. You do not need to remove the crank to get to the motor bolts. The motor only needs to drop an inch or so to allow the cable to slide. Get the cable connected to the seatpost actuator then pull on the dropper cable where it exits the frame near the handlebar. Lower the seatpost into position as you pull the cable.
You'll have to trim the metal part of the cable at the seatpost end and adjust the cable end barrel to fit the seatpost actuator. The barrel is clamped to the cable with a small screw that takes a hex key to adjust. Make sure the seat thumb lever releases the seatpost before inserting the seatpost into the bike frame. Pull the slack as you insert the seatpost and set the seatpost at your desired height. The seatpost has a mark for the minimum seatpost insertion level. Start high and then lower the seatpost to your desired final setting.
---
---
Spoke Tension Chart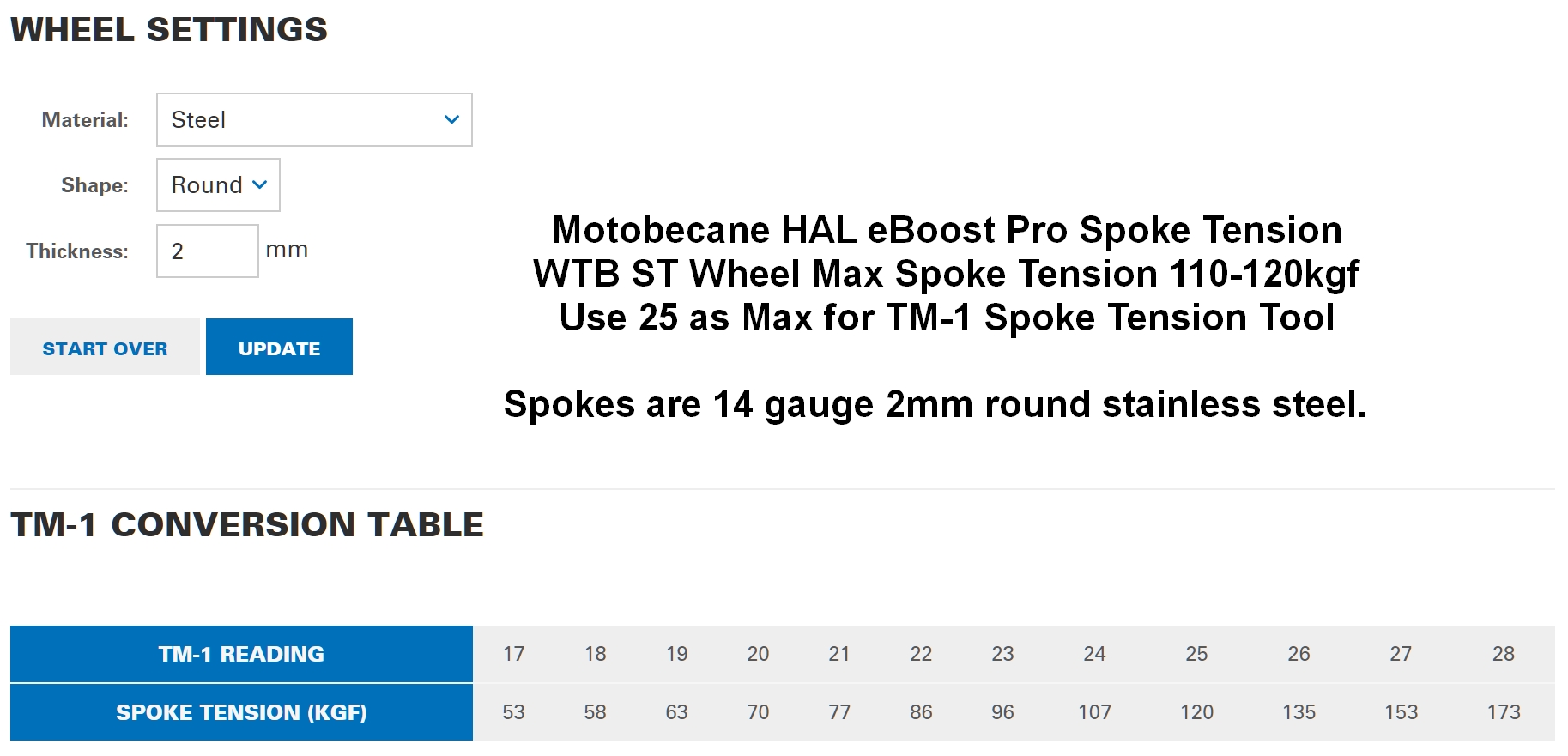 I use the Park Tool TM-1 Spoke Tension Meter to check and adjust spoke tension. Since 25 (120kgf) is max I plan to set spokes to 23 (96kgf).
The WTB rims are tubeless compatible but need tubeless tape to seal. 1" wide Gorilla Tape works great to seal the rims. To go tubeless I will remove the tubes, install the Gorilla Tape, install tubeless Presta valves and add 4oz of Stan's No Tubes Sealant to each tire.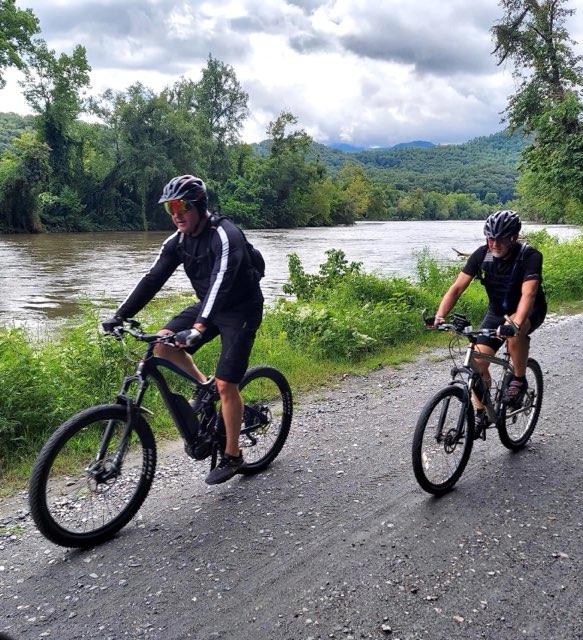 I added a $13 RockShox front fender to protect the fork tubes and an Elemnt Bolt bike computer with GPS track, speed, cadence and heart rate sensors. I also replaced the included pedals with some thin, lightweight aluminum Fooker mountain bike pedals. Other than that the bike was just about perfect for my needs.
I used the Shimano E Tube app on my Droid phone to update the controller firmware and tune the three assist levels. It connects to the bike controller by BlueTooth. The RockShox Trailhead app can help dial in suspension tuning including initial air pressure for the fork and shock and initial rebound settings. I highly recommend you use the app and adjust the air pressure for your weight. If you don't the bike may sag too much and reduce frame and pedal clearance over obstacles. If you don't have a suspension air pump then it's worth it to have your local bike shop do it for you.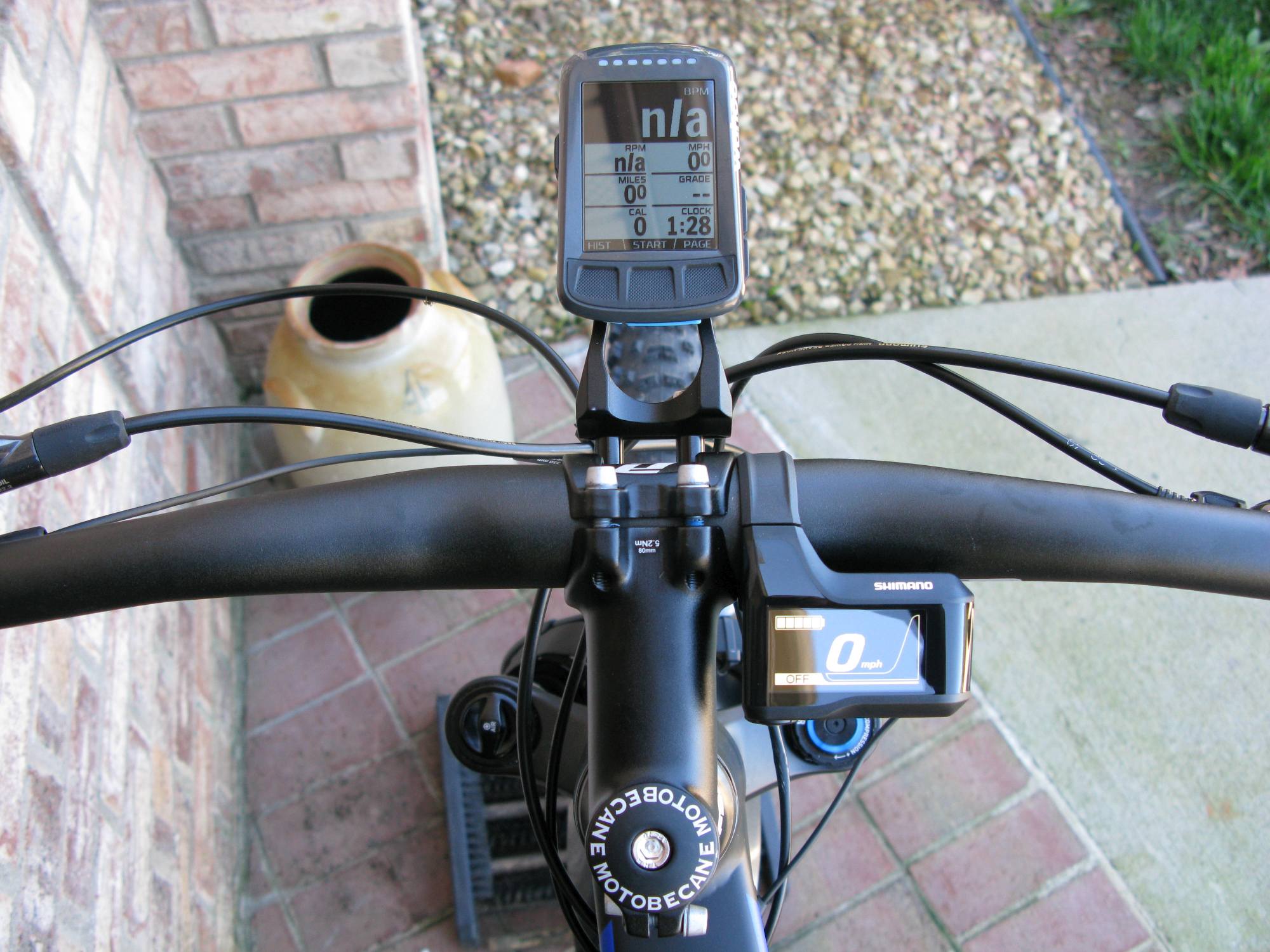 Shimano E8000 controller at right, Elemnt Bolt bike computer added at top. The Bolt monitors and records GPS track, speed, distance, pedaling cadence, heart rate and calories burned and uploads workouts to Strava.
Frame Made In Taiwan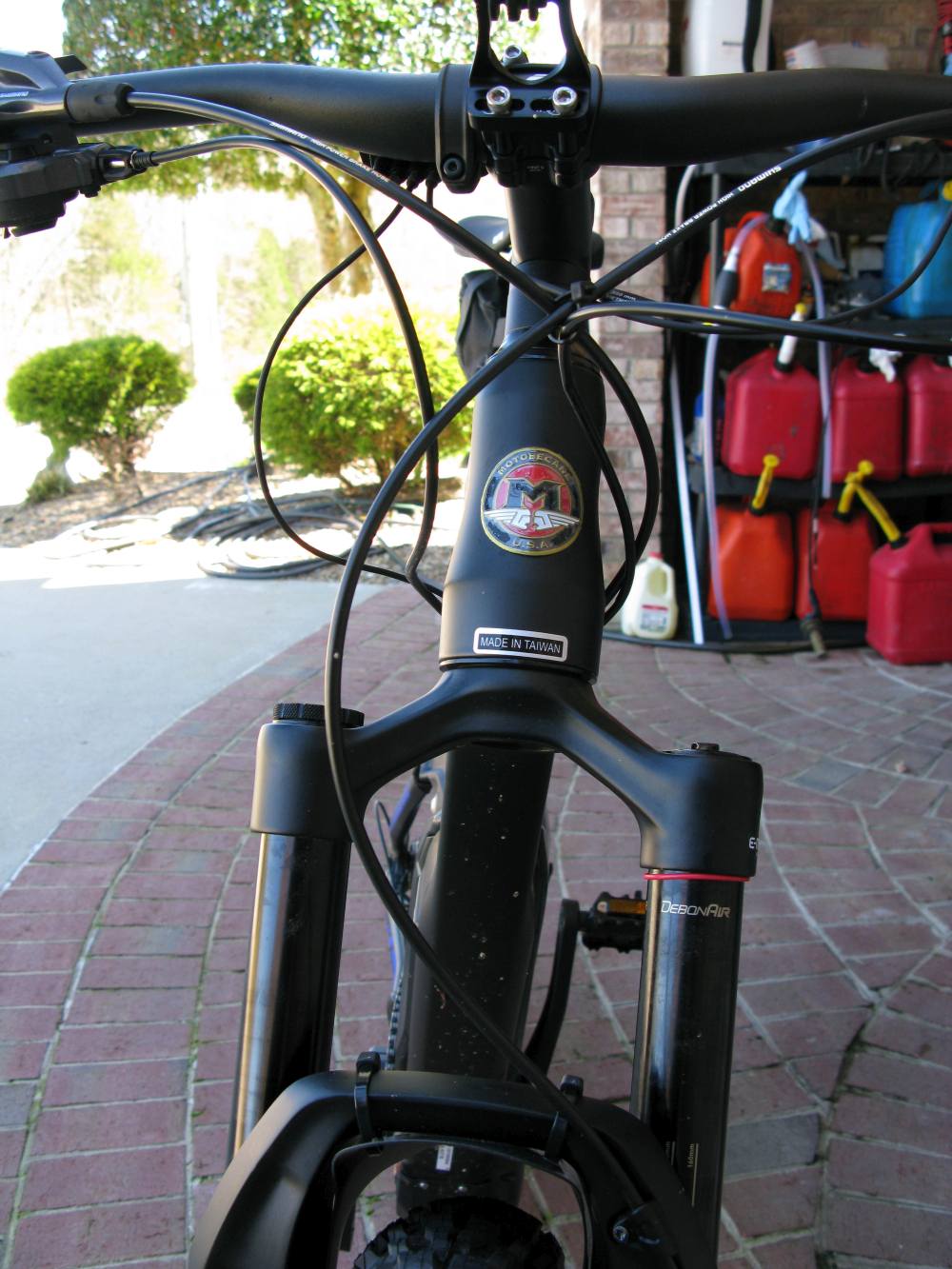 The fork and rear shock have red o-rings to help you set sag and monitor stroke length and bottoming. Remove the cap at the top of the left (right in picture) fork tube to access the air valve to adjust air pressure. Low speed compression is adjusted using the knob at the top of the right (left in picture) fork tube. Rebound is adjusted using a knob at the bottom of the fork leg.
P.S. I have no affiliation with BikesDirect.com, I'm just a very happy customer.
Check out the new top-of-the-line Motobecane HAL eBoost Team eMountain Bike with integrated battery and 1x12 gearing.
---
HAL eBoost Pro Specs From BikesDirect.com
Shimano E Tube app can tune the bike controller and adjust the three assist levels.
RockShox Trailhead app can help dial in suspension tuning.
For tubeless conversion you only need to tape the rims, add two tubeless Schrader valves and 4oz of Stan's Sealant per tire. The rims are "tubeless compatible" and the tires are "tubeless ready" but still need sealant.
Matte Black aluminum full suspension frame electric mountain bike $3499.95 with free shipping.
Shimano E8000 Electric MidDrive, HAL (Highly Active Link rear suspension) eBoost frame with up to FIVE INCHES OF REAR WHEEL TRAVEL, Incredible Climbing/ Control, WTB TCS Tubeless Compat Rims, Advanced Hydroform ALU Frames, CNC KNUCKLE BOX, 140mm (5.5") Rockshox PIKE Select+ (FS-PIKE-SELP-B3) air fork with rebound and low speed compression adjustment and Boost 15mmx110mm axle ($699), Rockshox MONARCH rear air shock, Shimano XT Hydraulic Brakes, Front/Rear Thru Axles, Dropper Seat Post Routing. Compatible with 27+ or 29er wheels and tires.
The HAL eBoost frames have 140mm (5.5") Travel and a rear tire clearance up to 96mm (3.78"). The Rockshox Pike Forks have 81mm (3.19") clearance on the front.
The HAL eBoost is a Boost spacing mountain bike. Boost is a new dropout standard designed to widen the hubs on the previous standard MTB spacing wheels. The rear axle is wider by 6mm to 148mm and the front axle by 10mm to 110mm. Wider flanges = wider bracing angle for spokes = a stronger and stiffer wheel. Allows the use of 29er wheels with higher strength and stiffness for top performance.
HAL eBoost Sizing Guide
38cm - 5'5" to 5'7"
42cm - 5'8" to 5'10"
46cm - 5'11" to 6'1"
50cm - 6'2" to 6'4"
Frame Custom Mid-Drive Full Suspension with BOOST (wide) Axle Spacing 29 / 27.5+ wheel compatibility, SUSP. MTB ALLOY(6061) REAR WHEEL TRAVEL: Up to 140mm (5.5"). Bottom Bracket Shell: BB92 ALUMINUM 41x92MM ( KNUCKLE BOX MADE BY CNC ) Hydroformed Butted and Geometric Multishaped Aluminum tubes,1 set H2O Bosses (Small has no bosses), Four Bar Rocker Arm with HAL Linkage. Gusseted SL 6061 Aluminum (Disc Brake Equipped) Super Smooth Sealed Cartridge Bearings at critical pivots, Dropouts: ALUMINUM VERTICAL W/ALUMINUM REPLACEABLE HANGER W/POST DISK MOUNT. O.L.N:148MM, Stealth Dropper Post Routing
HEADTUBE 1-1/8"/1.5" ( 44/56mm ) L: 38/42/48/50M=100/120/130/140mm
Fork: ROCKSHOX (FOR E-BIKE) PIKE SELECT+ CHARGER 2 RC 29" BOOST™, DEBONAIR, 163psi max, 51mm OFFSET, TAPERED Steerer: ALLOY 1.5" to 1-1/8", CROWN: Forged, hollow 7050 aluminum, STANCHION: 35mm tapered wall aluminum, BLADE: Magnesium, 180mm post disc mount, TRAVEL:140mm (5.5"), BOOST 15X110 MXL ULTIMATEthruaxle W/Extl Rebnd, 2 pos (open/firm), Extl rebnd, low speed comp . ( FOR 27.5" PLUS x2.8"- 3.0" TIRE )
Rear: ROCKSHOX MONARCH RL C3 SOLOAIR, 275psi max, MM TUNE, 430LB LOCKOUT FORCE, AIR REAR SHOCK, EYE TO EYE:200mm TRAVEL:57mm W/External rebound adjustment $220
Crankset SHIMANO FC-E8000, 175MM, CRANK ARM, SHIMANO CHAINRING SM-CRE80-B, 34T
Bottom Bracket SHIMANO MidDrive E8000
Pedals Platform MTB 9/16" CR-MO AXLE, BLACK PP BODY, STEEL BLK CAGE W/BS REFL
Front Derailleur N/A
Rear Derailleur SHIMANO RD-M8000,DEORE XT, SGS 11-SPEED TOP-NORMAL SHADOW PLUS DESIGN
Shifters SHIMANO SL-M8000-R, DEORE XT, 11-SPEED W/ OPTICAL GEAR DISPLAY
Cassette/Freewheel SHIMANO CS-M8000, DEORE XT, 11-SPEED, 11-13-15-17-19-21-24-28-32-37-46T
Chain KMC e11S EBIKE ( FOR E-BIKE ) 1/2"*11/128"*116L 11S , NP/NP
Hub Front GRAVITY D711SB-B15-110 FRONT DISC HUB, 2 SEALED BEARINGS, 14*32H , POLISH ANO BLK,AL 15x110mm BLK, F/HUB AXLE ROCKSHOX BOOST 15x110 MXL ULTIMATE
Hub Rear GRAVITY D162SB-SL-B12-S5S-11S SHIMANO-148 SHIMANO 11S COMPATIBLE , ALLOY DISC REAR HUB.2 SEALED BEARINGS. POLISH ANODIZED BLK. W/ 12MM THRU HOLE 14*32H. OLN:148MM
Spokes 14gauge 64PCS XD-BLACK STAINLESS (2mm round) W/14MM BRASS NIPPLE, Tension gauge 25 max
Rims WTB ST Light i29 TCS 2.0 27.5", 32 hole, Disc Only, Black Anodized; Single Eyelets, PV drilled Sleeved Joint, 110-120kgf max spoke tension, TM-1 Spoke Tension 29 max, (Tubeless Compatible System Rim)
Tires MAXXIS REKON+ 27.5 X2.80 AR ( FOLDABLE ) DKFW ( BLACK, 35psi, 120TPI ) TLR 3C Tubeless Casing, Folding Aramid Bead
Brakes SHIMANO DISC BRAKE, DEORE XT, M8000 / SHIMANO ROTOR, SM-RT76, DEORE XT,M 180MM, 6-BOLT
Brake Levers SHIMANO DISC BRAKE, DEORE XT, M8000
Headset FSA ORBIT 1.5 ZS, FOR 1-1/8"/1.5", Internal Alloy Cups, 1-1/8" ACB Upper, 1.5" ACB Lower, w/Std 12.3mm top cover, W/39.78 BALL RACE ( 28.6x44/55.95x39.78mm)
Handlebar MTB ALLOY ALLOY 6061 RISE H/BAR ( 9° ) B/CENTER: 31.8mm.R/W:20/760mm. SS.A. BK
Stem MTB ALLOY 6061 A-HEAD. EXT: (7°) 60/70/80/90MM: 38/42/46/50CM, C/S: 31.8x28.6 x41mm
Tape/Grip VP LockOn PP/TPR MATERIAL W/ Single Aluminum Clamp, BLACK
Saddle WTB Rocket 142x265 COMP Satin Steel Rail, PU Leather Cover, Embossed White Logo
Seat Post FREE KIND SHOCK DROPPER POST E-TEN- I ( STEALTH INTERNAL ROUTING ) REMOTE 31.6 , 31.6*385MM, TRAVEL:100MM,W/KGP REMOTE
Drive Unit SHIMANO DU-E8000A, MID SHIP POSITION, W/TL-EW02, SHIMANO DRIVE UNIT COVER AND SCREW, SENSOR-TORQUE INCLUDING IN DRIVE UNIT
Battery SHIMANO BATTERY, BT-E8010, FOR STEPS, 504Wh, POSITION : FRAME(DOWN TUBE), BLACK, FOR EU/USA/CANADA MARKET, SHIMANO BATTERY MOUNT, BM-E8010
Speed Sensor SHIMANO SPEED SENSOR UNIT, SM-DUE10, CABLE LENGTH 540MM
Cycle Computer/Display SHIMANO CYCLE COMPUTER, SC-E8000, CLAMP BAND 35.0MM
Seat Post Clamp Ultra Light Alu+ Bolt
Extras BATTERY CHARGER SHIMANO EC-E6000-2, FOR STEPS, FOR BT-E6000/E6010, BUILT IN AC POWER CABLE FOR USA/CANADA, W/ADAPTER FOR BATTERY CONNECTOR, POWER CABLE SHIMANO ATTACHED ON BATTERY CHARGER, SWITCH UNIT SHIMANO SW-E8000-L, LEFT FOR ASSIST, CLAMP BAND TYPE, LOCK FOR BATTERY ABUS 37196 SHIMANO-RH
My Other Motobecane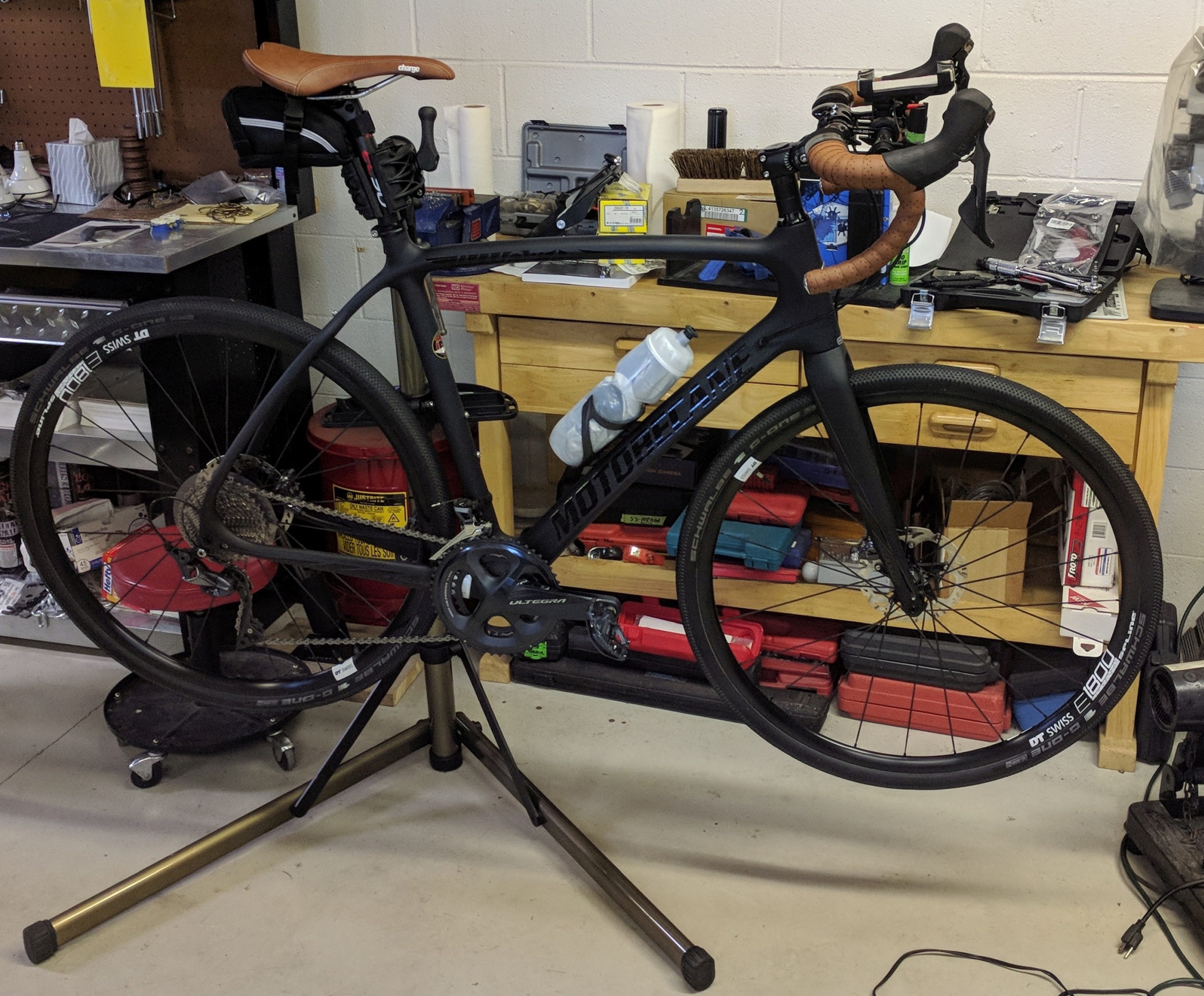 Motobecane Immortal Disc Pro SL carbon fiber gravel bike. See my review here.
---