---
---
Motobecane 2020 Immortal Disc Pro SL Carbon Fiber Drop Bar Gravel Bike Review
By Rob Robinette
---
Spoiler: I love this bike.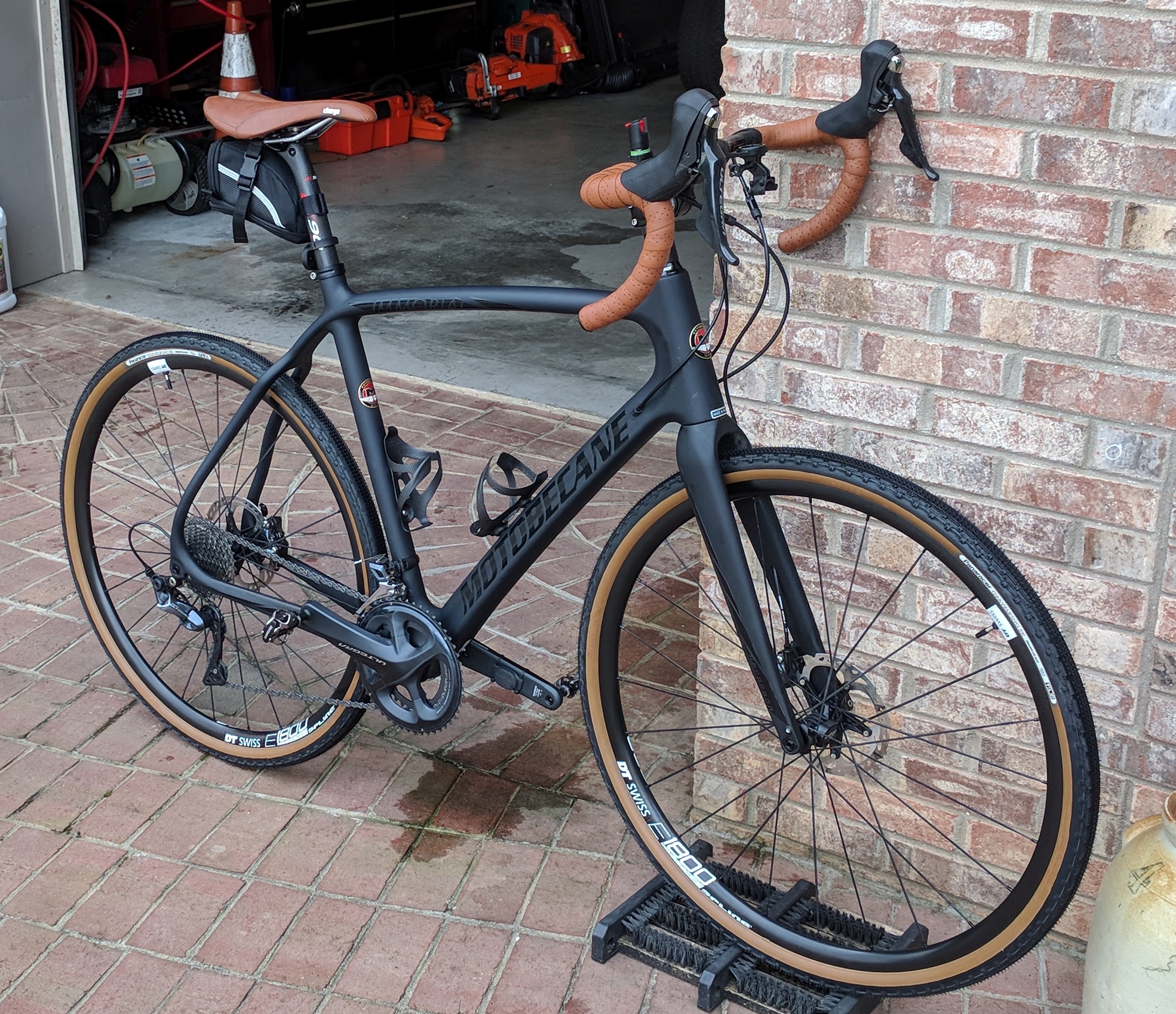 Taiwanese carbon fiber frame, Shimano Ultegra 8000 running gear, Ultegra 8000 controls and hydraulic disc brakes, 2x11 gearing, through-hole axles, DT Swiss E1800 tubeless ready wheels, aero blade spokes, stock tires are Schwalbe G-One 700cx35 tubeless ready gravel tires. I added a carbon fiber seatpost, British racing leather styled bar wrap and seat, carbon fiber aero bar, adjustable steering stem, carbon fiber bottle cages and Shimano PD-M540 SPD pedals. At 1,400 miles I replaced the tires with Panaracer GravelKing SK tubeless gumwalls and added a stock size 34t AbsoluteBlack oval climbing chainring (replaced small chainring).
I'm a 61 year old retired military and airline pilot who had gotten about 40 pounds overweight. But in August 2019, while visiting friends in Hungary, I did a lot of ebike riding which ended up being a kickstart to cycling for fitness. When I got home to hilly East Tennessee I began riding my 1995 Cannondale Super V 900 mountain bike while I did research on ebikes. I purchased an Aventon.com Pace 500 ebike online and was blown away by the value and riding fun. I put over 1000 miles on the Pace in four months of riding.
Aventon Pace 500 ebike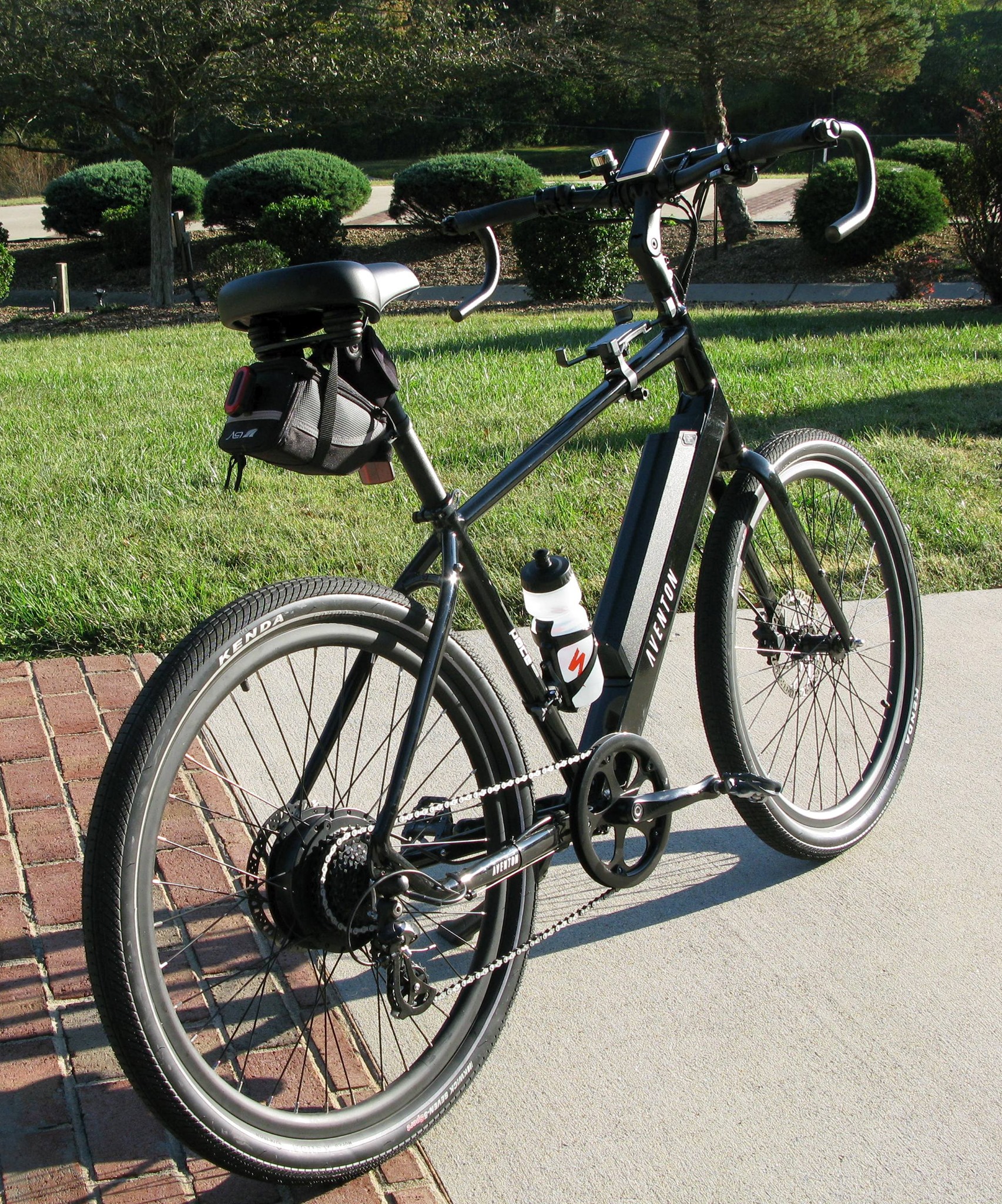 ---
Fast forward to mid November and I'm over 25 pounds lighter and much more fit. I enjoyed riding so much I decided it was time for my first "road bike". I actually went with a "gravel bike" for the wider, more comfortable tires but I wanted to stick with 700c tires since the bike would be used almost exclusively for the road. What makes a bike a "gravel bike"? Typically it means a road bike with slightly lower gearing and the ability to run wider tires so the bike can comfortably ride prepped trails and bumpy gravel roads.
I ordered a Salsa Journeyman 700c Drop Bar from my local bike shop but found out it would be at least two months at the earliest for delivery so I canceled the order and started looking again. I had seen bikesdirect.com before and since I had such a good experience with the direct buy ebike I decided to check out what they had to offer.
I liked what I saw in the $2,100 Motobecane Immortal Disc Pro SL (Super Light) 57cm gravel bike with Taiwanese unidirectional weave carbon fiber frame (natural carbon color) with through-axles, carbon aero fork, full Shimano 22 speed Ultegra R8000 drive train, Ultegra hydraulic disc brakes and DT Swiss wheel set with Schwalbe G-One Allround 35mm (1.4") tires. Motobecane lists the max tire width at 41mm (1.6") but owners have reported 45mm (1.8") fit just fine. The bike is similar to the Salsa Carbon Warbird other than the Warbird's Di2 electric shift upgrade.
Motobecane Immortal Disc Pro SL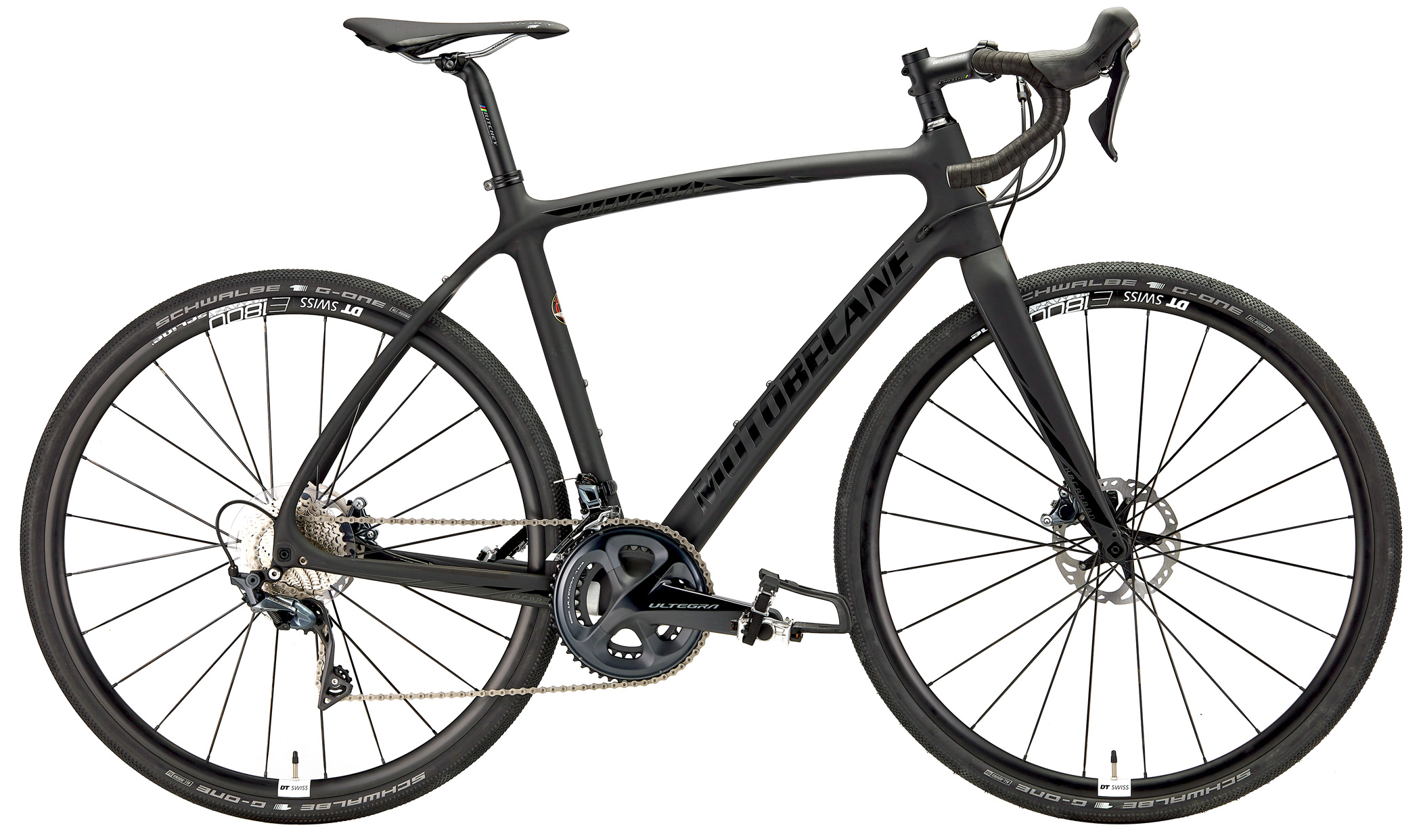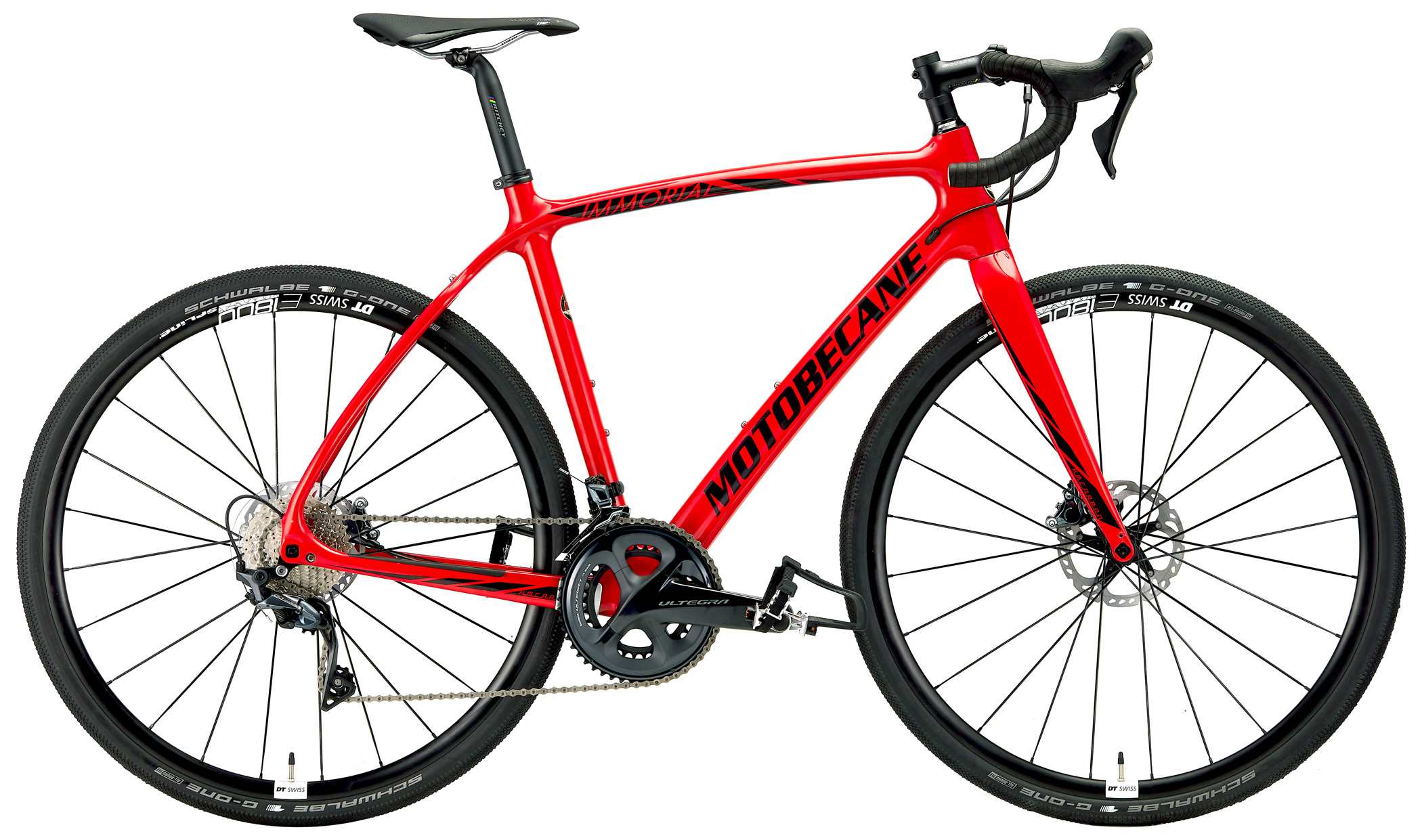 I went with carbon fiber gray but the red looks pretty good too. Photos from BikesDirect.com website.
I ordered the bike on Tuesday and it was delivered on Saturday by FedEx. The bike arrived without a single scratch. I took my time assembling it in about an hour. Assembly requires installing the seatpost (seat already attached), front brake disc, front wheel, handlebar and pedals. The steering stem had one spacer above it so I removed the stem and placed the spacer below the stem to get the handlebar as high as possible. I also turned the stem upside down to go from -6º to +6º, again to raise the bars for more comfort. I replaced the aluminum seatpost with a carbon fiber post and installed Shimano SPD pedals and two carbon fiber bottle cages. The bike looks like a freakin' sex machine.
---
---
Since this is my first "road bike" I'm obviously not an expert reviewer but I do love the bike. I cannot believe how light it is. The weight plus low rolling resistance allows me to climb hills at speed I never dreamed of. I was afraid the lowest 1:1 (34t/34t) gearing might be too high for some of the very steep Tennessee hills but it turned out to be perfect.
Gear Ratios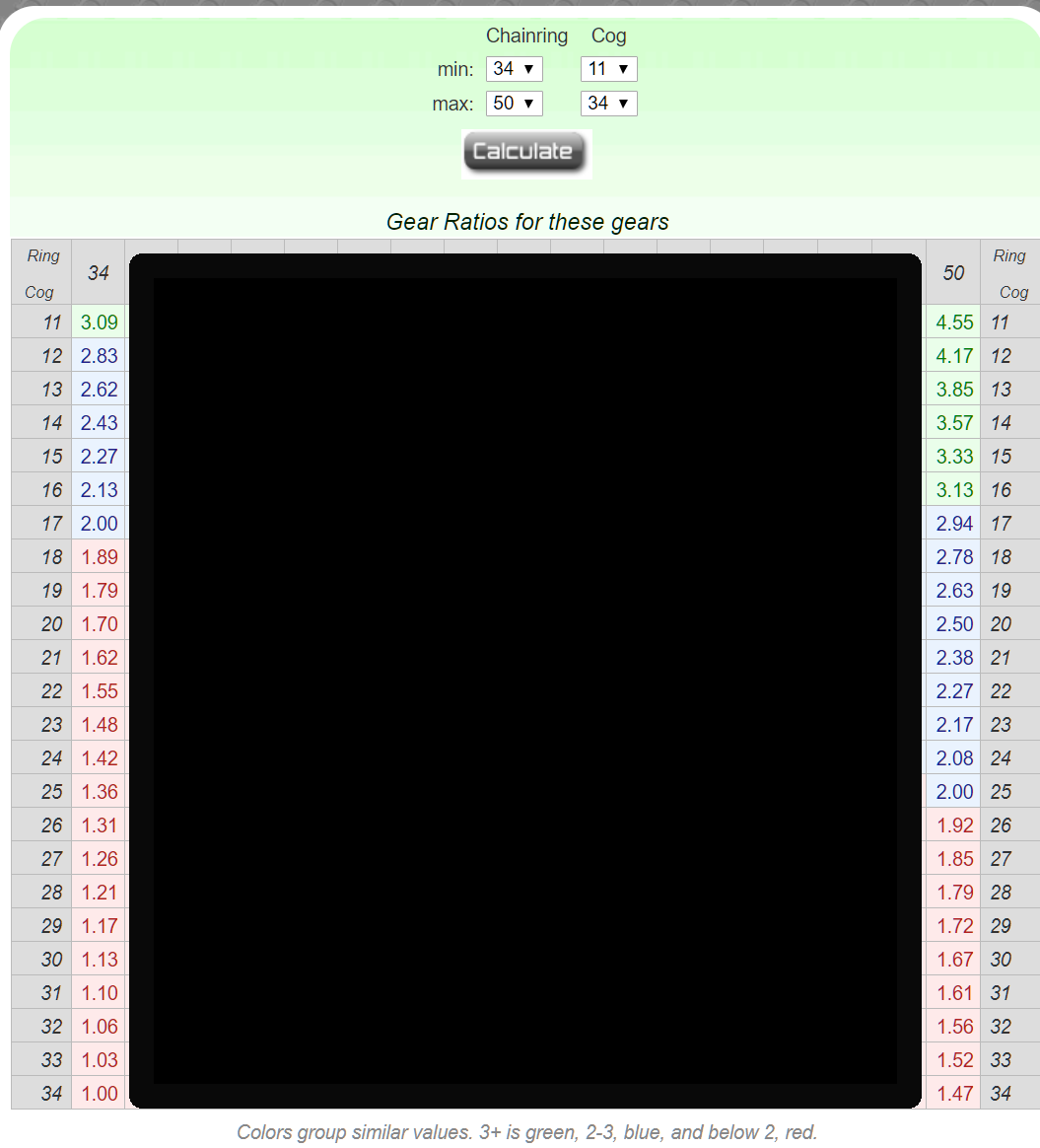 The gear ratios tell us how many revolutions the rear tire will turn for every pedal crank revolution. The lowest is 1.00, meaning when we turn one turn of the crank the rear wheel turns one turn. The highest gearing is 4.55 for 4.55 turns of the rear wheel for every turn of the crank. Cassette gears are: 11-speed, 11-13-15-17-19-21-23-25-27-30-34t.
The two Shimano chainrings have 50 and 34 teeth and the cassette is an 11 speed 11-34t with minimum gearing of 1:1 (34t:34t, 27.2 inches and 7.3mph at 90 cadence) and max of 4.55 (123.8 inches and 33.2mph at 90 cadence). The gearing is perfect for my road riding but for trail or bike camping/adventure touring with 20 or 30 lbs of gear hanging on the bike a 48-32t or even 46-30t chainring might be better. The Shimano Ultegra crank offers lots of gearing choices including AbsoluteBlack oval chainrings.
Speeds at 90 Cadence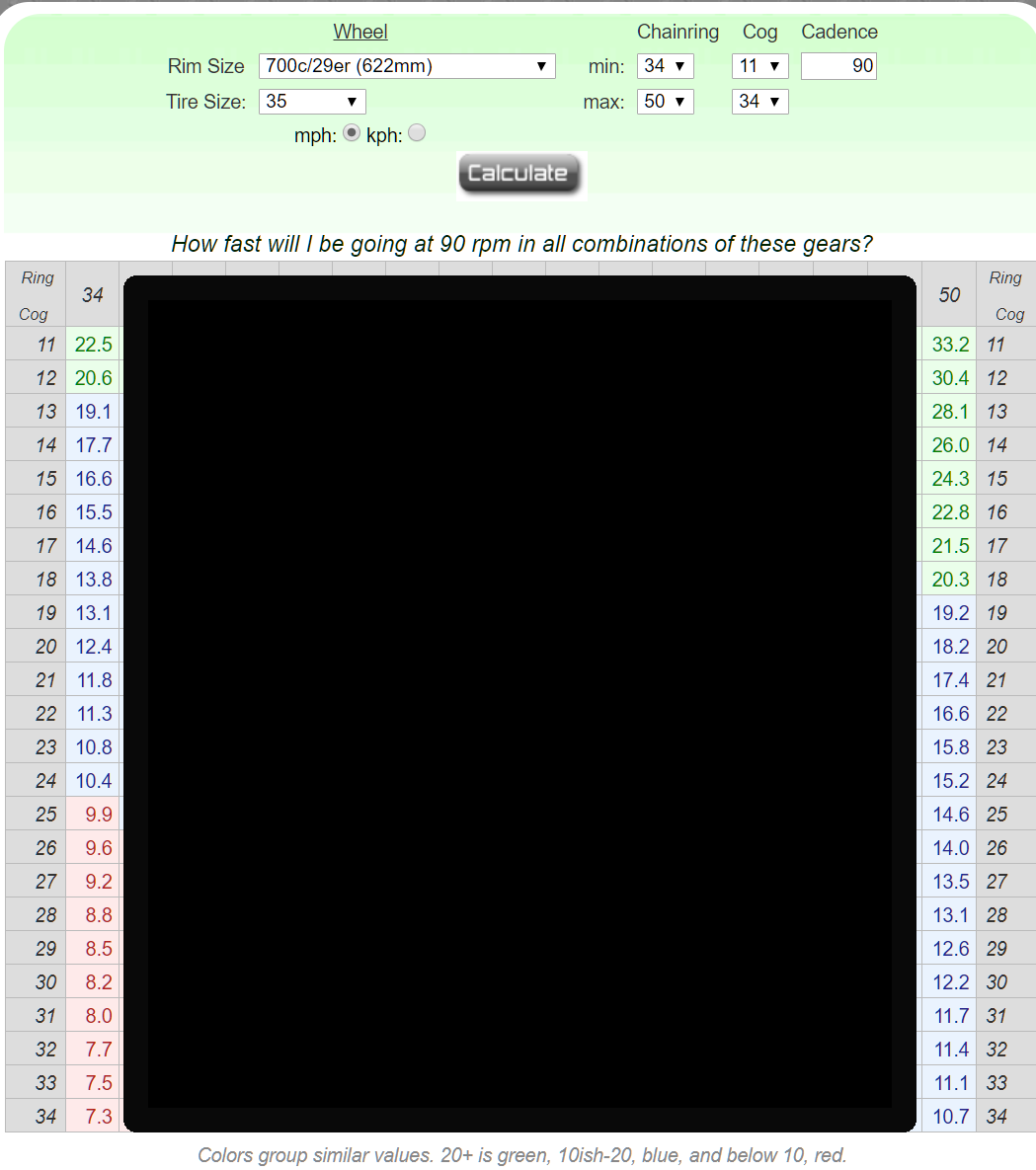 At a pedaling cadence of 90 RPM the bike will go a minimum of 7.3mph in the lowest gear and 33.2mph in the highest. Cassette gears are: 11-speed, 11-13-15-17-19-21-23-25-27-30-34t.
The carbon fiber frame and fork do a great job of absorbing bumpy roads and the bike handles great. The bike is stable and it's easy to ride with no hands. I was pleasantly surprised that the aggressive cockpit position ended up being fairly comfortable. I was planning to replace the slender, lightweight seat but after getting some saddle time I found it to be comfortable. I did end up replacing the saddle but for purely aesthetic reasons to match the British racing brown bar tape.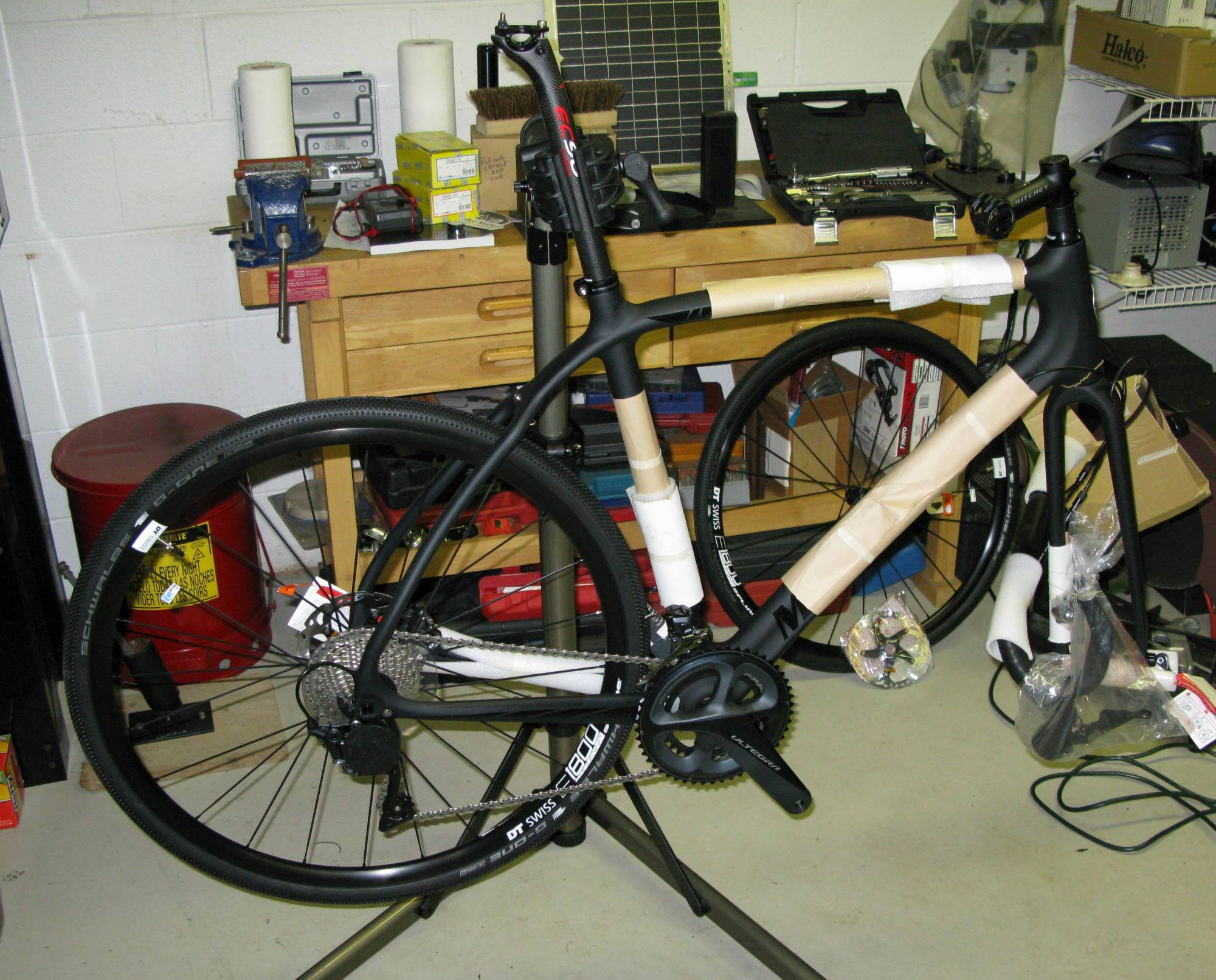 Don't remove the front disc caliper spacer until after the caliper is installed loosely, the front brake disc has been installed and the wheel is ready to go on. With the wheel and brake disc installed and while applying the front brake, tighten the caliper bolts. This will center the caliper on the disc. Save the plastic caliper spacer to use when bleeding the brakes--it will fit in the front and rear caliper.
---
---
My only complaint is that the bike came with generic assembly instructions which did not address the special tool needed to install the front brake disc. Nor were torque values given for the seatpost clamp, handlebar stem and brake caliper bolts. It's important to use a torque wrench when tightening seatpost clamps and when bolting anything into a carbon fiber frame. The fork has a carbon fiber steering tube so torque the stem clamp bolts to 4 to 5Nm (35 to 44in-lb). It seems 4 to 6Nm (35 to 53in-lb) is typical torque for a carbon fiber frame seatpost. I applied some carbon fiber grip paste to prevent seatpost slippage at 4Nm. Brake caliper bolts typically get 8 to 10Nm (71 to 88in-lb). Luckily I had the required lock ring tool for the brake disc install (see photo below). Torque the disc brake lock rings to 40Nm (30ft-lbs).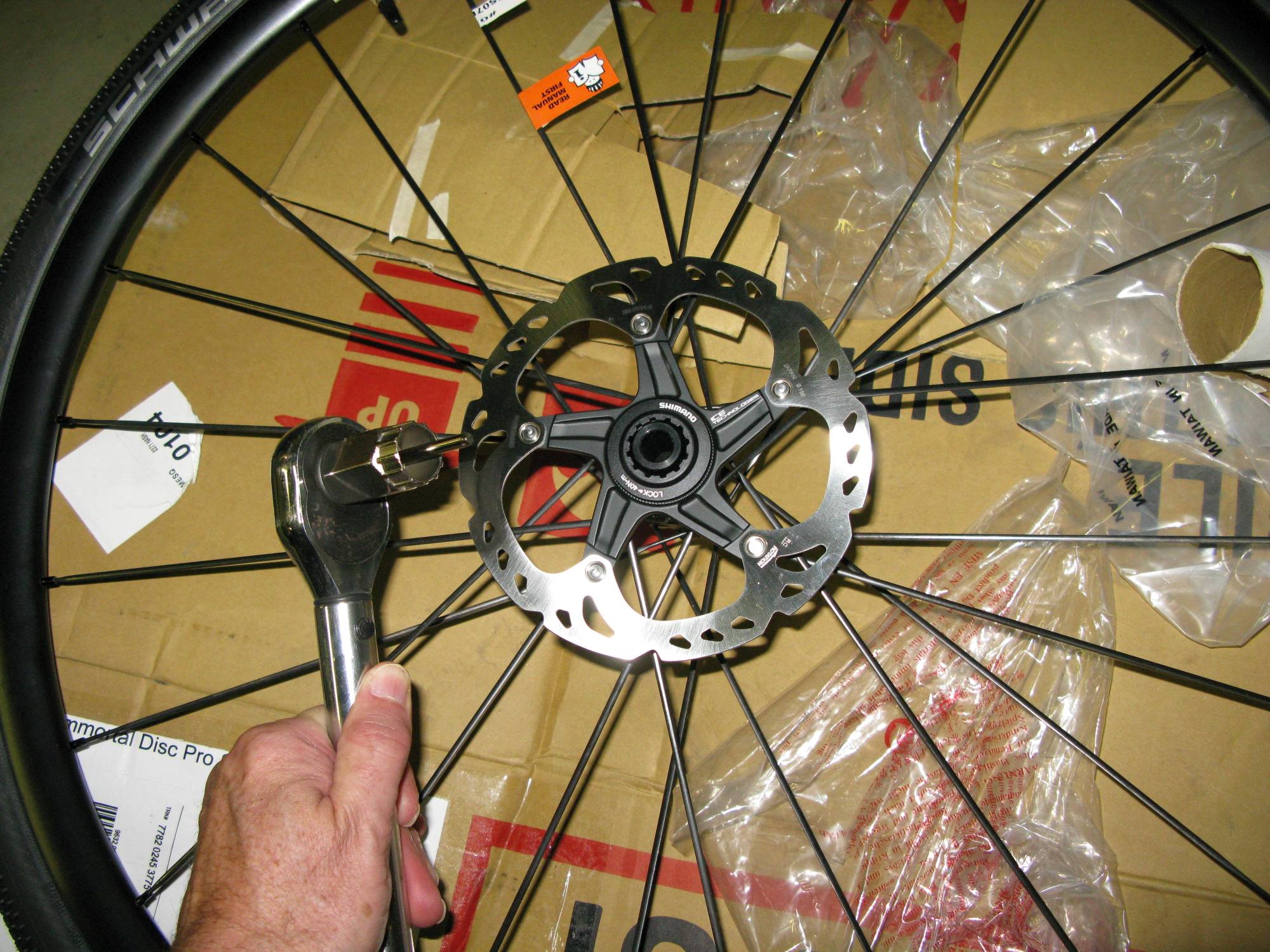 The front brake disc needs this "lock ring remover", Bikehand #YC-126-1A (available on Amazon and eBay), to install and torque to 40Nm (30ft-lbs).
The DT Swiss E1800 wheels are tubeless ready and have tubeless tape already in place and tubeless Presta valves came with the bicycle. After a couple of rides with tubes I decided to go tubeless. I removed the tubes, installed the tubeless Presta valves and added Stan's No Tubes Sealant (in July 2021 I went back to running tubes because tubeless leaked too much air--I had to add air before every ride). I also replaced the handlebar with a full carbon aero drop bar. Other than that the bike was just about perfect for my needs.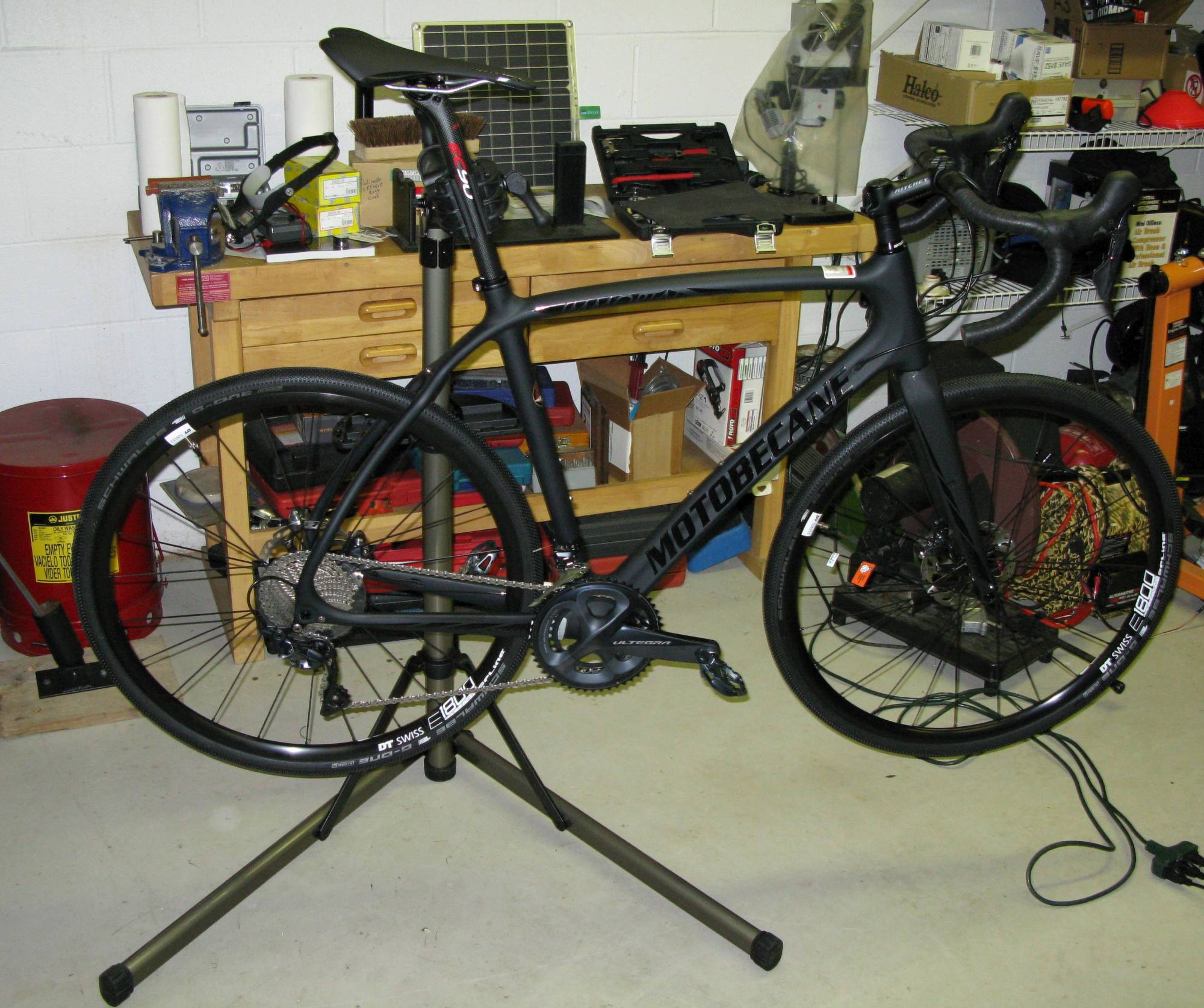 Sexy, crazy light and ready to go. Don't forget to lube the chain. The tire pressure listed on the sidewall is 45 - 70psi. In this photo I haven't yet leveled the seat or adjusted the seat height.
Carbon fiber frame made in Taiwan. Check out the fork clearance beyond the 35mm wide tire. Clearance in the rear is about the same. Motobecane lists the max tire width at 41mm but owners say 45mm fit fine.
Spoke Tension Chart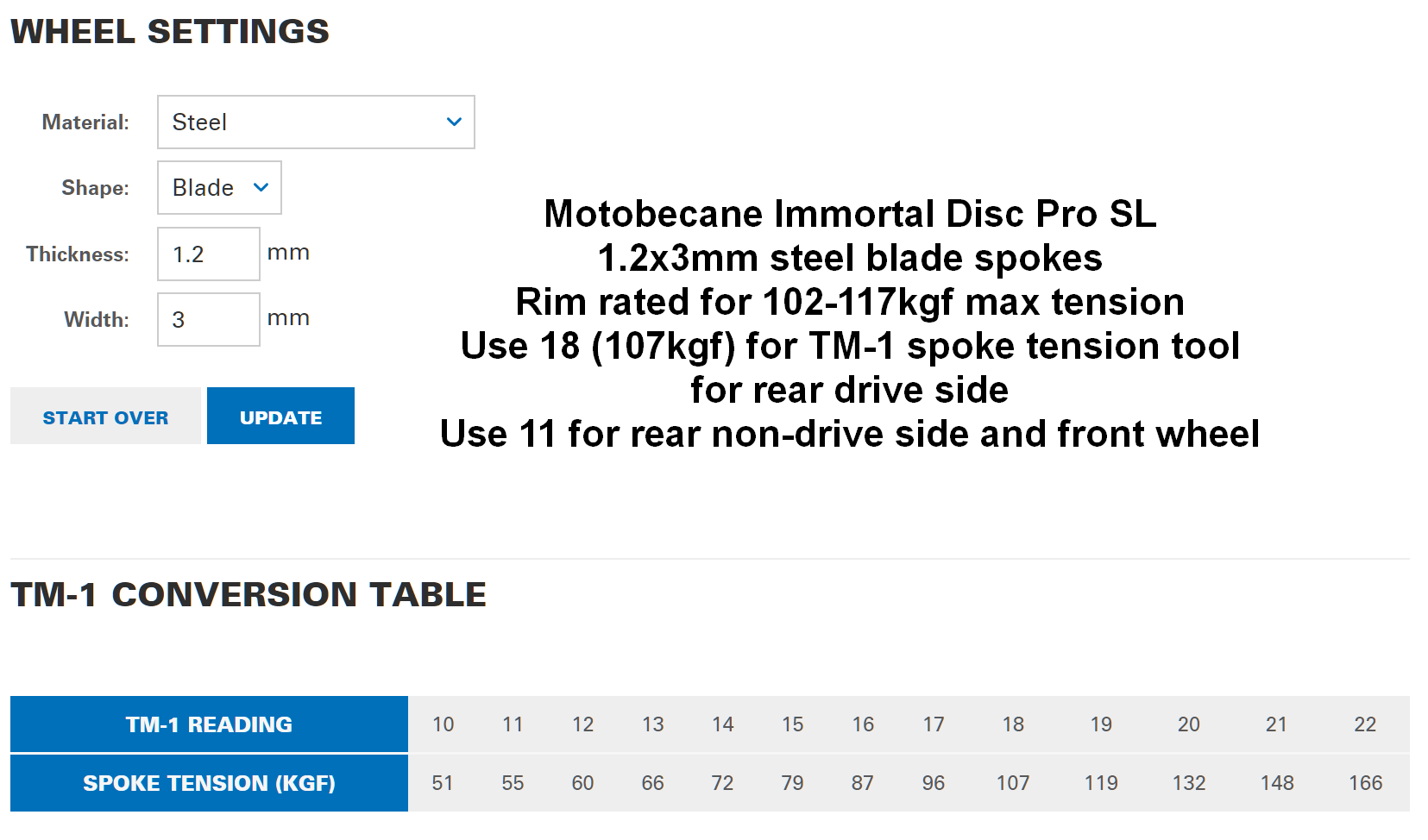 The Immortal Disc Pro SL has 1.2x3mm stainless steel blade spokes. Park Tool TM-1 spoke tension gauge reading on top row, tension in kgf on the bottom row. The DT Swiss E1800 rim is rated at 102-117kgf. The spokes are rated at 51-166kgf. I used 18 (107kgf) for the rear drive side and 11 (55kgf) for the front and rear non-drive side spokes. You'll need to hold the spoke blade with a small adjustable wrench so it won't turn when you tighten the nipple.
Update May 2020: I've now had the bike for six months and have put over 1000 miles on it. I still love it and have had zero problems other than a front tire puncture that I fixed with a tubeless tire plug. I installed leather colored bar tape and a matching saddle. I also added an Elemnt Bolt bike computer which records GPS track, speed, pedal cadence, heart rate and calorie burn. The bike looks great and rides even better.
Update July 2020: At 1,400 miles the right Ultegra brake/shifter jammed and wouldn't shift. My local bike shop did the warranty swap. I also added Panaracer GravelKing SK tubeless 700c 35mm (stock width) gumwall tires, Shimano PD-M540 SPD pedals and added a second water bottle rack.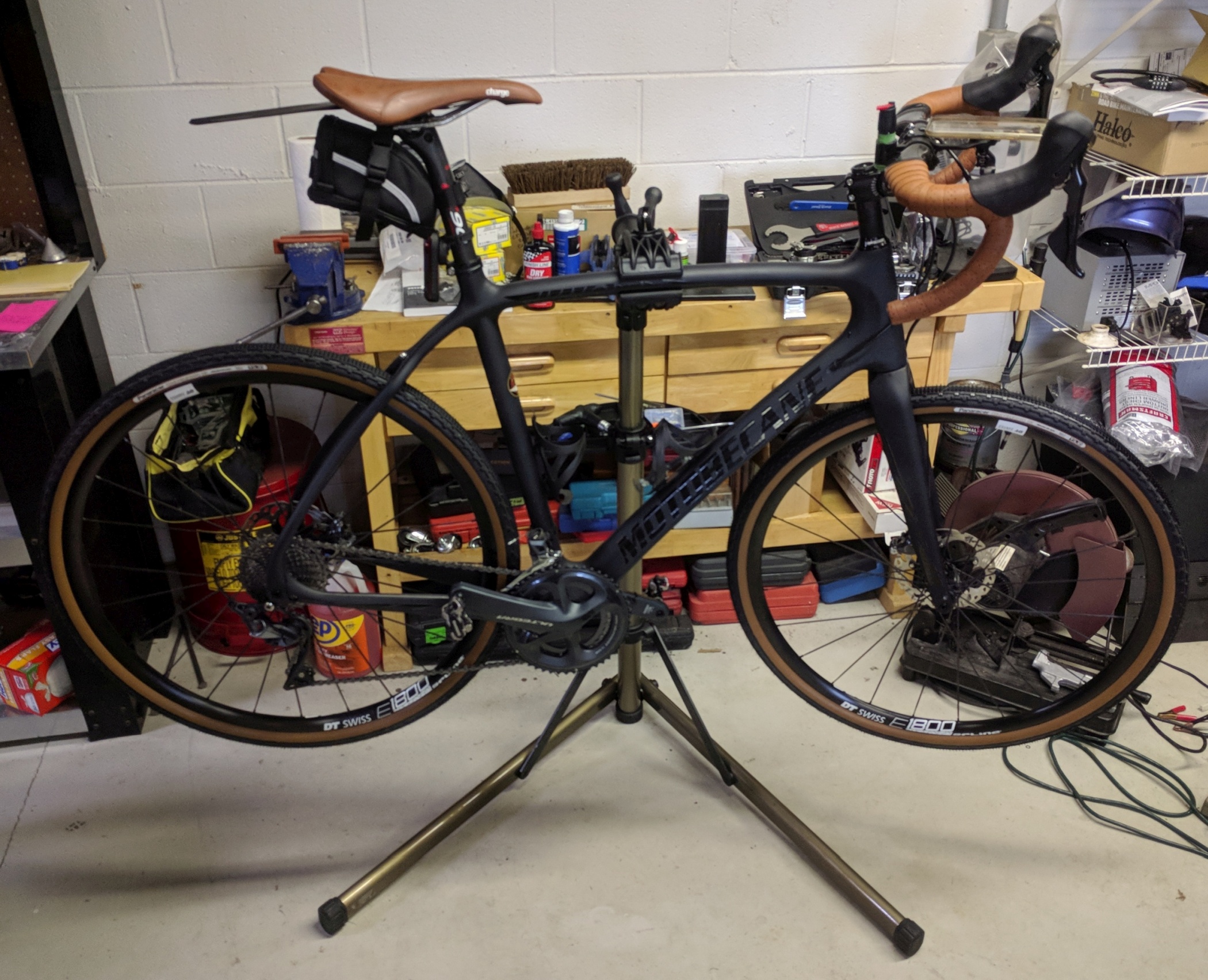 Panaracer GravelKing SK 700c 35mm tubeless gumwall tires.
Oval Chainring Install
I installed an AbsoluteBlack 34T oval chainring and here's a mini-review:
The bike came with 50T and 34T chainrings so the overall gearing hasn't changed. Since my large 50T chainring is round I could switch back-and-forth with similar gearing to really compare round vs. oval. I noticed two main differences. The first is smoother high cadence pedaling. When I really spin up for a climb at around 100 to 110 rpm there is less pulsing--where the bike accelerates on each down stroke then decelerates before the next down stroke. High cadence is definitely smoother. For normal cadence pedaling I really can't tell a difference.
The other big difference is dirt/gravel low gear climbing. Since the power pulses are smoothed out there is less tendency to spin the rear tire--you have better traction for climbs. This is why an oval chainring can be so helpful in mountain biking. I highly recommend an oval for 1x mountain bikes or for the climbing chainring on 2x or 3x bikes.
One note about ebikes, oval chainrings and mid-drive ebikes don't mix. It can make the bike speed pulsate under electric assist. Hub driven ebikes can use ovals since only leg power is transmitted through the chain.
I paid $52 delivered for the small AbsoluteBlack oval chainring from QARV Imports (QUARVimports.com) and I feel I definitely got my money's worth. The large, 50T oval chainring for my bike sells for $130 and I would have to add longer bolts $10 (required when using 2 oval AbsoluteBlack chainrings) and to achieve the stock look of my Ultegra crank I would have to add bolt covers for $54. I'm going to stick with the stock round 50T chainring for now.
Extra Set of Wheels & Tires
Around October 2020 I decided I wanted to be able to quickly swap between the factory 35mm gravel tires and 25mm road tires so I began the quest to find compatible wheels, brake discs and cassette. The reason road tires are so narrow is maximum air pressure and therefore rolling resistance. As a tire gets wider its maximum air pressure goes down which increases rolling resistance. I'm limited to 70psi with my 35mm wide Gravelking tires but the new Continental 25mm Gatorskins can run 110psi tubeless and 120psi with tubes for much less rolling resistance.
After some research I found the specs for the wheels that I needed for the purchase: 700c x 25mm (700c is the diameter standard and 25mm (1 inch) is the rim width) tubeless compatible wheels for 6-bolt disc brake (center lock is the other brake disc standard) and compatible with Shimano cassettes. My bike's front axle is a 12mm x 100mm thru axle (12mm axle diameter and 100mm length). Thru axles screw into the fork/frame. The rear axle is a 12mm x 142mm thru axle.
I also discovered that 29er wheels are the exact same diameter as 700c but their front axle has a larger diameter of 15mm. We can use 29er wheels on a 700c bike with a 12mm to 15mm axle adapter for the front wheel. My factory wheels use center lock brake discs but they cost about three times more than 6-bolt brake discs so I decided to go with 6-bolt for the second set of wheels. When purchasing wheels you must match up the axle size, axle type (thru axle or quick release) and brake disc (6-bolt or center lock).
I purchased these generic Chinese carbon fiber 700c x 25mm tubeless compatible wheels on ebay for $410 delivered. Delivery took about four weeks. I wanted 20-25mm inside rim width to fit 25mm (1 inch) wide road tires. Two 6-bolt brake discs with bolts were $22 total from Amazon. I went with the factory Shimano Ultegra CSHG800 11-34T cassette for $81 from Amazon. I added a pair of Gatorskins 25mm road tires at $100 for a set. So $613 for a complete set of carbon fiber wheels & tires. It takes me about four minutes to swap the wheels. I'm very happy with the wheels and the quick swap capability. I do notice less rolling resistance from the high pressure road tires but they definitely transmit every tiny bump into the bike--the wide gravel tires are quite a bit more comfortable.
1500 mile update February 2022: I have had zero issues with these carbon fiber wheels and I'm very happy with them. I gave up on running tubeless because they leaked so much air I had to add air before every ride. Both sets of tires are tube compatible so I cleaned out the tires, removed the tubeless tire stems and installed tubes. I didn't notice any difference in ride and tire pressure now holds up between rides. I also drilled out the valve stem hole on my original wheels so I could run normal Schrader valve tubes with the Gravel King tires. If you do this be sure and file both the inside and outside of the hole so the rim doesn't cut into the valve or tube.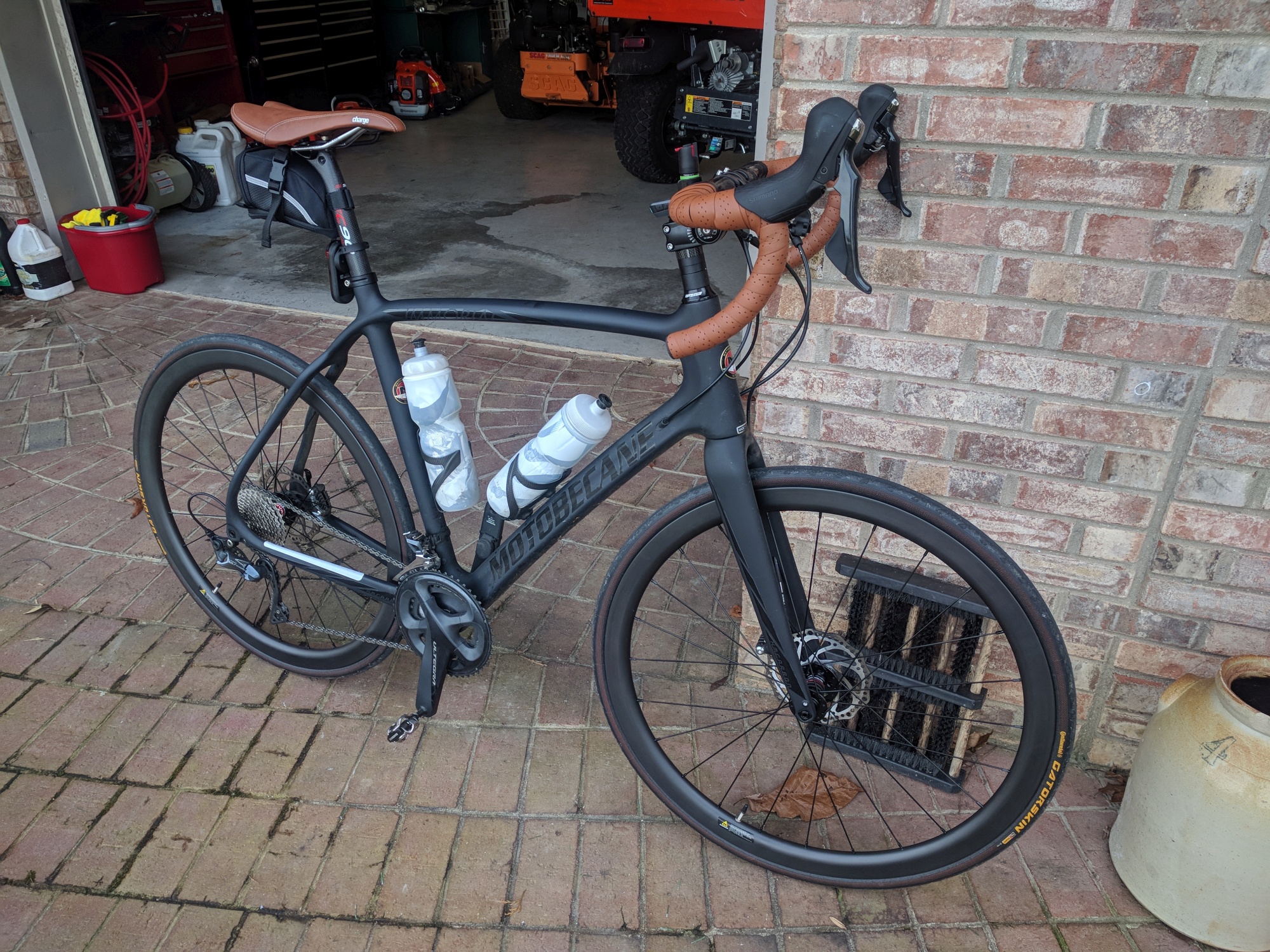 25mm wide carbon fiber rims with 25mm wide road tires.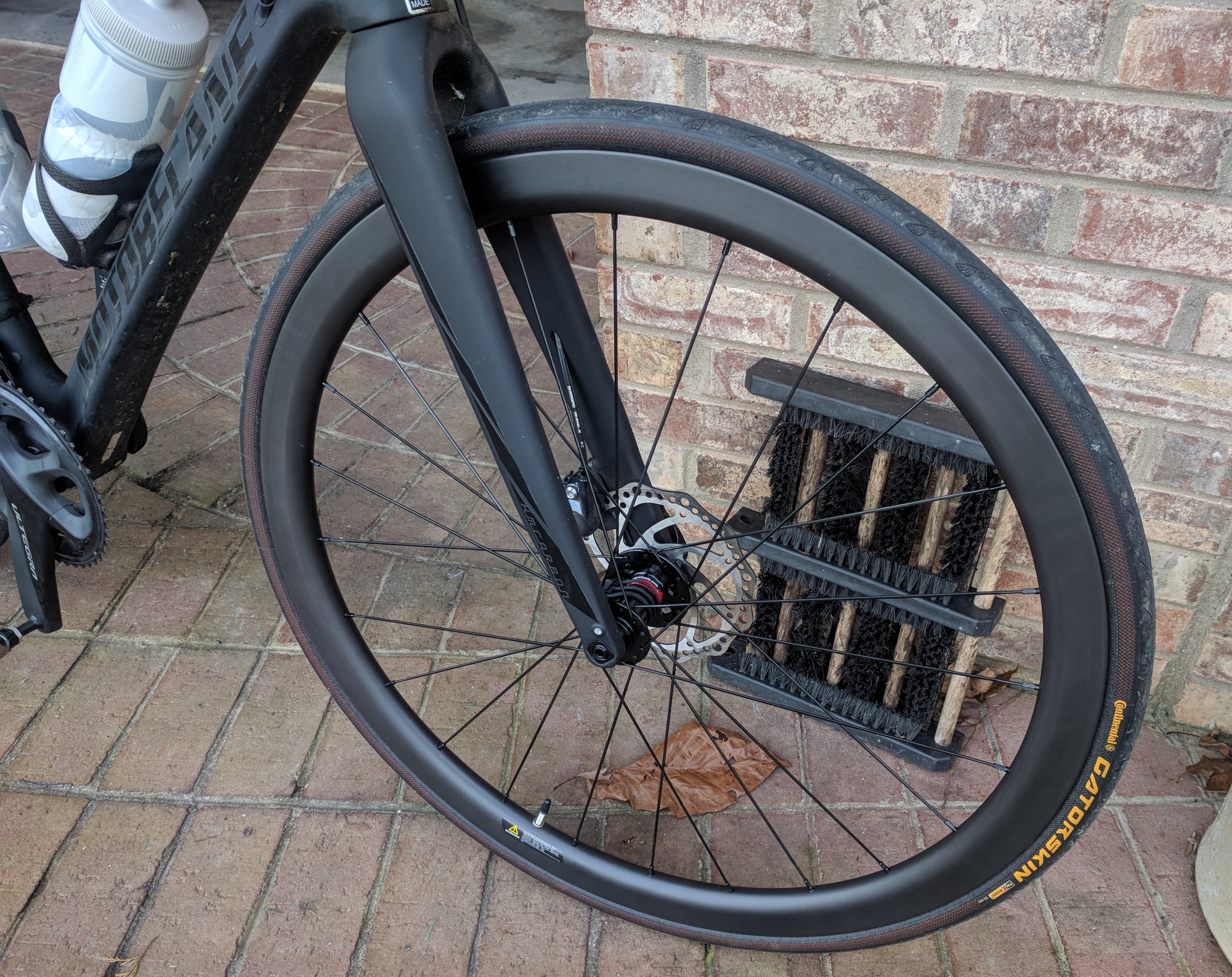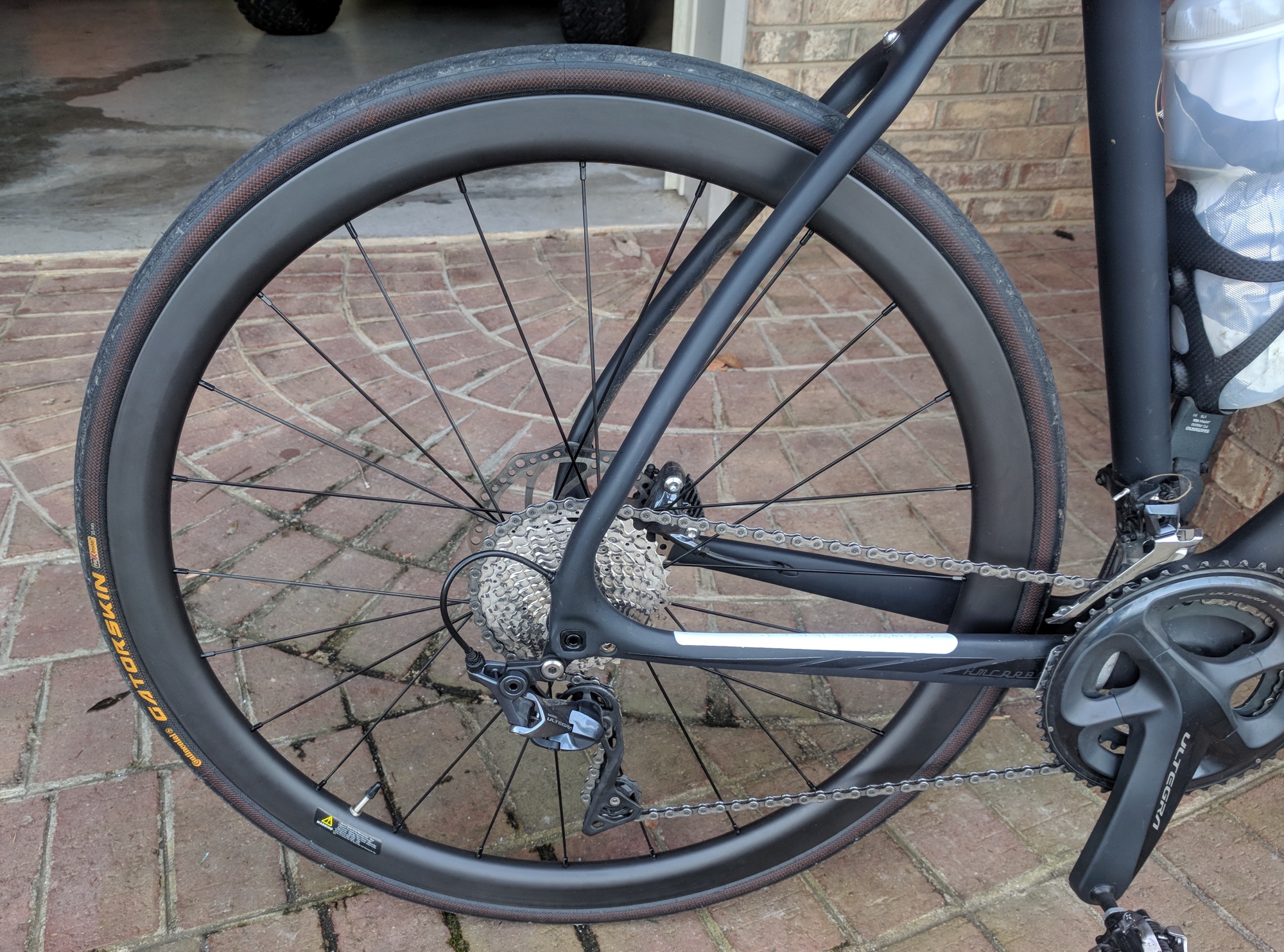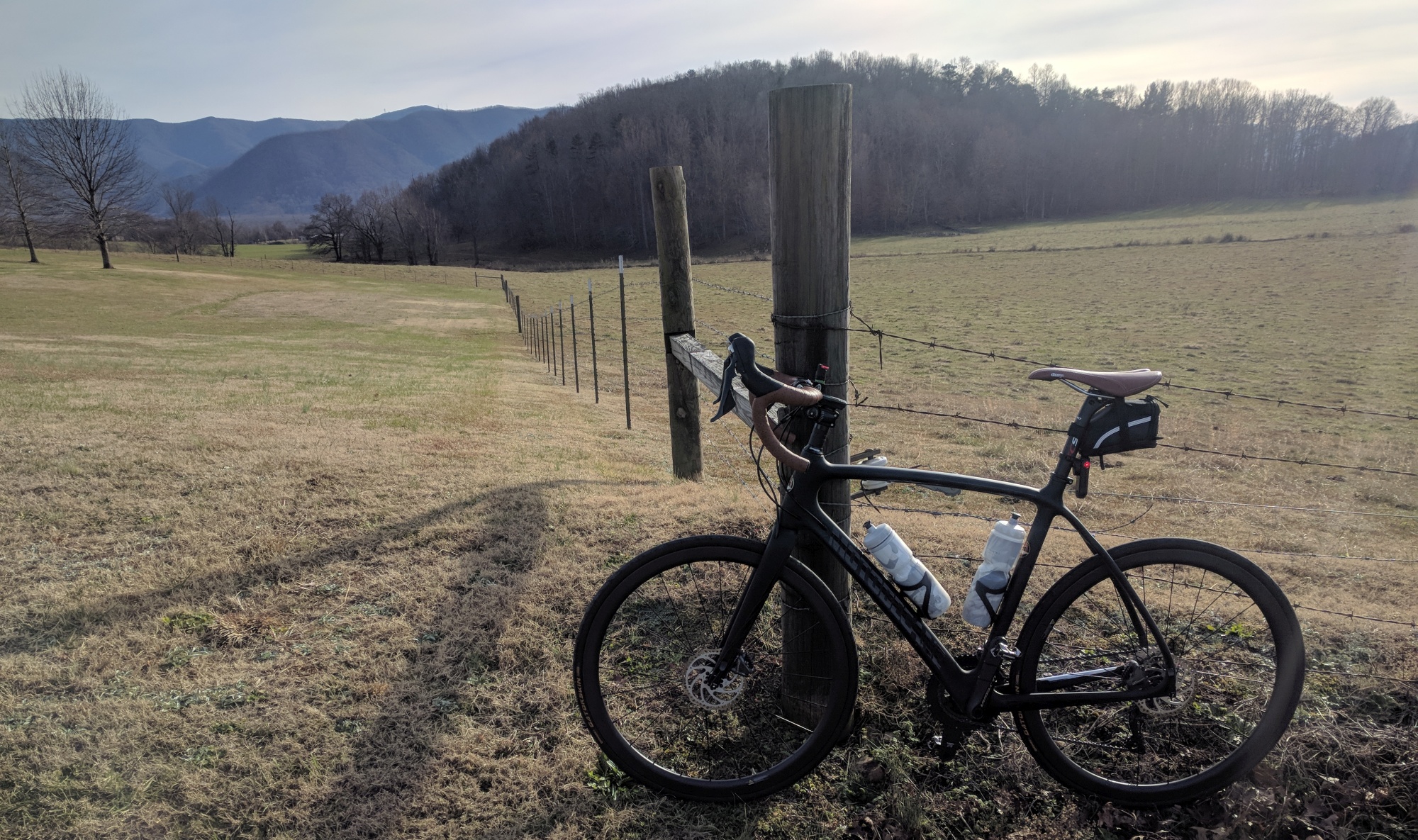 Taking a break in East Tennessee.
I love the Immortal Pro so much that I replaced my old 1996 Cannondale Super V mountain bike with a BikesDirect.com Motobecane HAL eBoost Pro full suspension electric mountain bike.
My Other Motobecane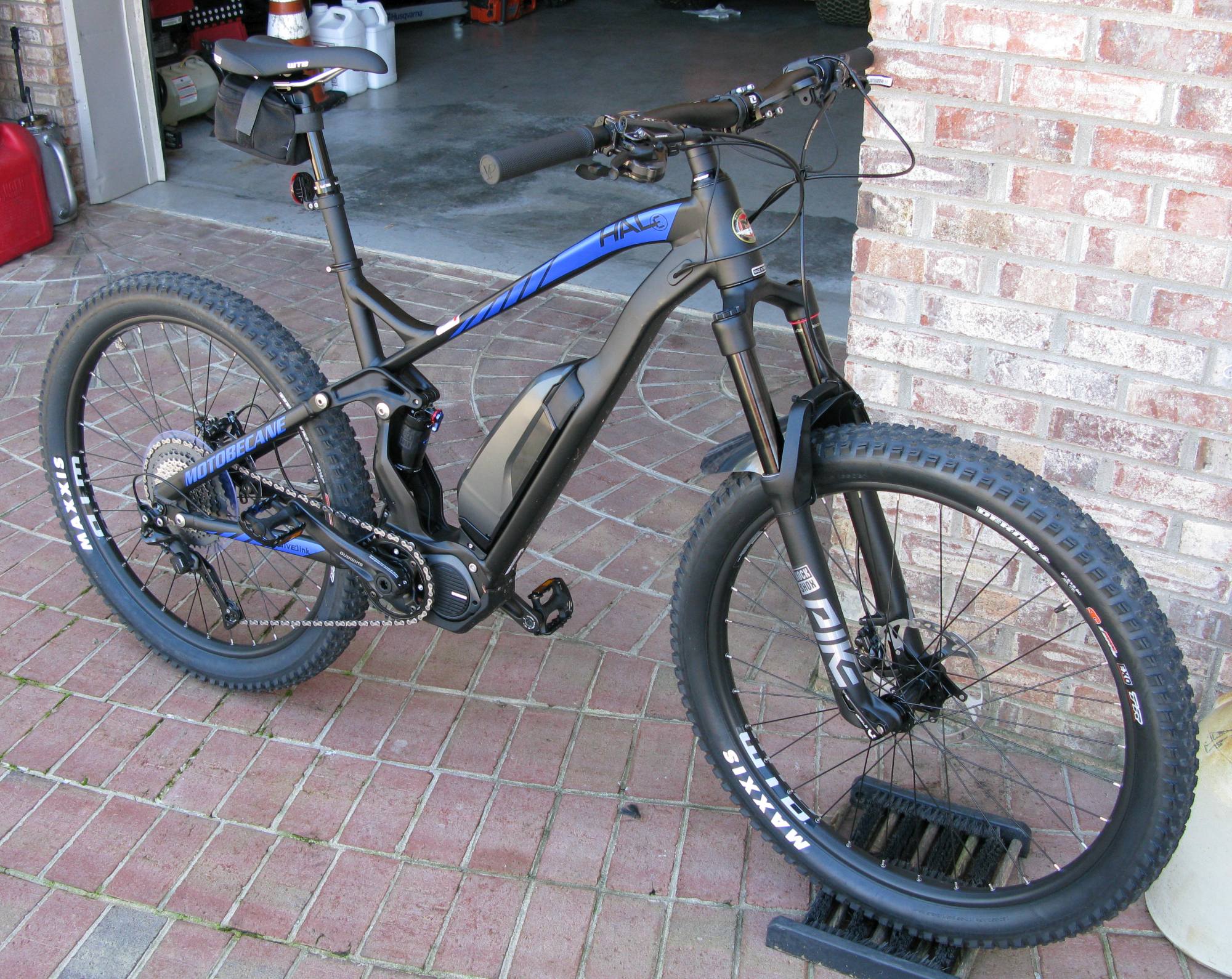 This is a fantastic electric mountain bike. Motobecane HAL eBoost Pro with full suspension, Shimano E8000 motor and running gear, 27.5" wheels (29er compatible), RockShox Pike fork and RockShox Monarch RL rear shock, 1x11 gearing, big 504 amp hour battery, Boost thru-axels and dropper seatpost with internal routed cable for left thumb actuation. See my review here.
P.S. I have no affiliation with BikesDirect.com, I'm just a very happy customer.
---
Immortal Disc Pro SL 2020 Specs From BikesDirect.com
Frame

:

SuperRoad Disc Brake 700

c

Carbon (Unidirectional Weave)

Road UPPER 1-1/8"/LOWER 1.5" TAPER H/T FRAME .RC: 430mm, HEAD TUBE: T CARBON UPPER 1-1/8"/LOWER 1.5" TAPER (48x42/57x52.1mm) L: 51/53/55/57/59CM=120/140/160/180/200mm

Bottom Bracket Shell: BSA68 Threaded, DROPOUTS VERTICAL W/REPLACEABLE HANGER, W/160 POST DISC MOUNT, THROUGH Axle /M12xP1.5. , 12x142MM

Bottom Bracket

: SHIMANO SM-BBR60, RIGHT LEFT (BSA), BEARING, INNER COVER (The SM-BBR60 uses the smaller than standard Shimano TL-FC37 Bottom Bracket Tool)

Fork

: 12MMxP1.5 THRU-Axle, CARBON UNIDIRECTIONAL

WEAVE BLADE 700C

, Threadless Steerer: CARBON 1-1/8" to 1.5" Taper. CROWN: 57mm, BLADE: CARBON STRAIGHT W/FLAT DISC MOUNT FOR 160 ROTOR W/55mm OFFSET, FORGED DROPOUTS. Fits up to 700x41c Tires

Crankset

: SHIMANO FC-R8000, ULTEGRA, 2X11-Speed, HOLLOWTECH 2, 50/34T, 170/172.5/175mm for 51-53/ 55 /57-59cm

Pedals

: BLK ROAD PEDAL W/9/16" CNC CRMO AXLE

Front Derailleur

: SHIMANO FD-R8000, ULTEGRA, FOR REAR 11-SPEED, DOWN-SWING, 34.9MM BAND

Rear Derailleur

: SHIMANO RD-R8000, ULTEGRA, GS 11-SPEED, TOP NORMAL SHADOW DESIGN, COMPATIBLE WITH 28-34T DOUBLE

Shifters

: SHIMANO SHIFT/BRAKE LEVER, ULTEGRA ST-R8020 Hydraulic 2x11 Speed

Cassette/Freewheel

: SHIMANO CS-HG800-11, 11-SPEED, 11-13-15-17-19-21-23-25-27-30-34T

34/34 = 1.00 (27.24" 7.3mph @ 90 cadence) 50/11 = 4.54 (123.8" 33.2mph at 90 cadence)

Chain: SHIMANO CN-HG701-11, FOR 11-SPEED 112 LINKS, W/END PIN

Wheelset: DT SWISS E1800 SPLINE db 23 WHEELSET

Rims: DT SWISS 700c ALLOY BLACK ANOD. SLEEVED TUBELESS READY W/FV, 622x20mm, IS 6-BOLTS ADAPTER, (SHIMANO) (1655g ) (Rim rated at 102-117kgf spoke tension)

S

pokes

DT SWISS STRAIGHT

PULL DT NEW AERO & DT AERO COMP, BLACK , F/R: 24/24PCS S.S. 2 CROSS W/DT ALUMINUM NIPPLES, Stainless Blade 1.2mmx3mm wide, 18 (107kgf) front wheel and rear drive side, 11 (55kgf) rear non-drive side (Rim rated at 102-117kgf, Spokes rated at 10-22, 51-166kgf)

F/HUB DT SWISS SPLINE ALLOY BLACK db HUB 24H. (CENTER LOCK) OL: 12x100MM

F.HUB THRUaxle QR264F 12mm ANODIZED BLACK L:M12xP1.5x118.5mm

R/HUB DT SWISS SPLINE ALLOY BLACK db HUB 24H. (CENTER LOCK) 3 PAWL, OL: 12x142MM, SHIMANO 11-SPD

R.HUB THRUaxle QR264R-X12mm ANODIZED BLACK, 12x142, L:M12xP1.5x160.5mm

Tires

: Schwalbe G-ONE Allround MicroSkin, TL-Easy, 700cx35 (41c max width) (diameter 27.24"), Folding Bead

Brakes

: SHIMANO ULTEGRA, ST-R8020/ BR-R8070 FOR 160mm ST R81 ROTOR, RESIN PAD, torque caliper bolts 8Nm, 10Nm max, Brake Disc 40Nm using special tool

Brake Levers

: SHIMANO ULTEGRA INTEGRATED ST-R8020 Hydraulic

Handlebar

: RITCHEY WCS LOGIC II 7050AL ANATOMIC DROP W/TUNNEL BUILT IN, B/CENTER:31.8mm 400/420/440mm FOR 51-53/ 55 /57-59cm, D/R:125/72,132/78,144/82mm, BB BLK

Stem/Headset

: RITCHEY WCS C-220 84/6D ALLOY2014 / SS Bolts TIOGA-OS, EXT:(-6°) 70/80/90mm FOR 51-53/55 /57-59CM, C/S:31.8/28.6x42mm, BB BLK (22lb-in top cap bolt)

Tape/Grip

: Motobecane Black Gel EVA Synthetic Cork

Saddle

: RITCHEY COMP STREEM 132 BLACK Synthetic Leather, Nylon + GF Shell, Steel Rail

Seat Post

: RITCHEY WCS 1B 20mm offset OS, ALLOY 2014-T6 3D FORGED 31.6 X 350mm, BB BLACK

Seat Clamp

: Aluminum with bolt 4-6Nm torque.
Sizing Guide
Most riders 5'2" to 5'5" fit the 51cm
Most riders 5'6" to 5'8" fit the 53cm
Most riders 5'9" to 5'11" fit the 55cm
Most riders 6'0" to 6'2" fit the 57cm
(I am 6'2")
Most riders 6'2" to 6'4" fit the 59cm
Love This Bike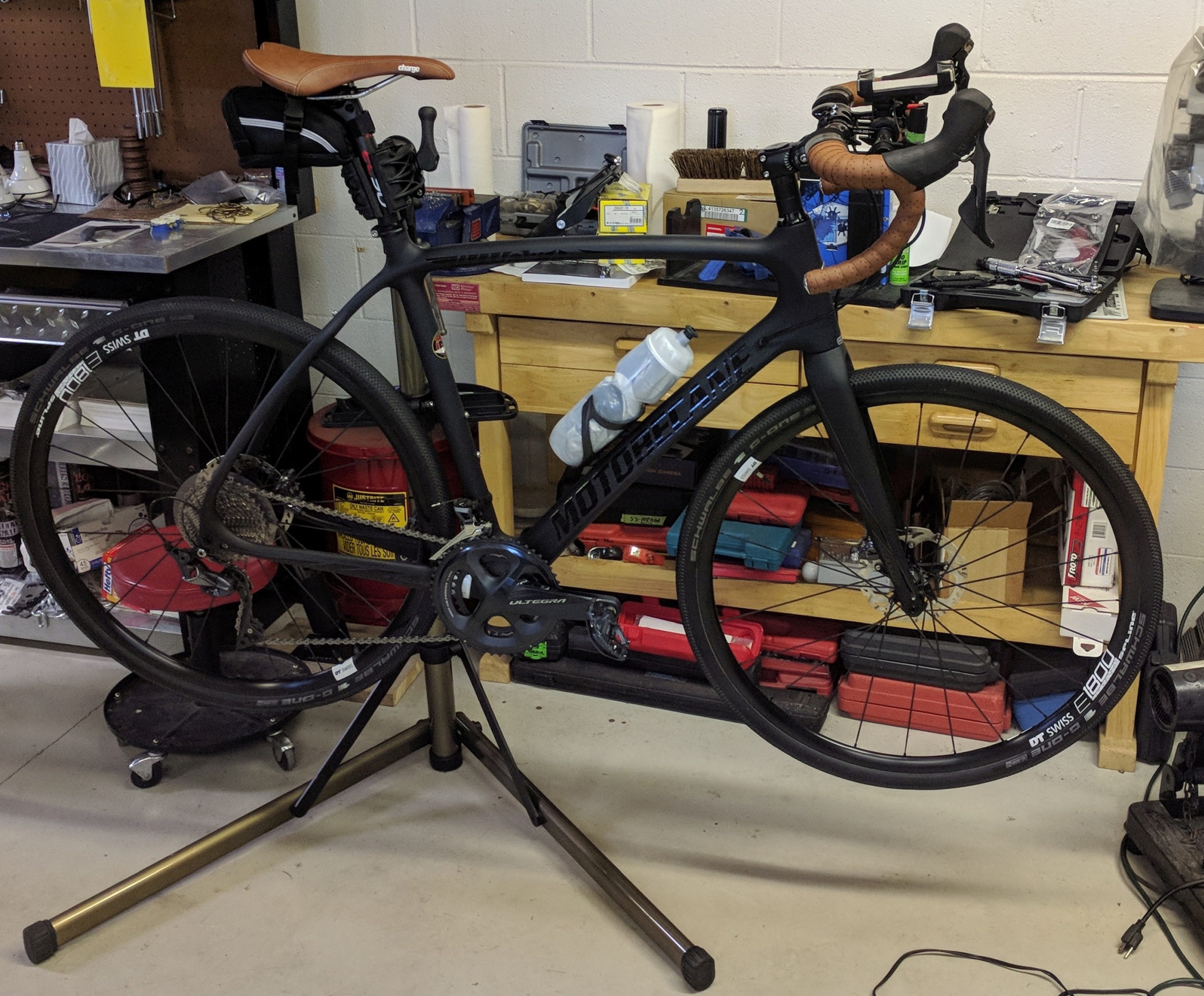 ---