---
Sold: Sweet Ass 2012 ATC Motiv RSX 30 Foot Car Hauler
Asking $11,999 (sold for asking price)
ATC (Aluminum Trailer Company) Motiv RSX Aluminum Car Hauler Model # MOTRSX8530TA4 built 3/16/2012. Located in Eastern Tennessee near Interstate 81.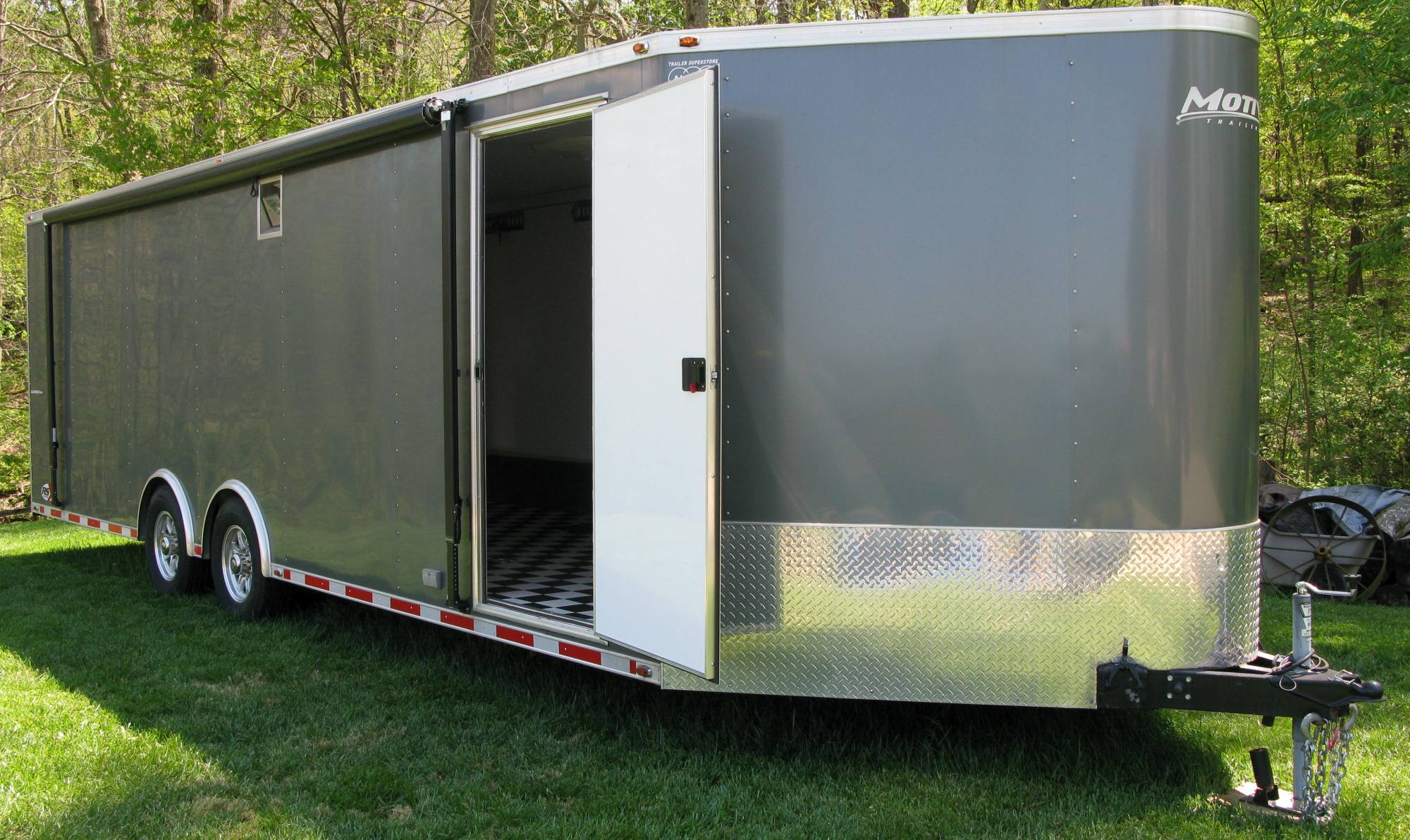 Excellent condition, loaded with factory options and has less than 5,000 miles. It was stored indoors for over half its life. Note 19 foot roll-out awning.
VIN: 5JXJE3020CS194634
26 feet long + 4 foot aerodynamic wedge nose, 7 foot ceiling, 81 inches between interior fenders, 88 inches at the ramp door and 97 inches between interior walls so car front tires need to be <81" wide and rear tires need to be <88" wide
Max gross weight of 13,200lbs with 7680lbs of cargo capacity (2 6000lb torsion axles + 1200lb tongue weight)
Built-in 19 foot roll-out awning by Dometic
+ 6 inch interior height of 7 feet
Roof mounted 15,000 BTU air conditioner & heat pump
Finished interior with insulated walls & ceiling, interior is white painted wood paneling
Weight Distribution Hitch included: etrailer.com Pro Series Trunion Weight Distribution Hitch 15,000lbs rated
Includes hitch stabilizer-damper bar
13 floor and wall mounted E-Track tie down tracks
E-Tracks are bolted to the frame. Many E-Track rings and straps included
6 recessed floor 6000lb tie down swivel D-rings
4 heavy-duty ratcheting car straps included
High & low cabinets in wedge nose
Electric brakes on all axels
Fold-down built-in floor wheel chock
Double-fold ramp with large rubber supports
Splash guard on wedge nose
120 volt electrical package with interior overhead lights & interior & exterior receptacles
Wall mounted Trailer Aid wheel lift wedge for easy tire changes
Exterior 120 volt 500w quartz light
Electrical Plug 50 amp Marinco Easylock 50A 125/250V Grounded male, Shore cord included, end 14-50P male
Air Conditioning is on 20 amp breaker
Wall mounted fold-down computer table
Motorcycle wheel chock & tie downs installed next to cabinets
Tires & Wheels 235/80 16x6j @ 80psi on mag wheels & wall mounted spare with mag wheel
Winch plate installed under floor
Factory installed checkerboard floor
Purchased in 2012 at All Pro West, Mechanicsburg, PA for $19,980
Use #14 x 1 inch self tapping screws in walls, #14 x 2 1/2 or 3 inch in floor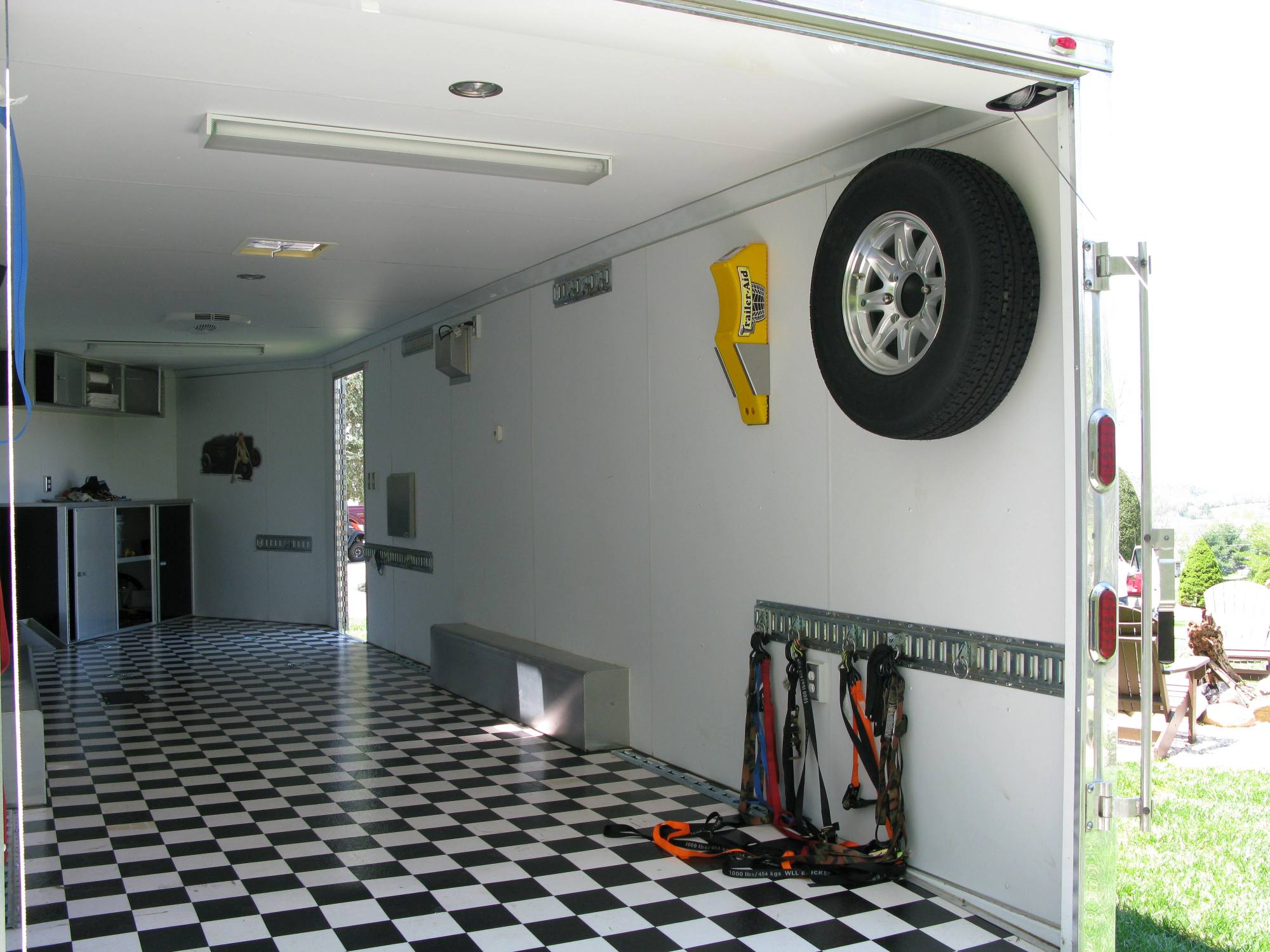 Spare tire, Trailer Aid wheel lift, 13 floor and wall E-Track anchors installed. E-Track rings and straps included. Crank open translucent ceiling vent.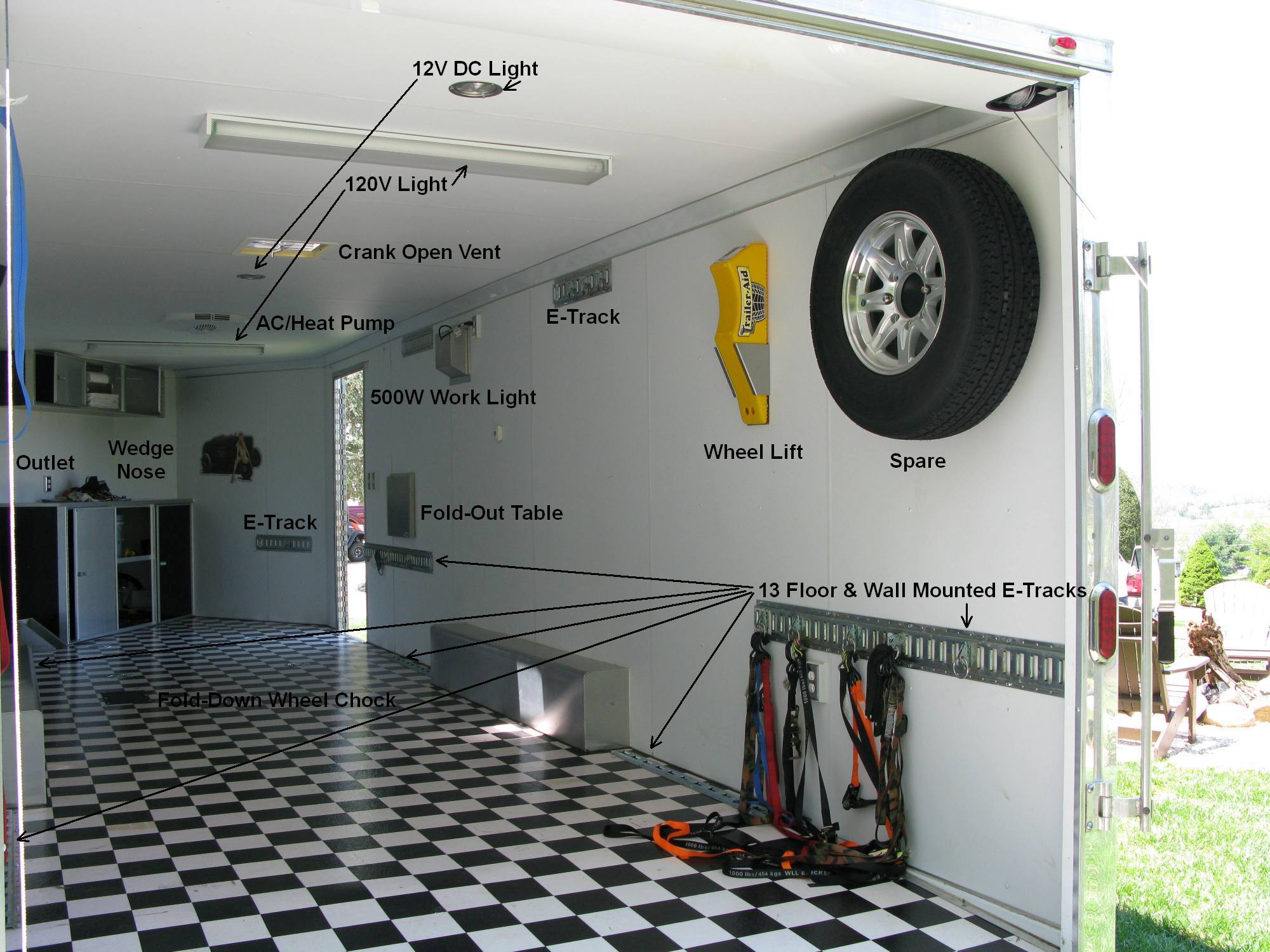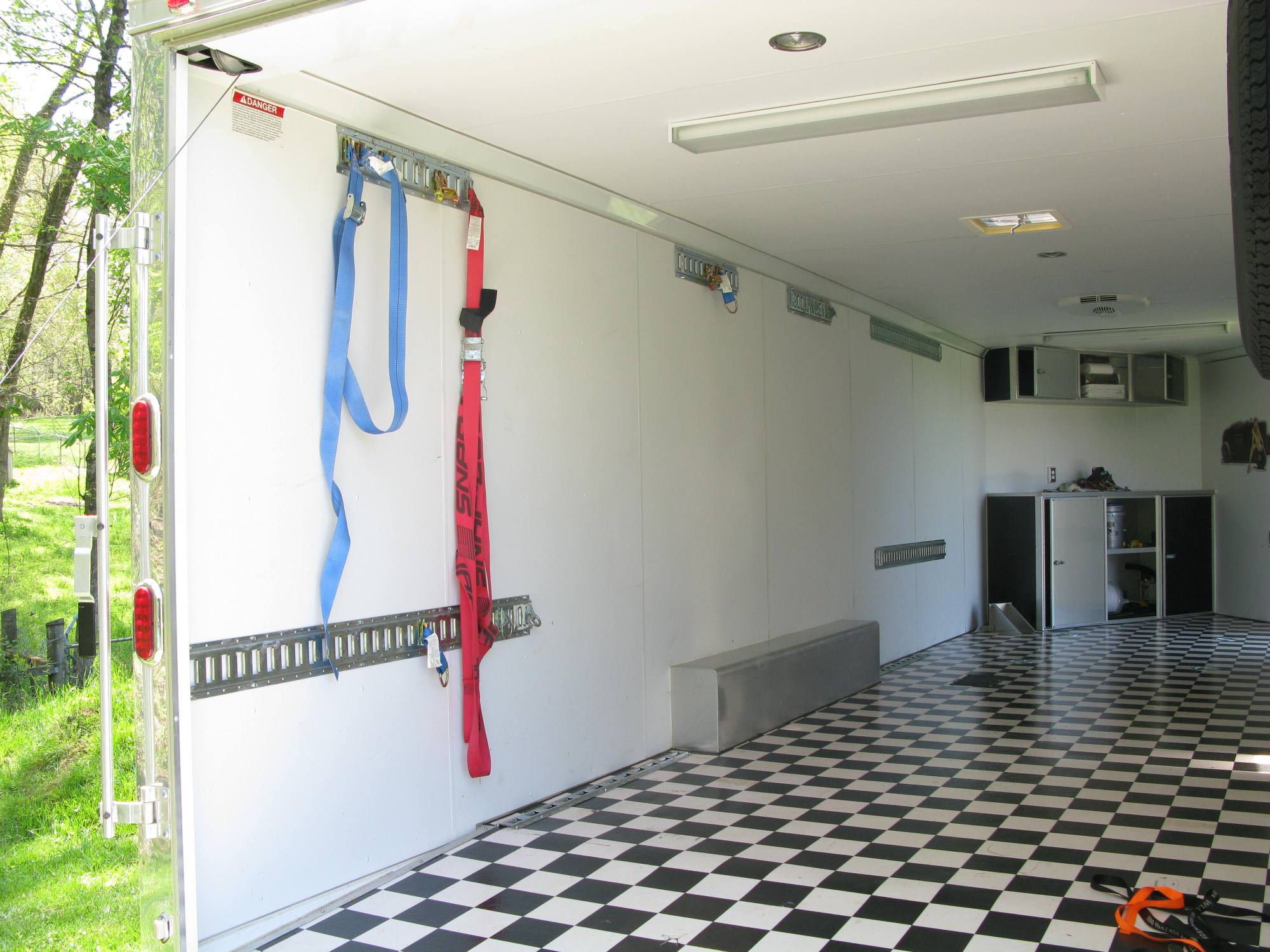 Note 12 volt DC dome lights and 120 volt fluorescent lights.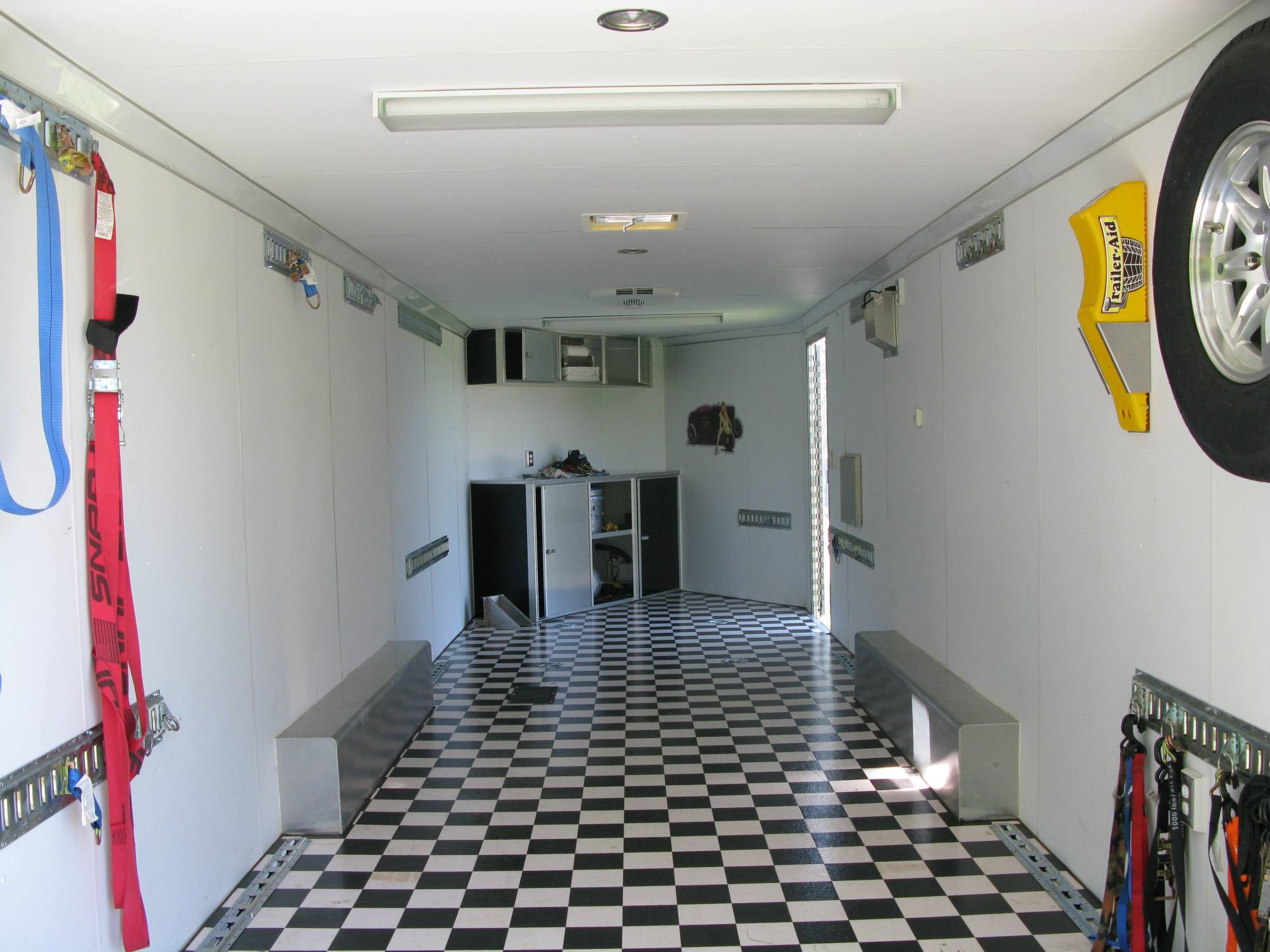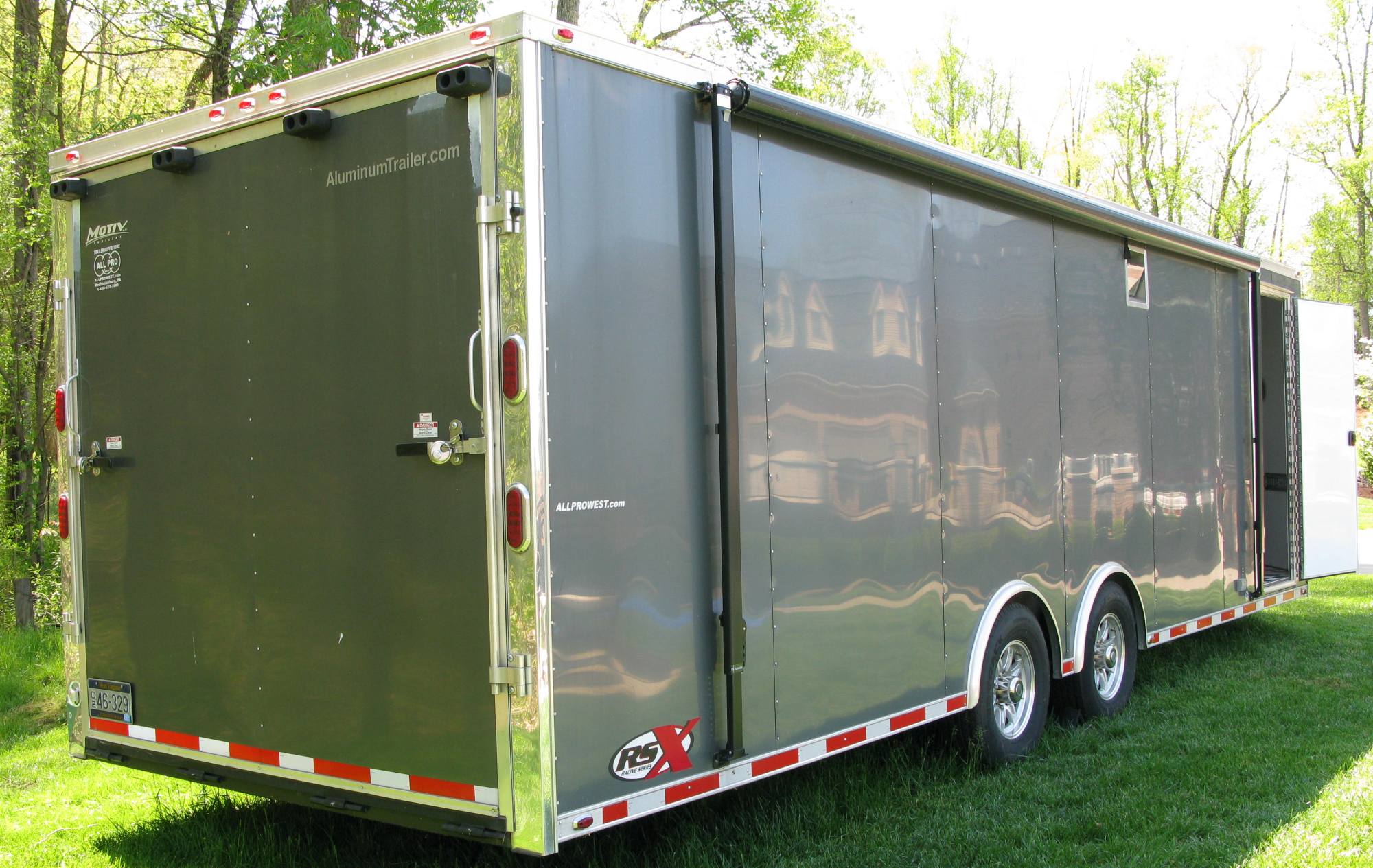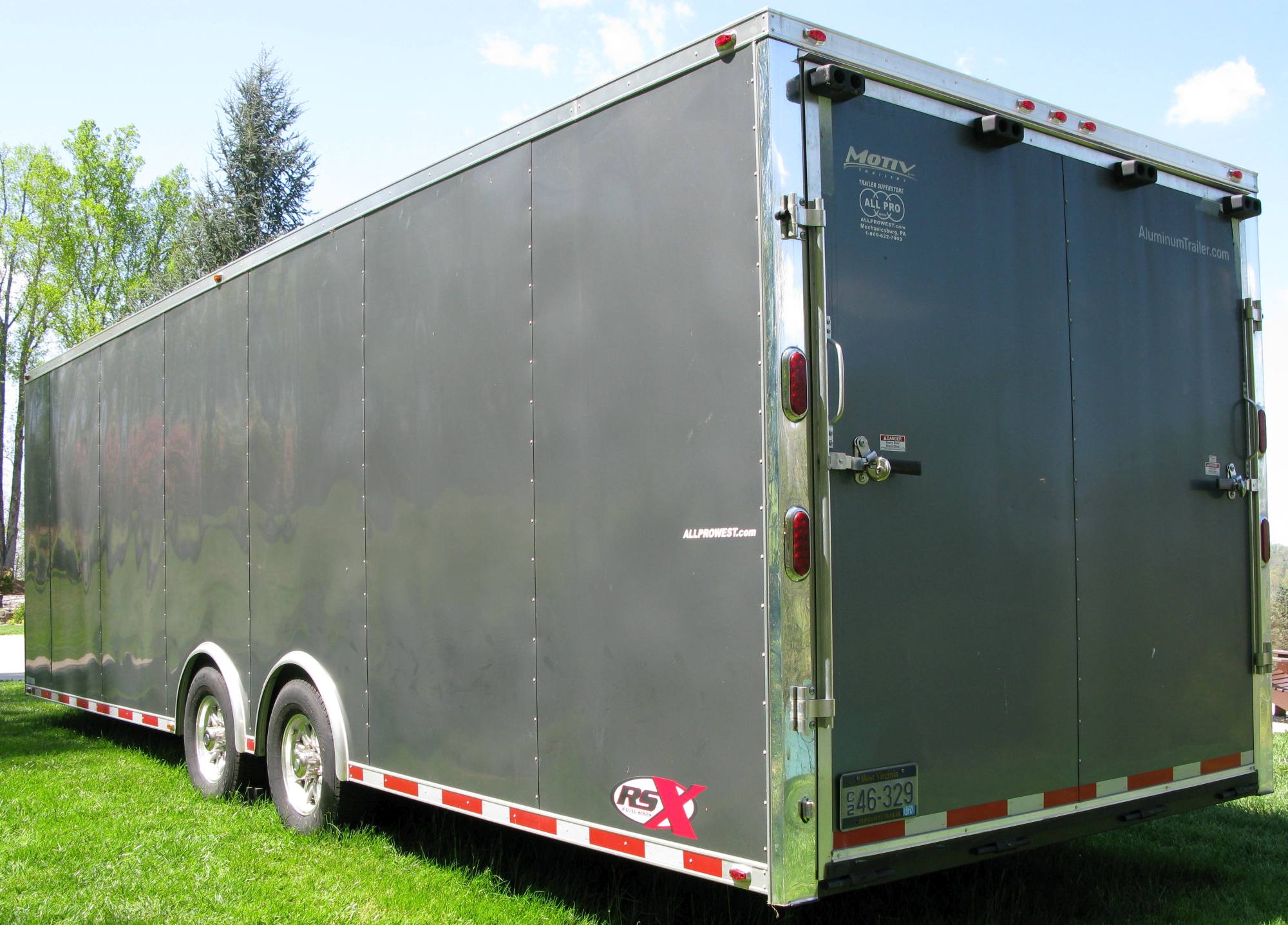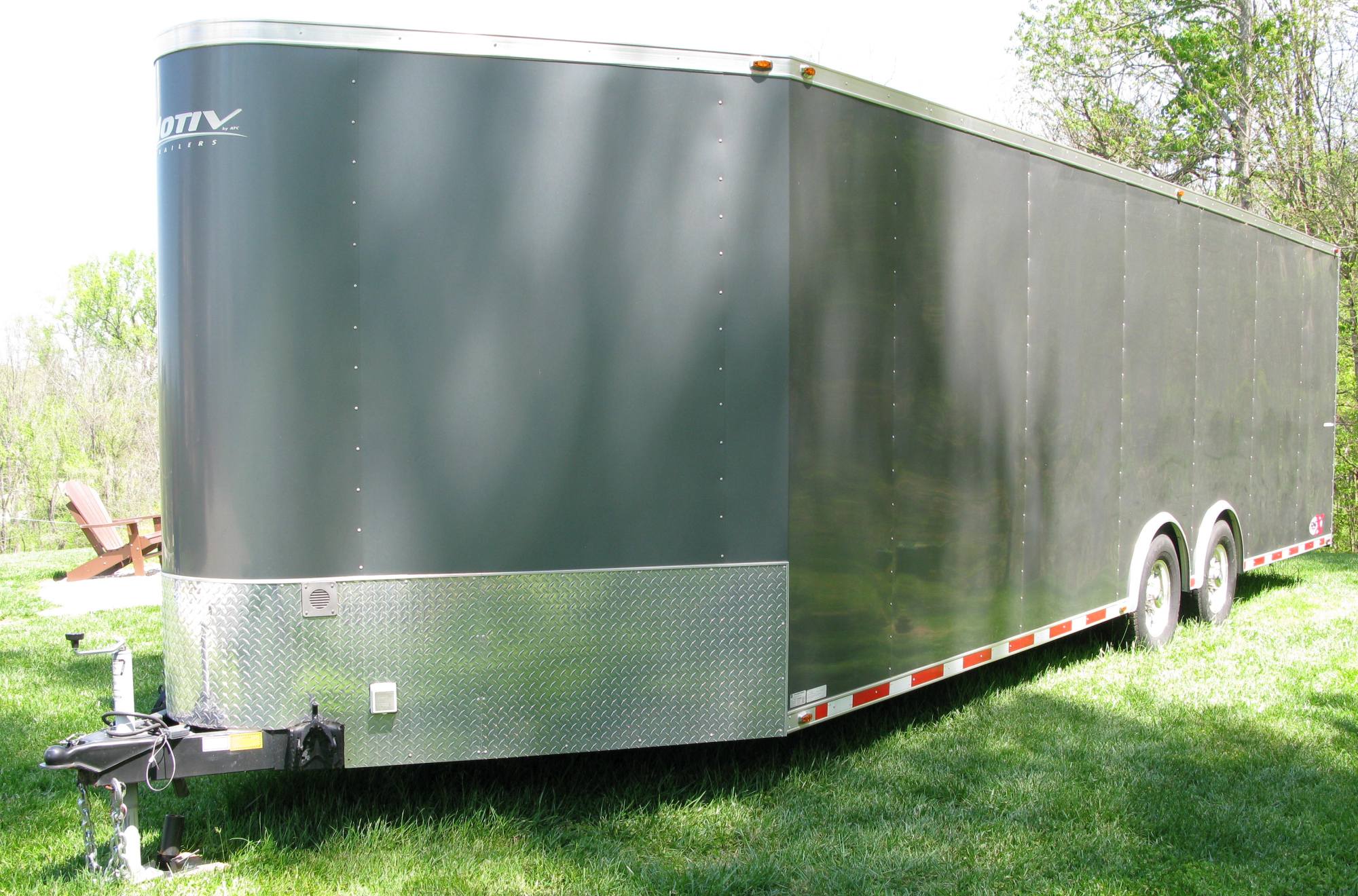 Double fold ramp with large rubber ramp supports.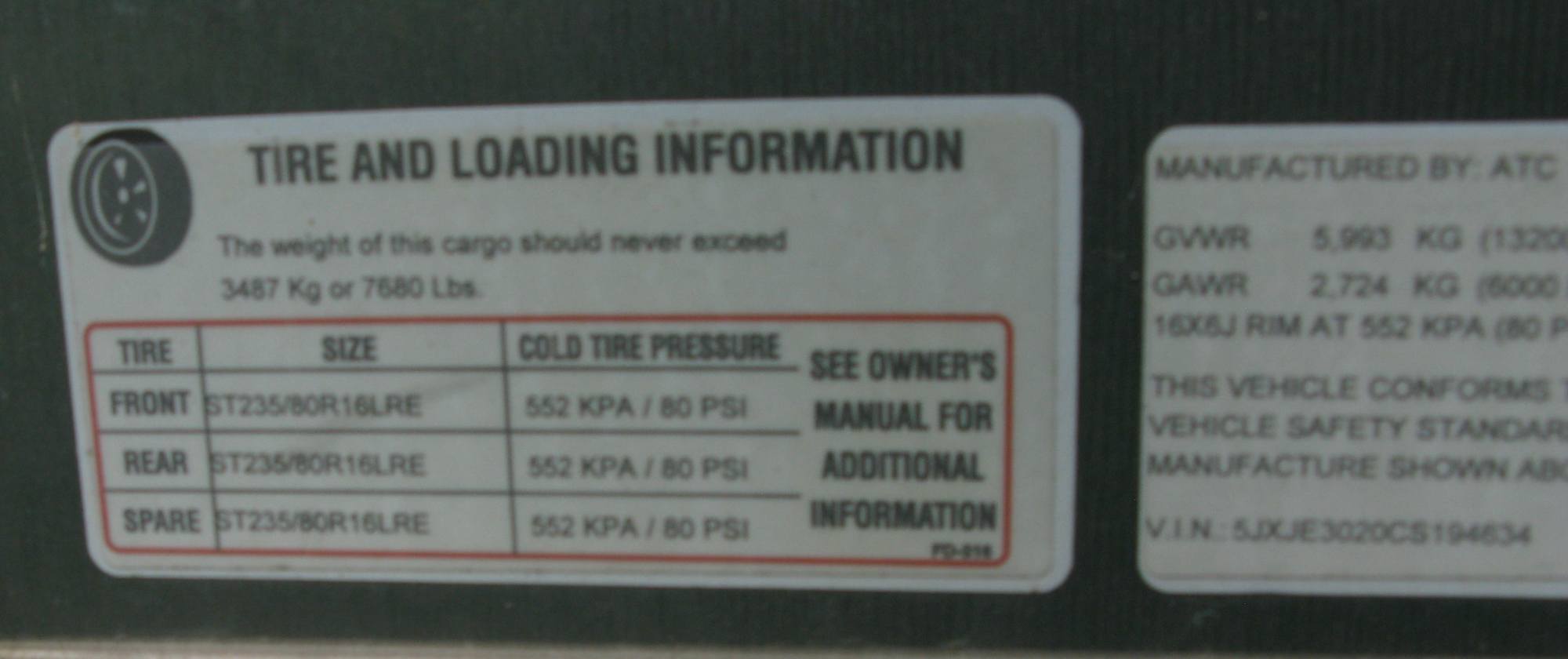 Note 13,200lb gross vehicle weight rating (GVWR).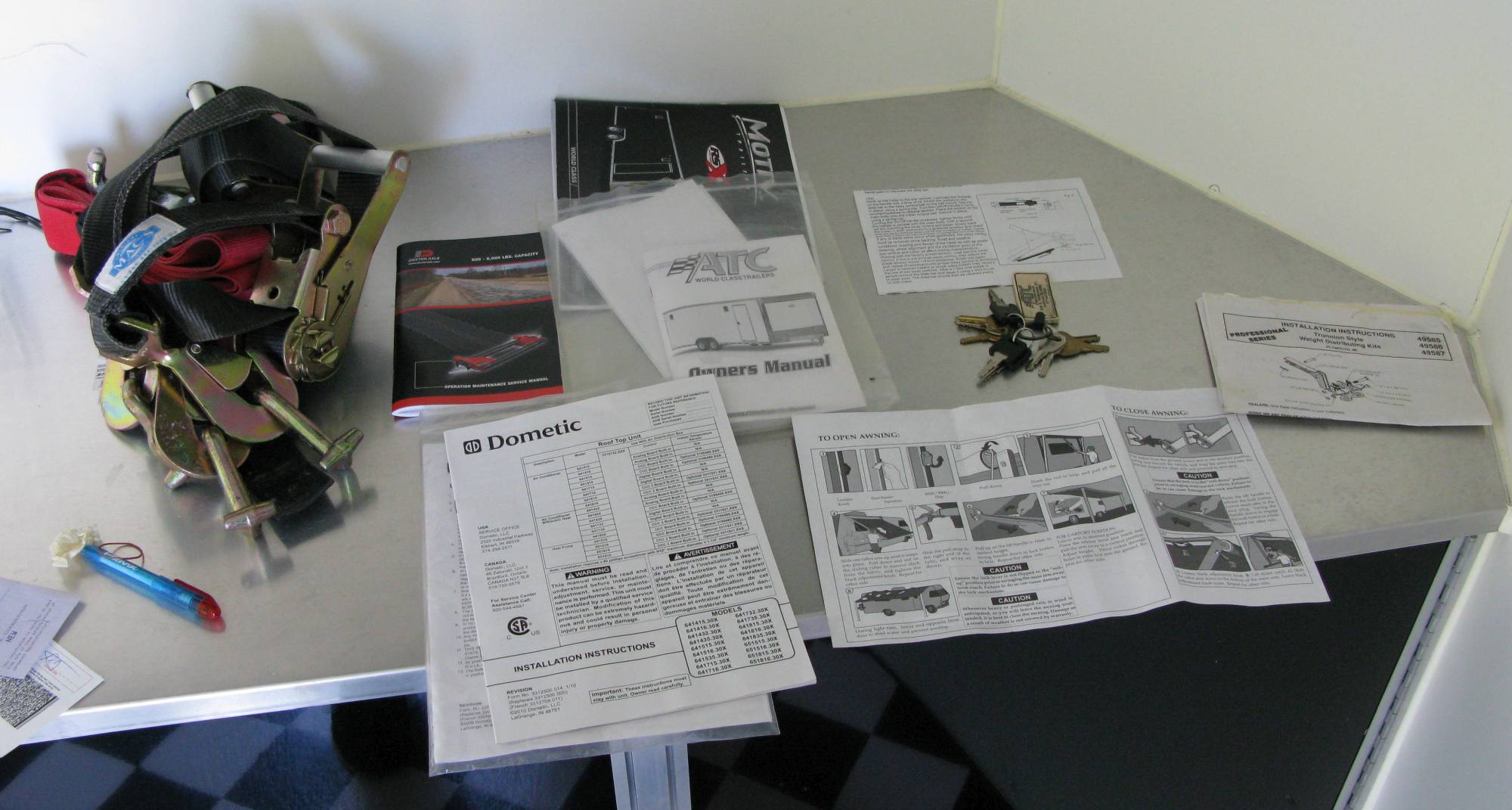 All manuals included: Trailer, Hitch, Hitch Stabilizer, Awning, Air conditioning/Heat pump. Four heavy duty ratcheting car tie down straps included.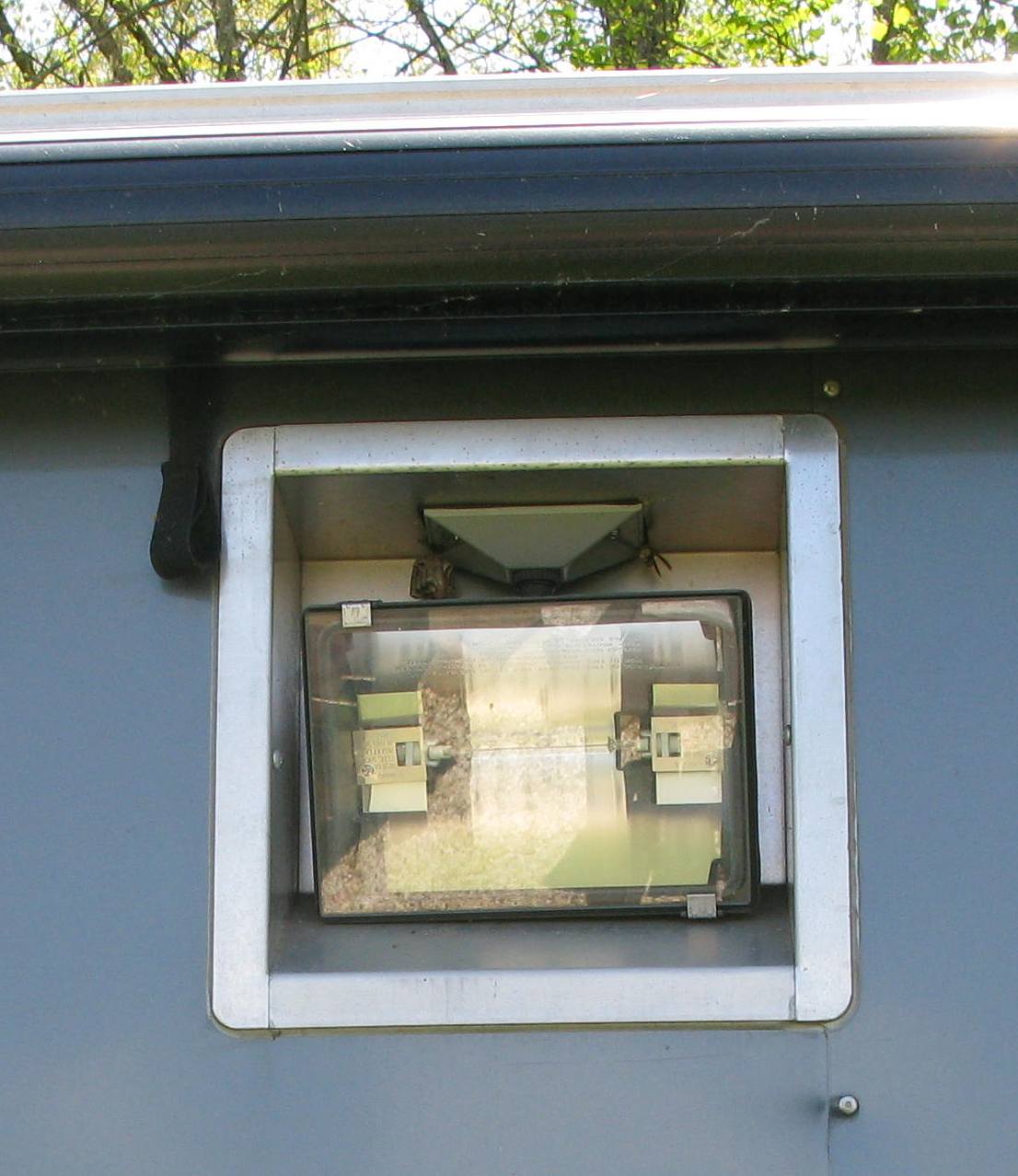 500 watt 120v exterior work light.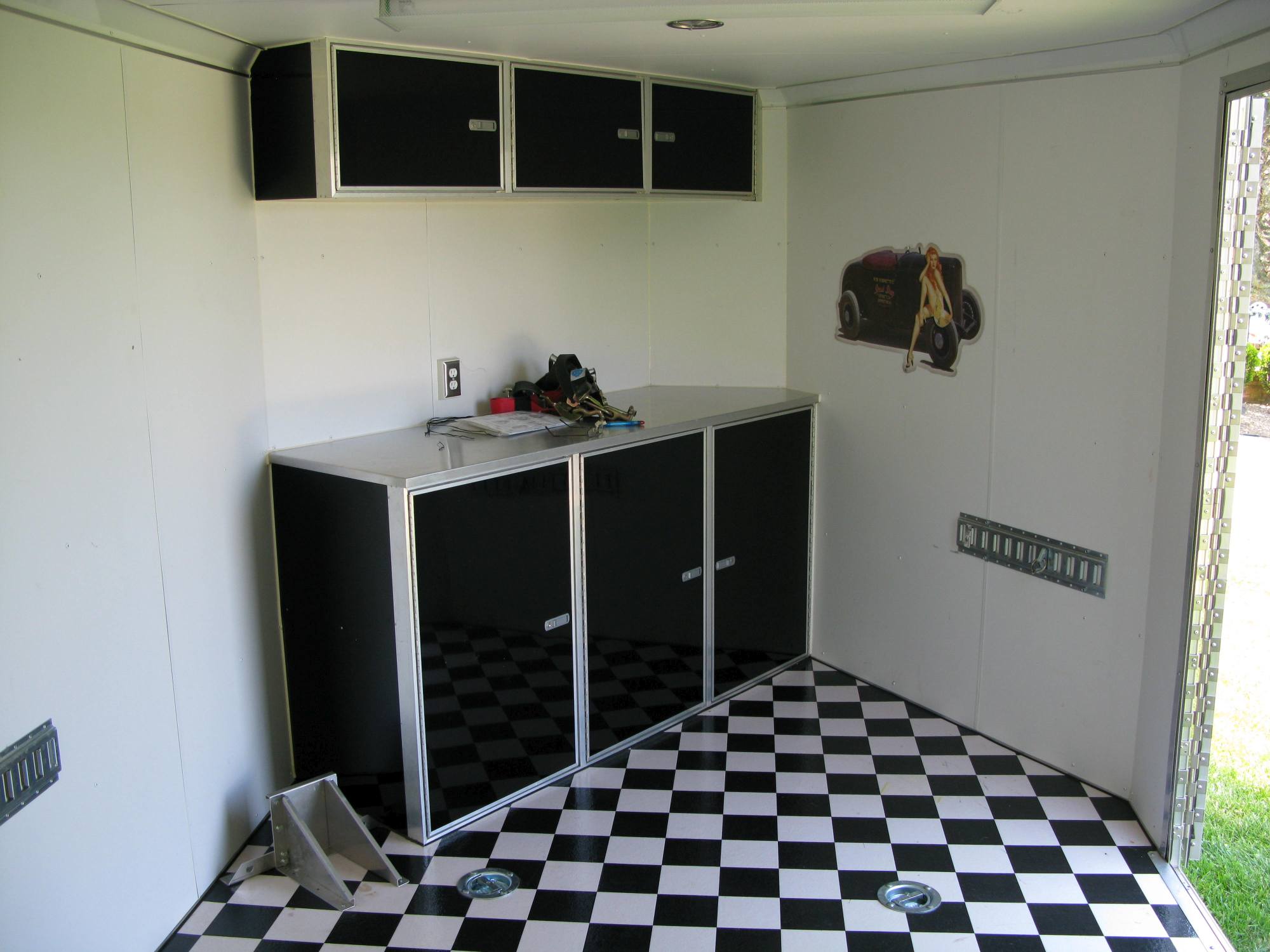 Motorcycle wheel chock at lower left, 120v receptical above cabinet. 12volt DC and 120 volt AC interior lights. Multiple frame mounted E-Track tie downs on wall and floor.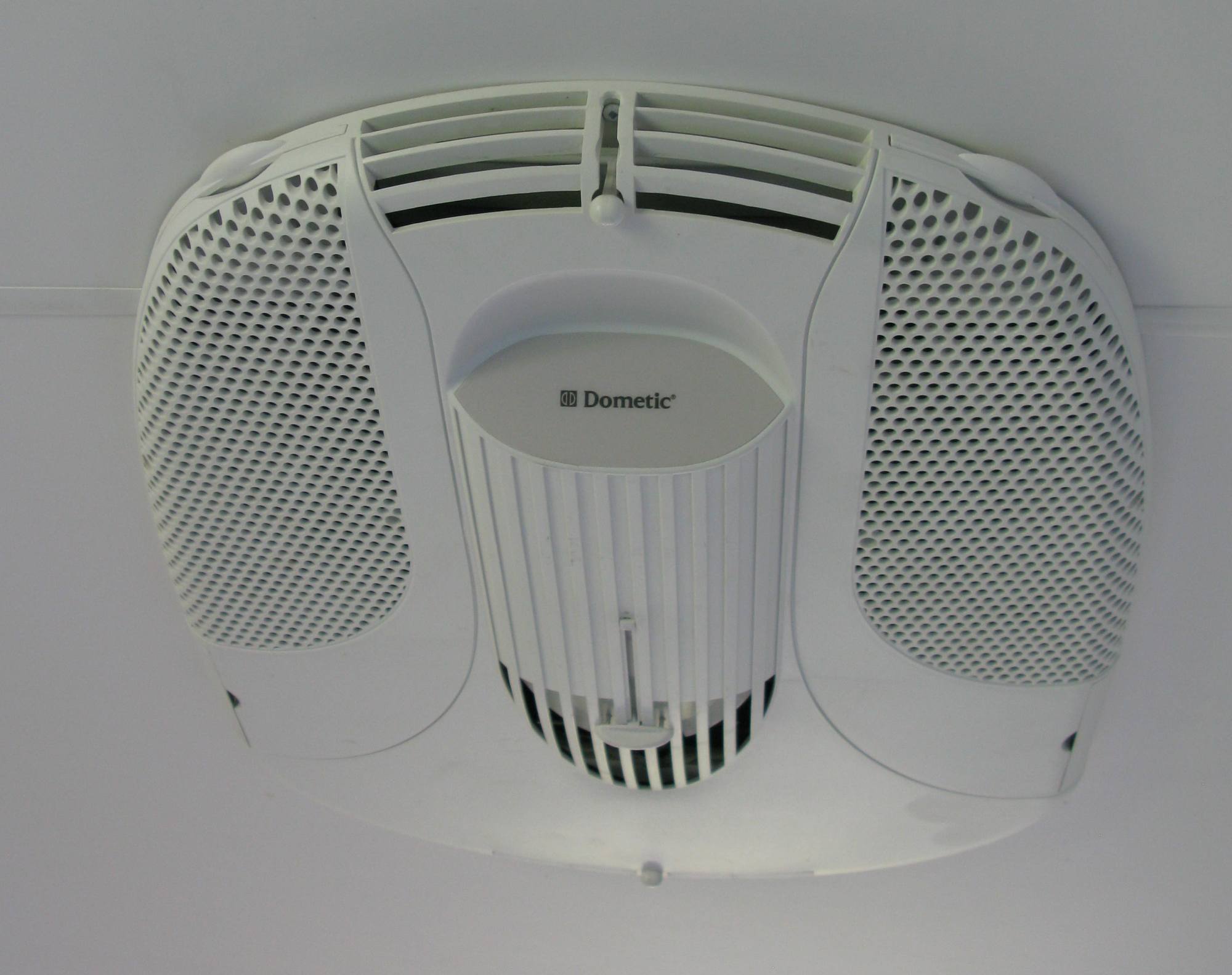 Dometic roof mounted 15,000 BTU air conditioner and heat pump.
A/C & heat pump thermostat.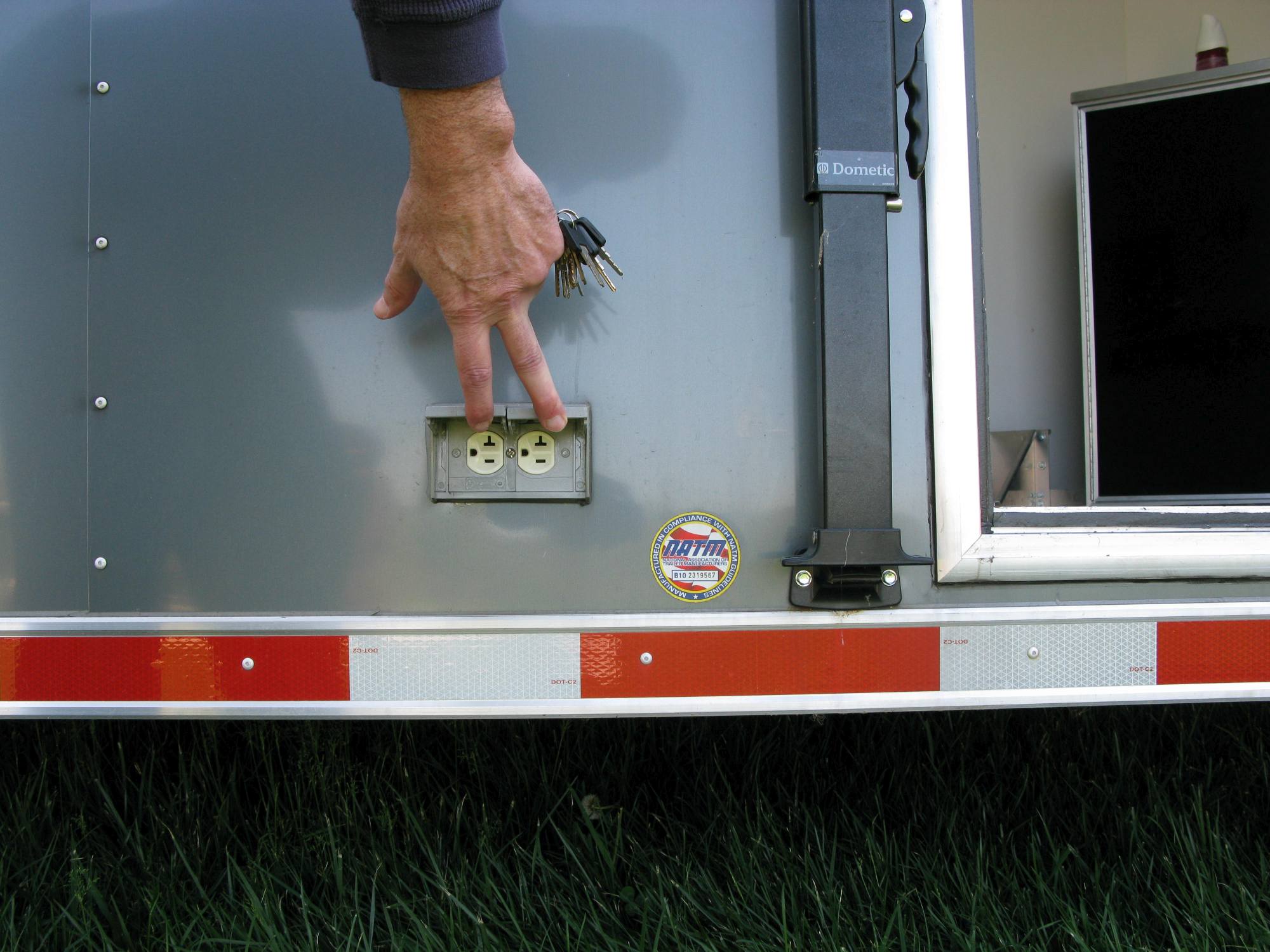 Exterior 120v recepticles.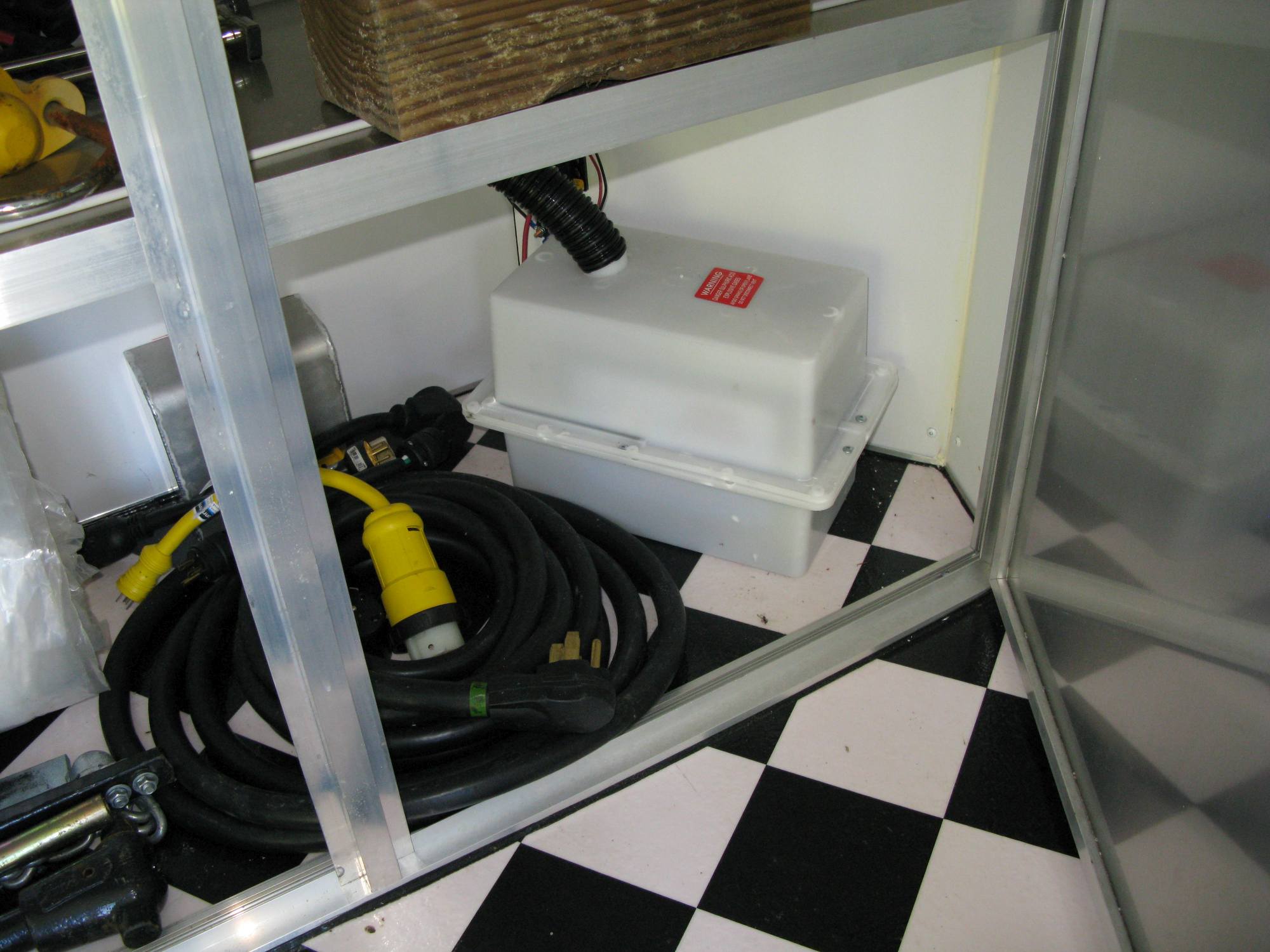 Shore cord and electrical adapters included. Required emergency battery on right.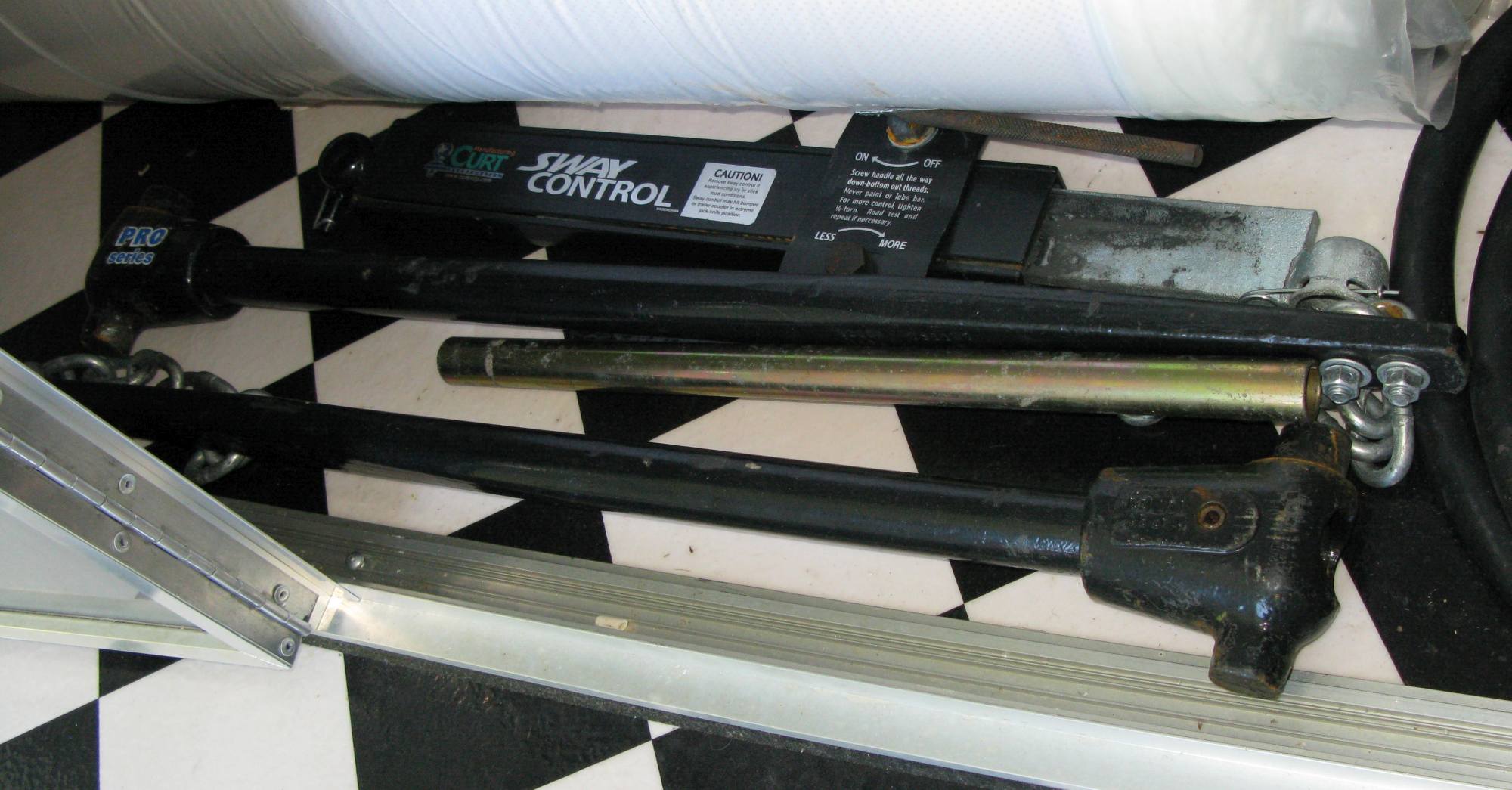 Hitch anti-sway control damper and leveling hitch trunions included.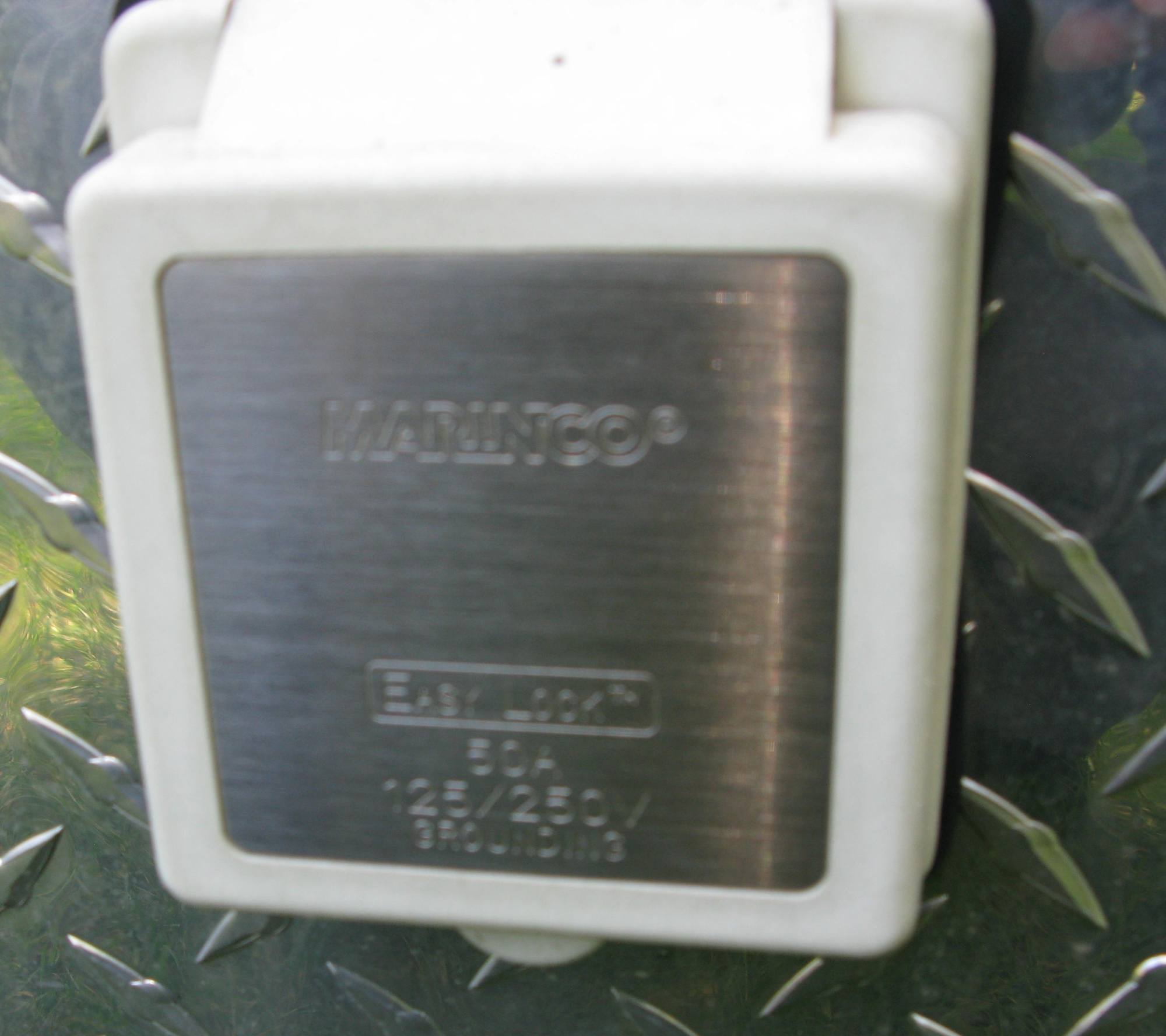 50 amp 125/250v shore cord plug.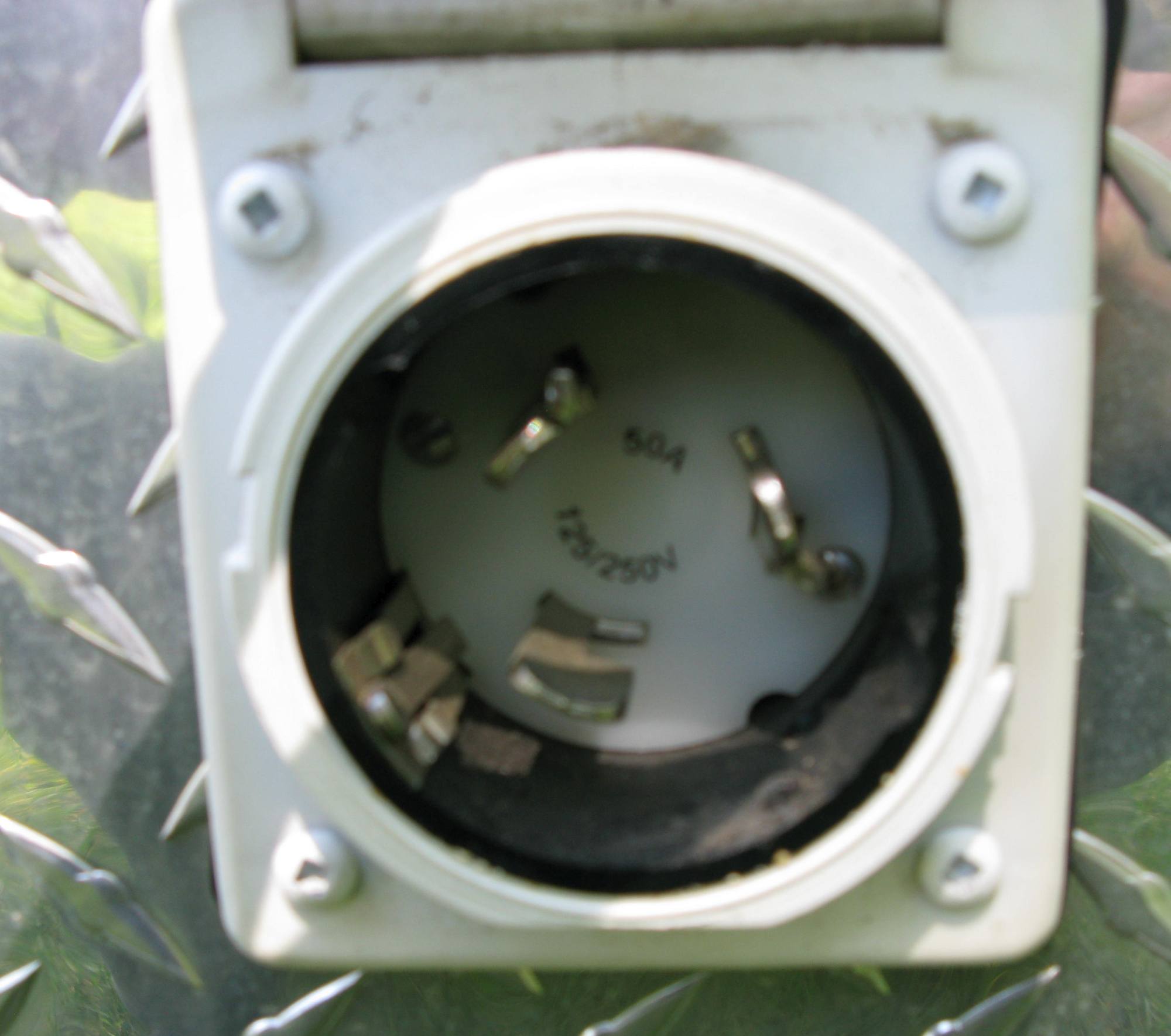 Shore cord plug.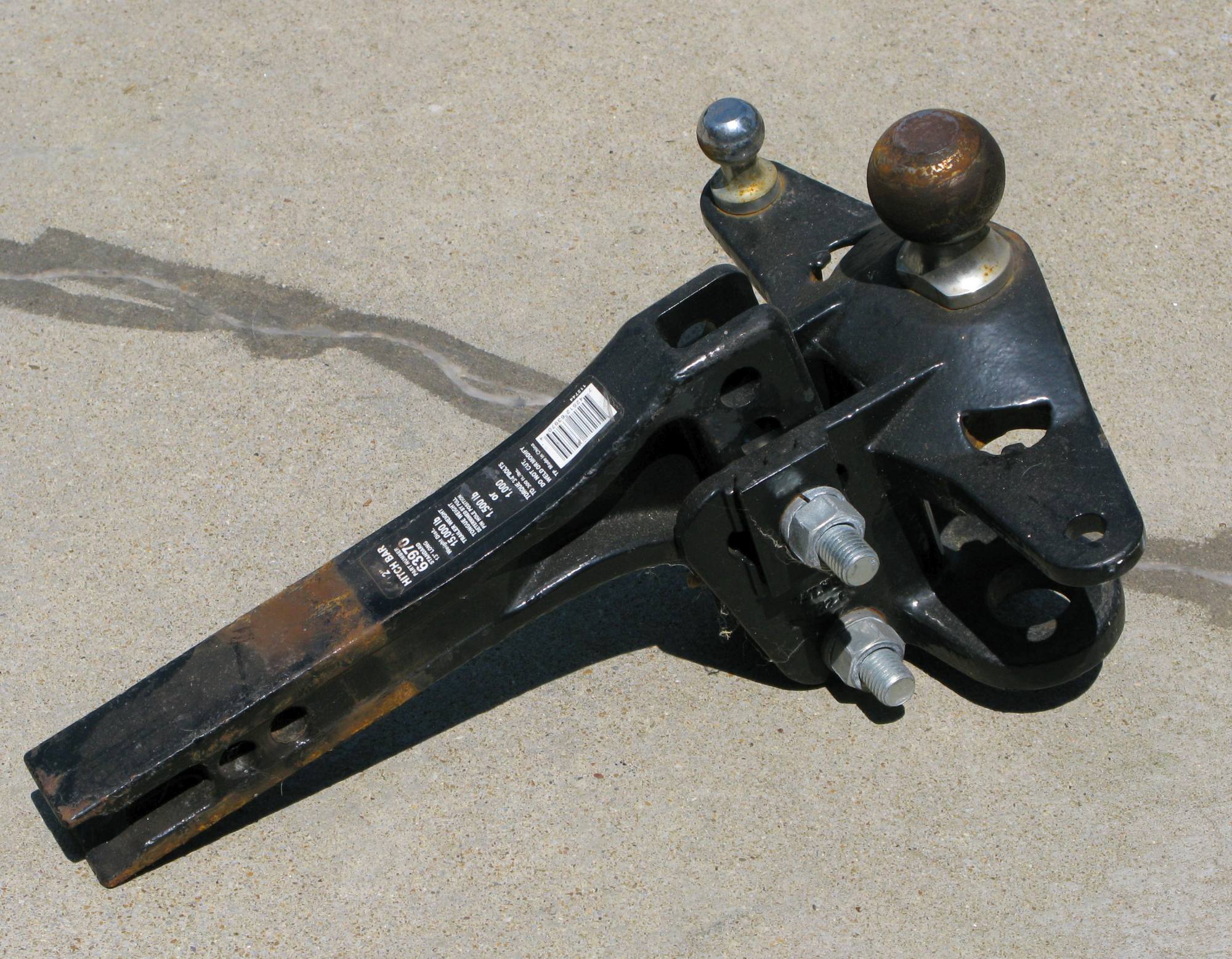 15,000lb rated leveling hitch with trunion bars and anti-sway stabilizer bar included.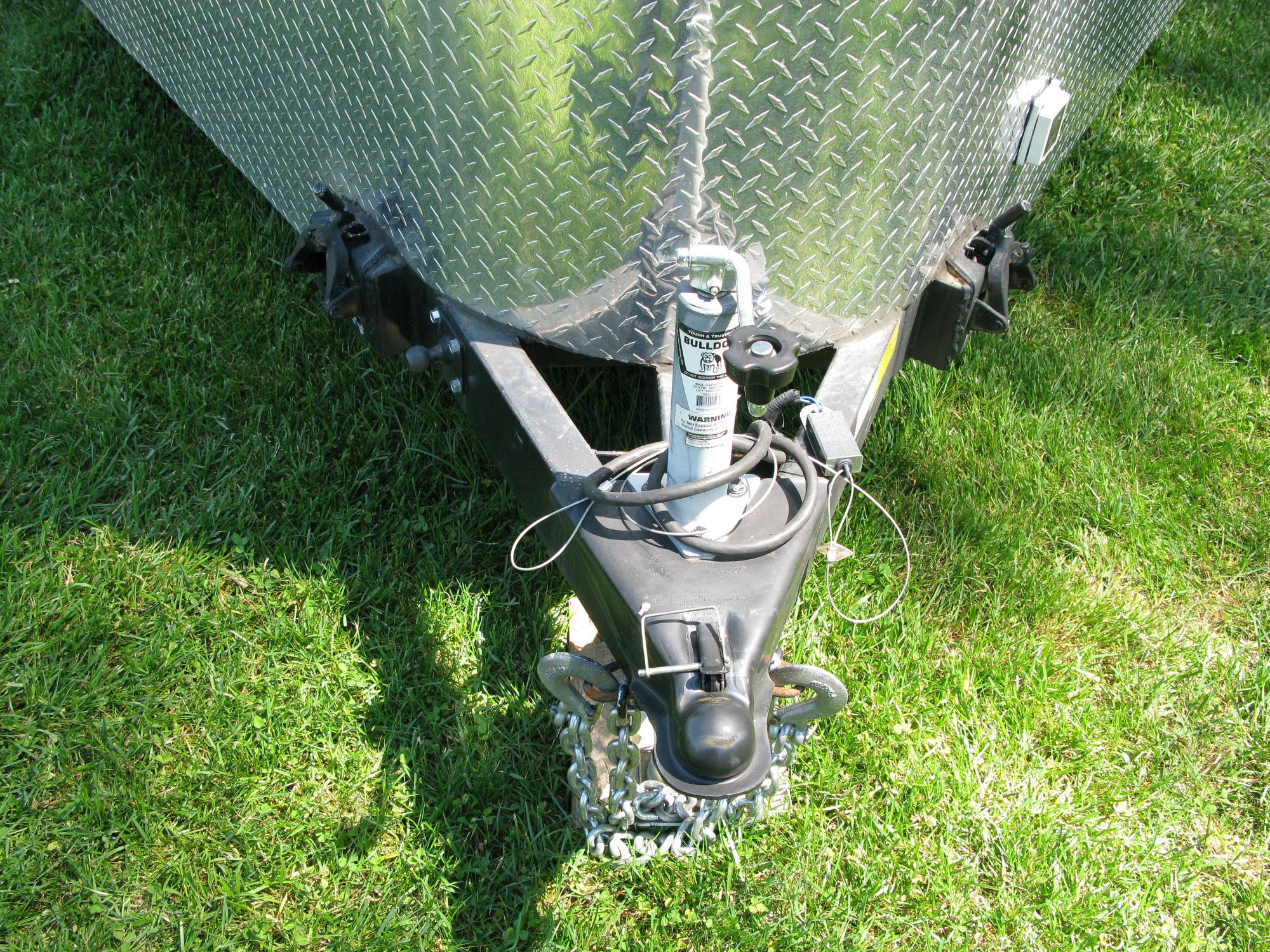 Conventional hitch keeps truck bed available for cargo.

Right side wheels and tires. Five 16x6j wheels including spare. 235/80 80psi tires. Dual 6000lb axles with electric brakes on both axles.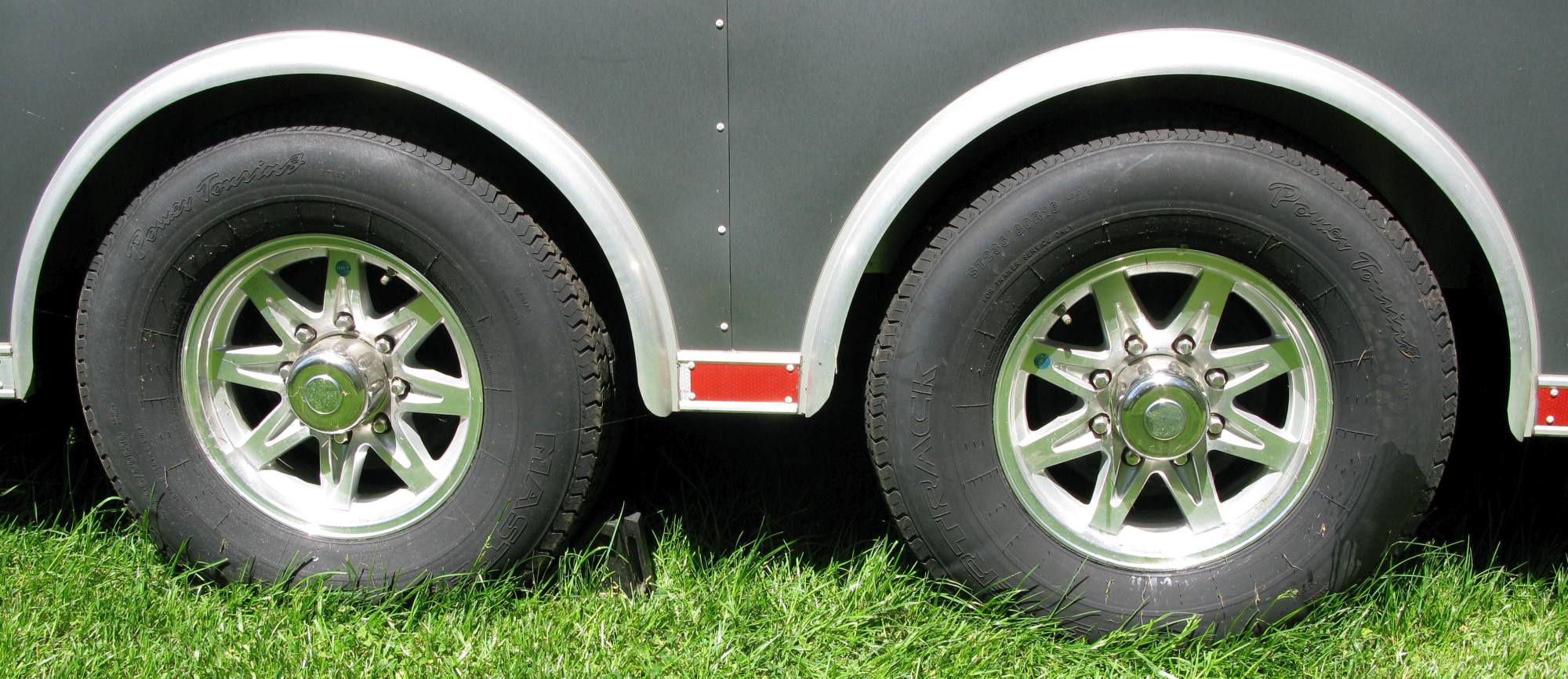 Left side wheels and tires. Two wheel chocks included.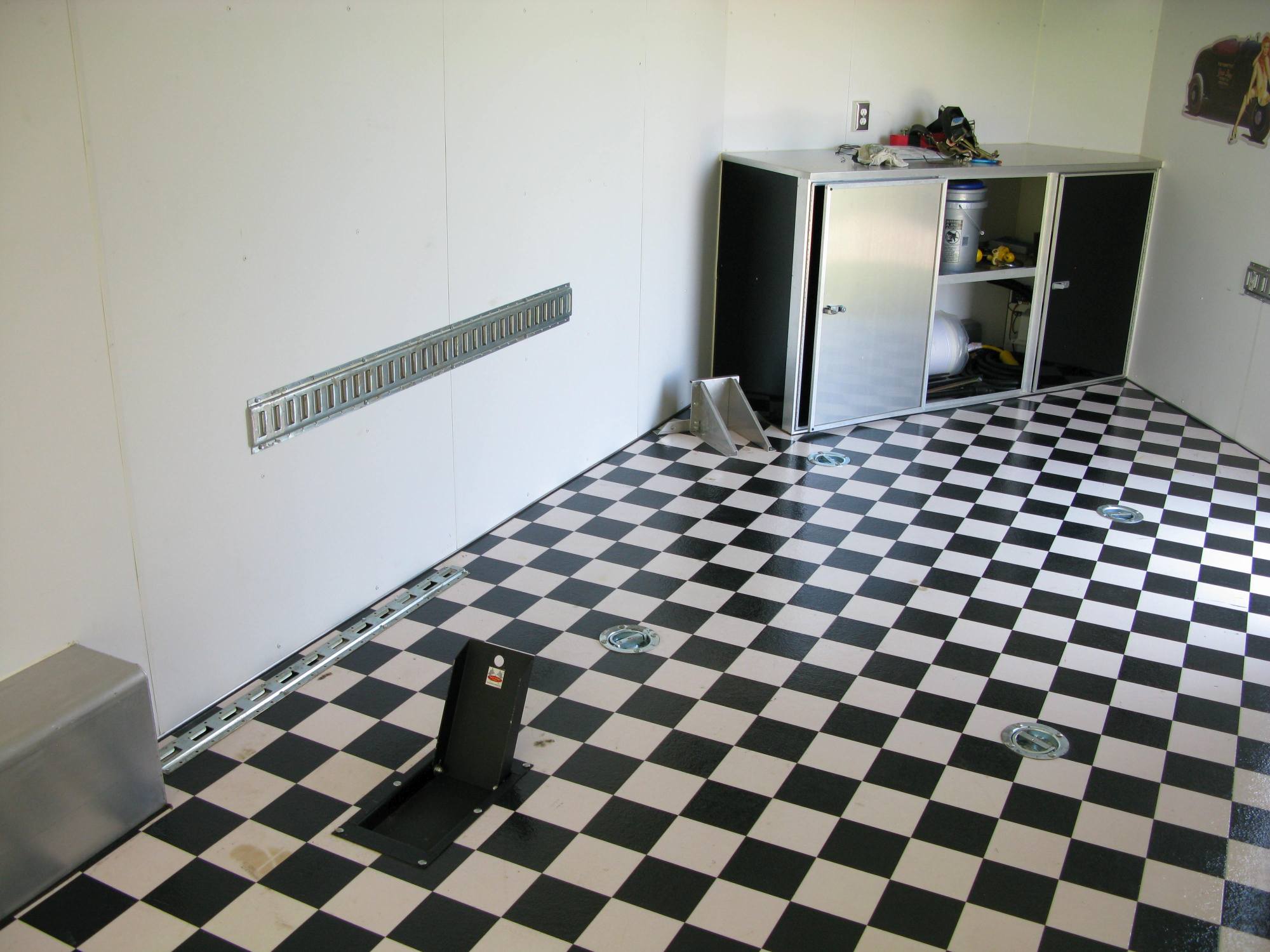 Note flip-up wheel chock and 6 6000lb recessed floor D-ring tie down anchors (2 at rear near ramp).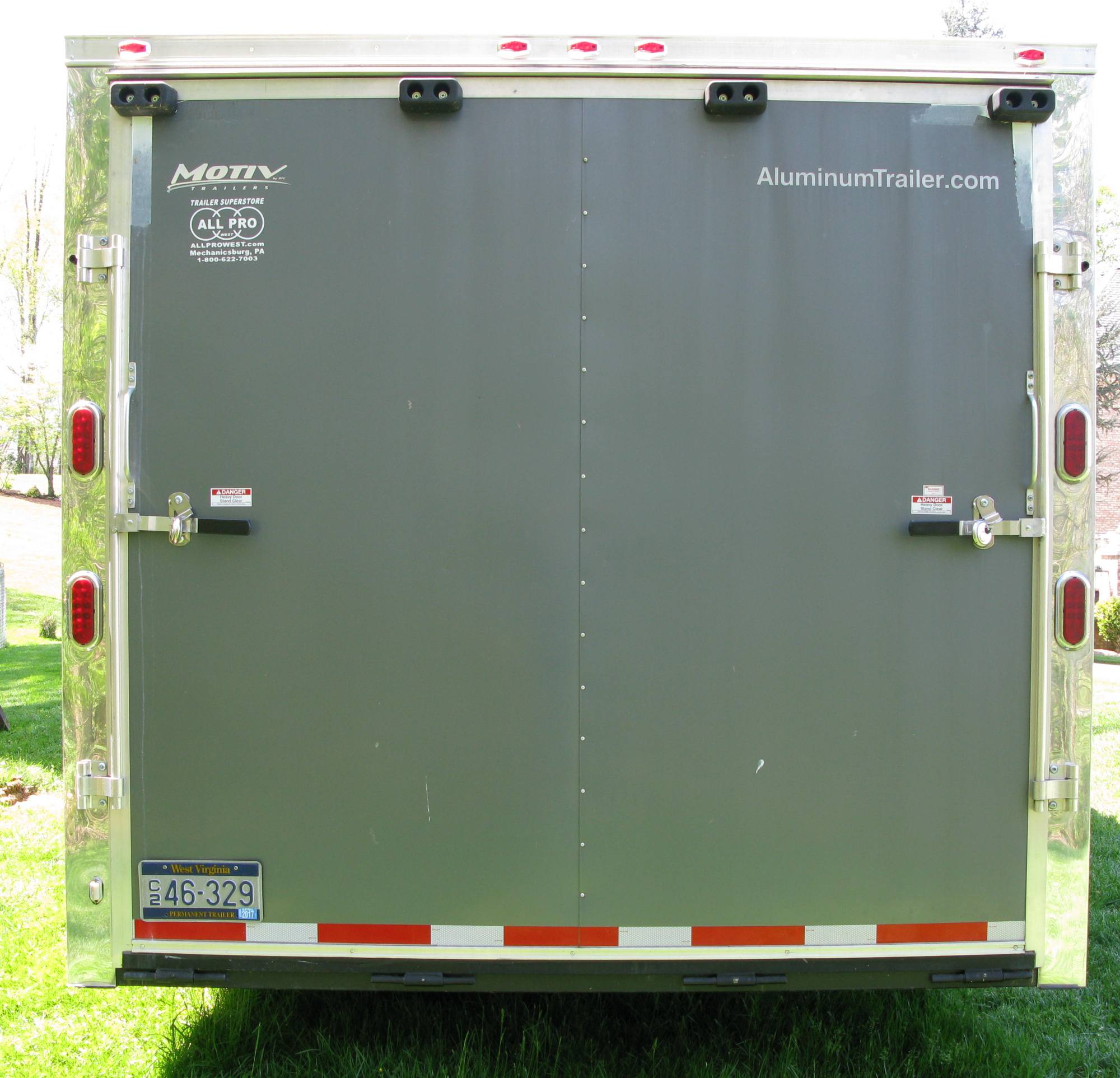 Note large rubber ramp supports. All locks & keys included.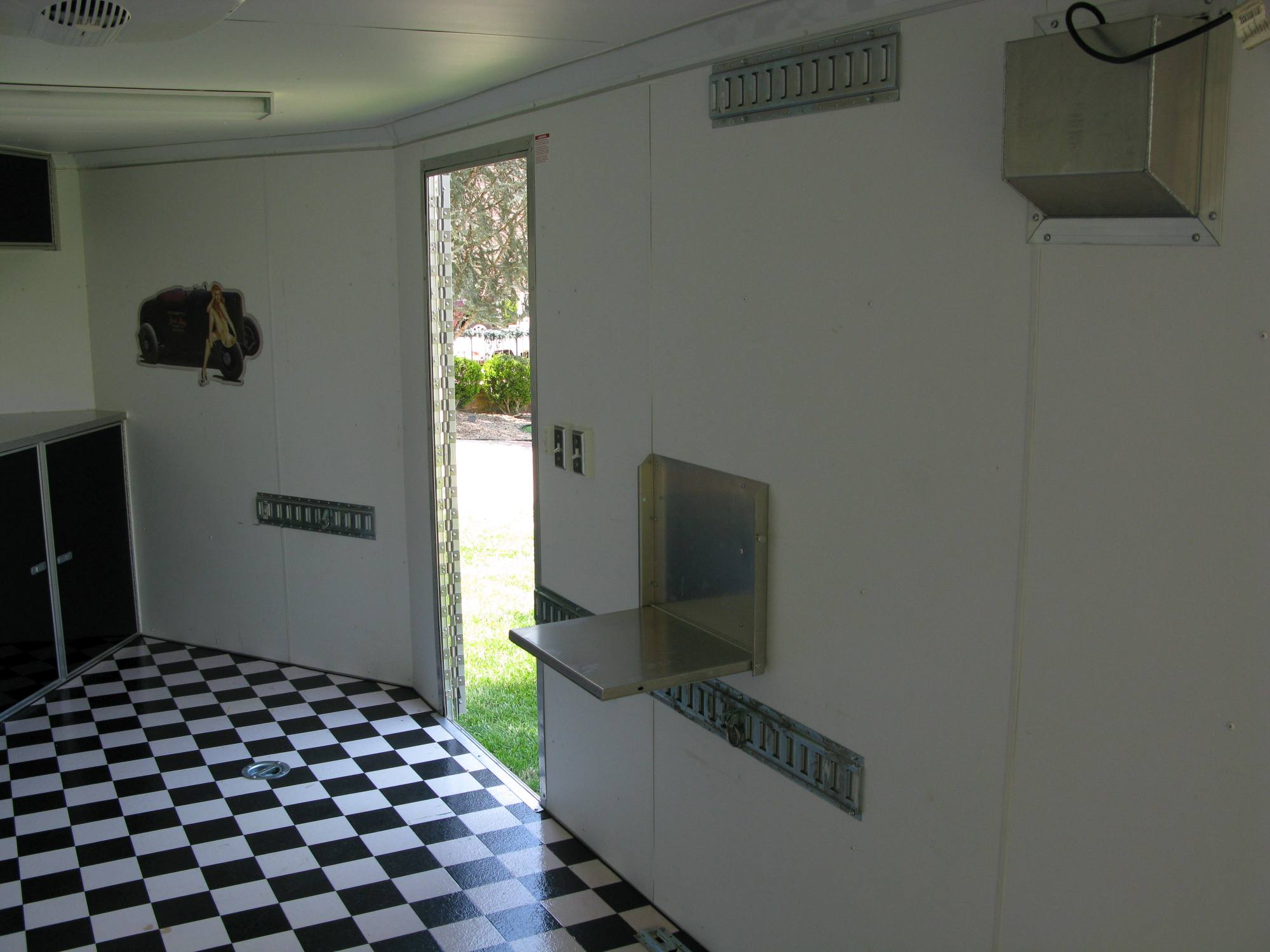 Fold out computer desk. 12 volt and 120 volt light switches.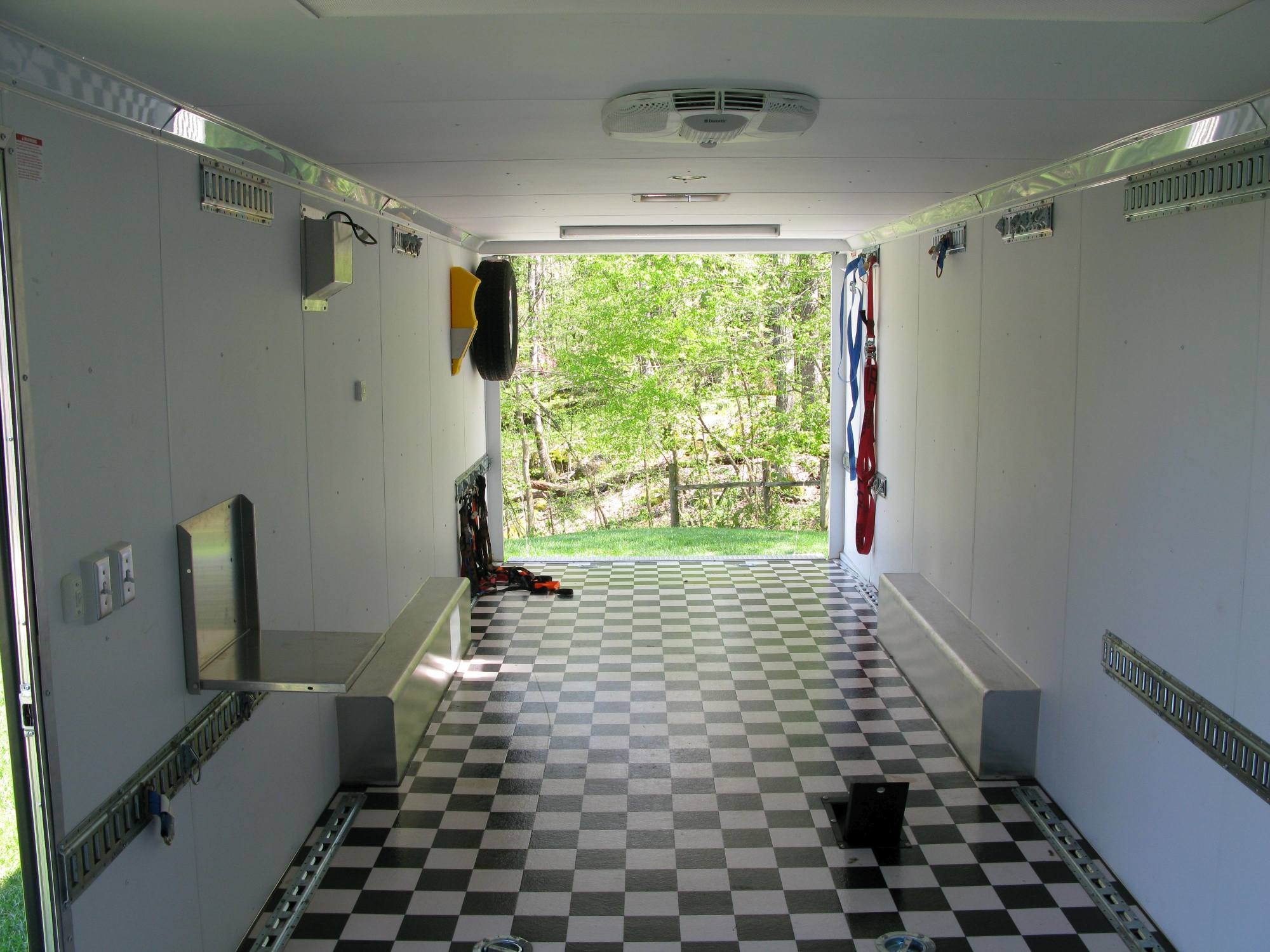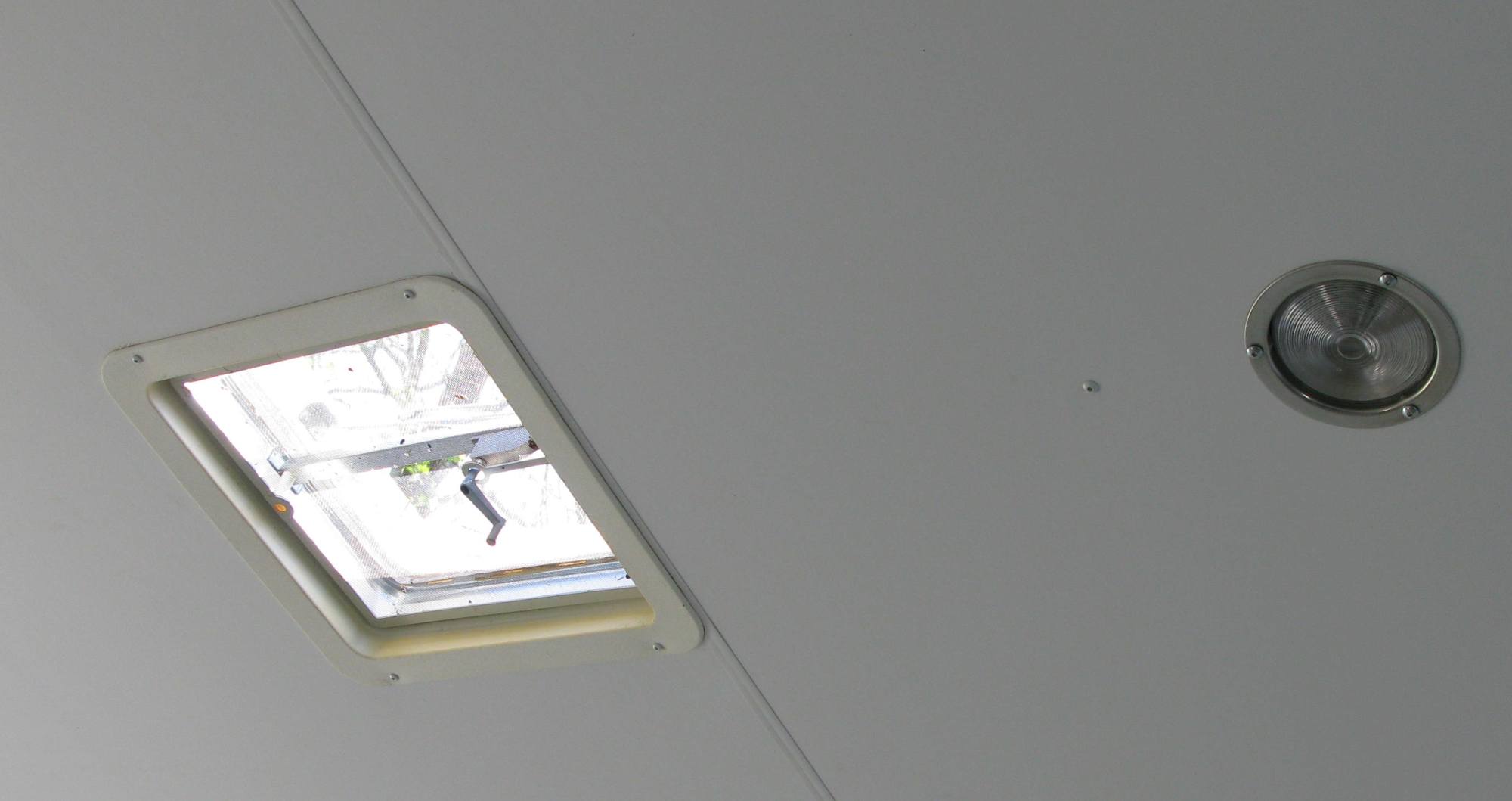 Crank open translucent vent and 12 volt DC dome light.