S2000 RobMod Exhaust
By Rob Robinette
I began modifying my stock exhaust by replacing the stock mufflers with Magnaflow mufflers which added a nice exhaust tone and dropped about 30 lbs in weight. Next I replaced the stock catalytic converter with a test pipe to add a few horsepower. Next I cut the exhaust off where it splits to the two mufflers. In this configuration the exhaust sounded fantastic on the track but was very loud, requiring me to wear ear plugs. With the stock catalytic converter back in place the noise level dropped quite a bit and no longer required ear plugs, but it was still too loud for the street. Plus if a police officer noticed the exhaust open under the rear axle he'd probably write a ticket.
I wanted a way to make the car quasi-legal and still sound good so I ran a 2 1/2 inch pipe from the cutoff end of the exhaust to the end of the car and added one hanger and a chrome turn-down. The car is surprisingly quiet from the cockpit. I know the turn-down tip isn't for everyone, but it help keeps the noise down (literally). Any type of 2 1/2 inch exhaust tip can be used. [Update: I recommend adding a second hanger to keep the exhaust from moving side-to-side.]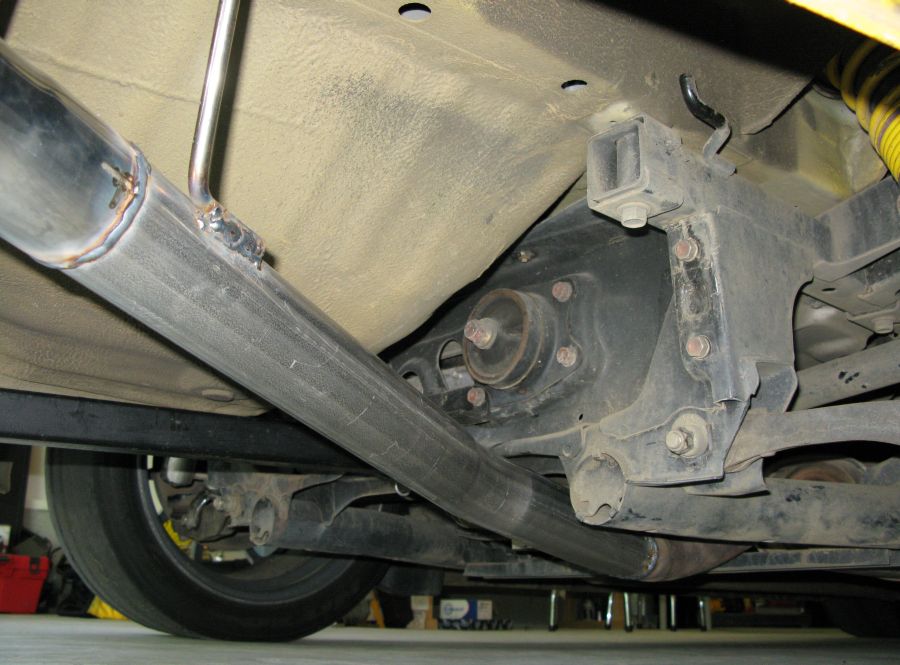 The stock exhaust was cut off where it widens and just before it splits to the two mufflers. Cutting where it widens allows the larger 2 1/2 inch pipe to fit perfectly. I used the stock rear exhaust hanger perch to hang the pipe.
2 1/2 inch exhaust pipe with 20 degree bend, hanger, and chrome turn-down.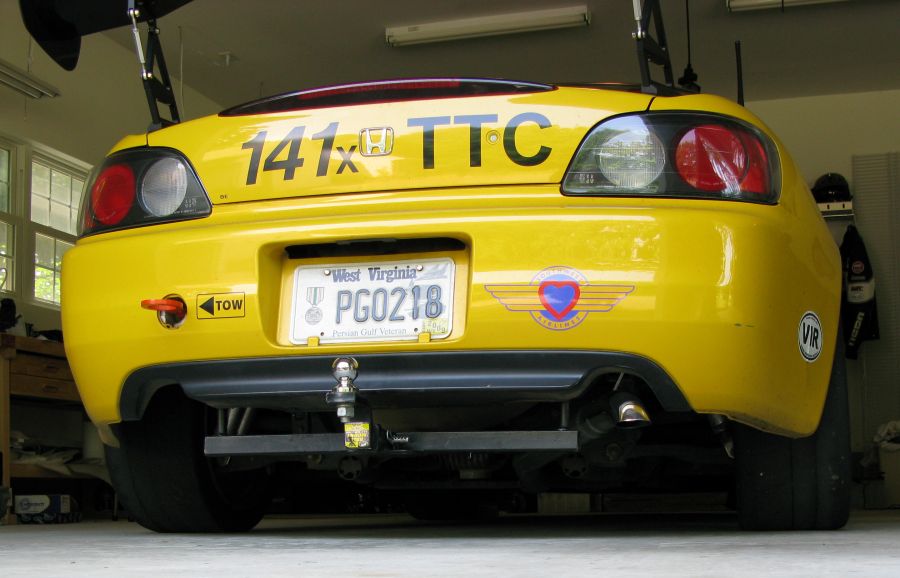 Very light weight and the antithesis of ricey
I got the 4 foot section of pipe from Summit Racing for $14. They also sell a nice little glass pack for $20 if you simply must have a muffler. I took it to my local muffler shop and had them put a 20 degree bend about 12 inches from one end. It would have been nice to have a mandrel bend but the standard pipe bend isn't too bad. I bought a stainless steel hanger while I was there. I was planning to use a clamp on style hanger but figured I'd try a weld on hanger to keep the pipe clean looking.
I made sure the pipe angled slightly upward from where it joins the stock exhaust to maximize ground clearance. I then bent the short end of the pipe to an oval shape to match up to the stock exhaust. I bent the hanger to conform to the pipe and tack-welded it in place. I then welded the pipe to the exhaust, finished the hanger weld, then welded on the turn-down tip.
Enjoy your ultra lightweight single exhaust.
Rob Robinette